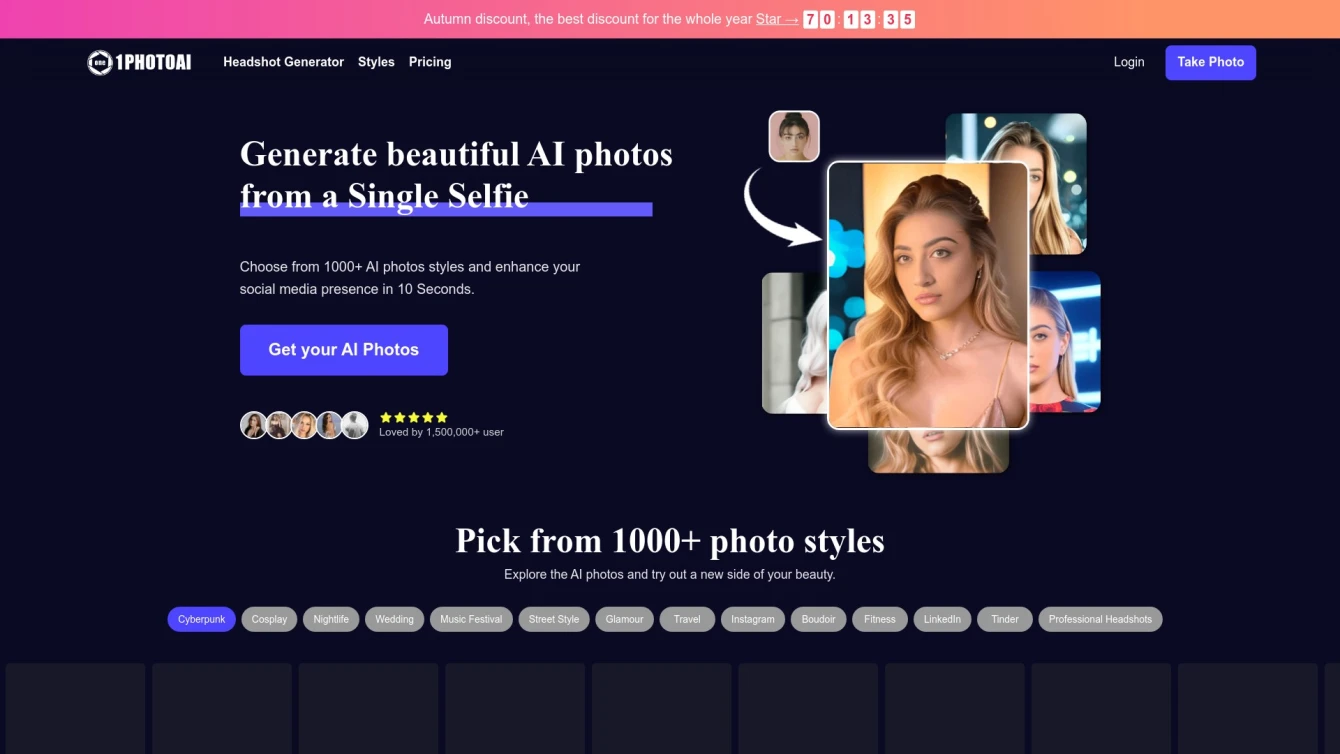 Crafting professional headshots in seconds with AI.
Product information and features
Imagine being able to create professional-grade headshot photos in a matter of seconds. Well, with 1PhotoAI, this isn't just a dream, but a reality. This AI tool is designed to generate high-quality headshots in just 10 seconds. A diverse spectrum of photo styles is at your fingertips, ranging from passport and professional headshots to more unique styles like cyberpunk and cosplay. The styles don't stop there, with over 1000 different looks, 1photoai.com has something to suit everyone's taste.
The tool's user base, which surpasses 1,500,000, speaks volumes about its efficiency and convenience. Users often praise the AI's ability to capture their personality and uniqueness in the headshot, making them appear more approachable and dynamic. The result? A transformed self-image that stands out.
Content creators and individuals with a packed schedule find 1PhotoAI particularly beneficial. It allows them to rapidly produce avatars that mirror their persona, without the need for traditional, time-consuming photoshoots. All it takes is a few clicks, and you can instantly refresh your social media presence with a new avatar, right from your home's comfort.
In summary, 1PhotoAI is an innovative tool that brings together convenience, variety, and quality. It enables you to enhance your professional networking profiles, create distinctive social media avatars, or even generate anime images. The AI tool is user-friendly, efficient, and uniquely suited to cater to your headshot needs.
Tell the world 1PhotoAI has been featured on NaNAI.tools:
1PhotoAI Reviews
What's your experience with 1PhotoAI?
There are no reviews yet.
Related AI tools to 1PhotoAI