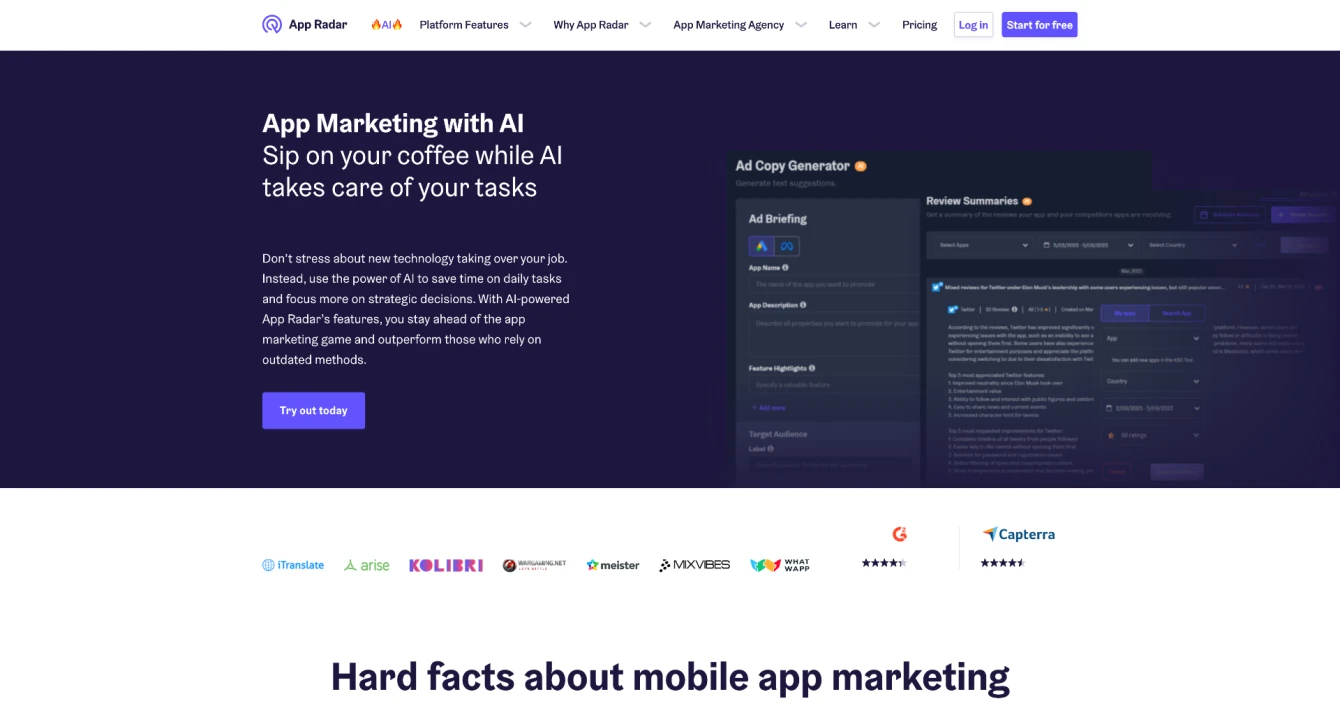 App Marketing with AI. Sip on your coffee while AI takes care of your tasks.
Product information and features
App Radar is a powerful tool that offers a range of features designed to enhance app marketing strategies. By editing app store listings and implementing keywords, developers can improve their app store rankings and gain valuable insights from the consultancy services provided. The platform also provides app marketing news and product releases, ensuring that users are always up to date with the latest trends and developments in the industry.

One of the standout features of App Radar is its AI-powered capabilities. By harnessing the power of artificial intelligence, users can stay ahead of the game and outperform their competitors who rely on outdated methods. With the help of AI App Review Summaries, developers can easily identify the strengths and weaknesses of their own apps, as well as their competitors'. This information can be invaluable when it comes to optimizing ad campaigns, creating compelling copy, and designing effective screenshots.

Another time-saving feature offered by App Radar is the Store Listing Bulk Editor. This feature allows developers to make updates to multiple app listings simultaneously, saving them up to 90% of the time typically required for app updates. This not only streamlines the app management process but also frees up valuable time that can be dedicated to other important tasks.

In conclusion, App Radar provides app developers with a comprehensive set of tools and features to optimize their app marketing strategies. By leveraging AI technology, users can gain insights and make data-driven decisions to improve their app store rankings and outperform their competitors. With time-saving features like the Store Listing Bulk Editor, developers can streamline their app management process and focus on other crucial aspects of their business.
Tell the world App Radar has been featured on NaNAI.tools:
App Radar Reviews
What's your experience with App Radar?
Related AI tools to App Radar