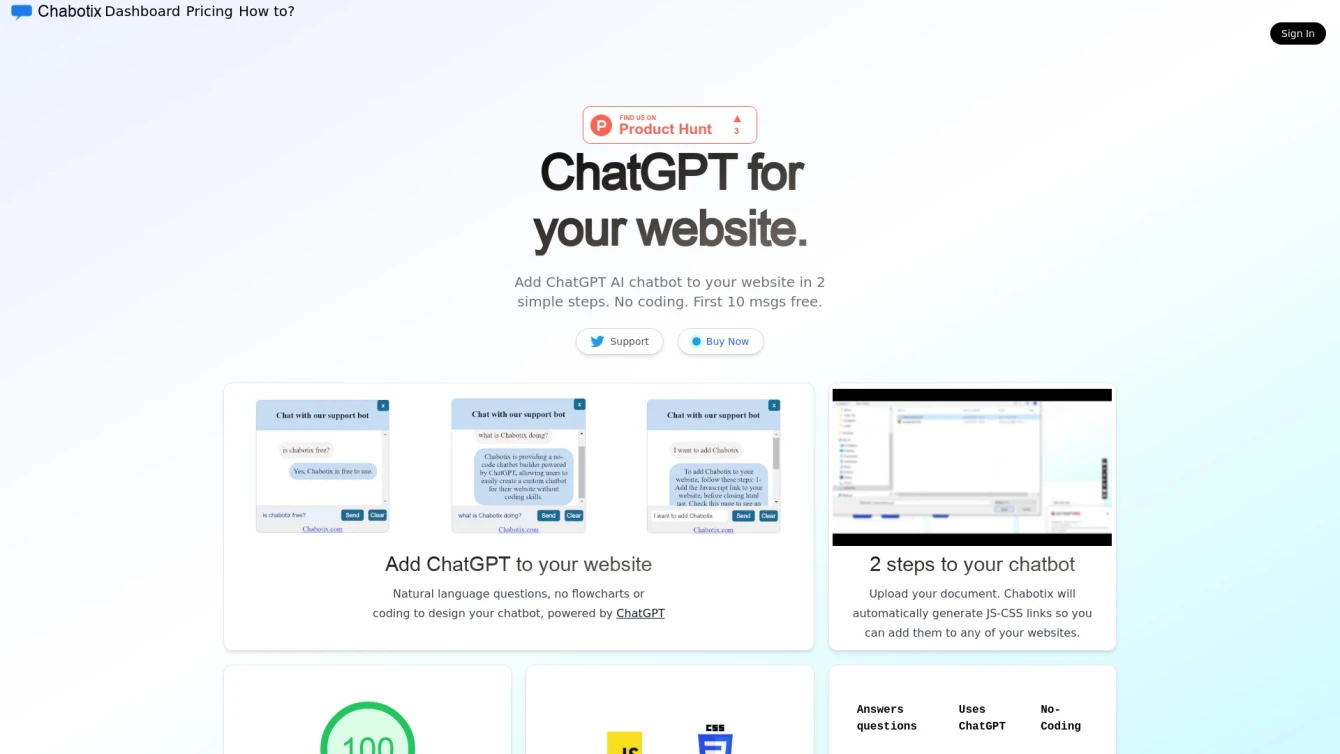 Simplifying AI chatbot integration for your website.
Product information and features
Unlock the power of artificial intelligence on your website with Chabotix, a user-friendly platform that integrates a ChatGPT-driven AI tool to deliver efficient, answer-oriented chatbots. Chabotix.com is designed with a focus on simplicity, enabling even those with zero coding experience to create an intelligent chatbot for their website.
Rather than relying on complex coding or flowchart design, this platform uses natural language questions to help you shape your chatbot's responses. You can effortlessly upload a document, and chabotix.com generates corresponding JS-CSS links that can be incorporated into any website. The AI chatbot, built on native JS and CSS, operates directly with ChatGPT APIs and is hosted on a CDN.
Ready-to-use, Chabotix offers custom JavaScript and CSS to ensure seamless integration with your website. It's a robust and speedy platform that doesn't just answer queries but also recommends products, enhancing the overall user experience on your website. By leveraging ChatGPT, a leading-edge language model from OpenAI, Chabotix helps you develop an AI-powered chatbot without the hassle of coding or flowchart design.
Summarizing, Chabotix is an intuitive, user-friendly tool that helps businesses improve their website's user experience. It does this by providing an intelligent, ChatGPT-powered chatbot capable of answering queries and suggesting products. By using Chabotix, you can effectively engage visitors, answer their questions, and guide them towards relevant products, all without any coding experience.
Tell the world Chabotix has been featured on NaNAI.tools:
Chabotix Reviews
What's your experience with Chabotix?
There are no reviews yet.
Related AI tools to Chabotix