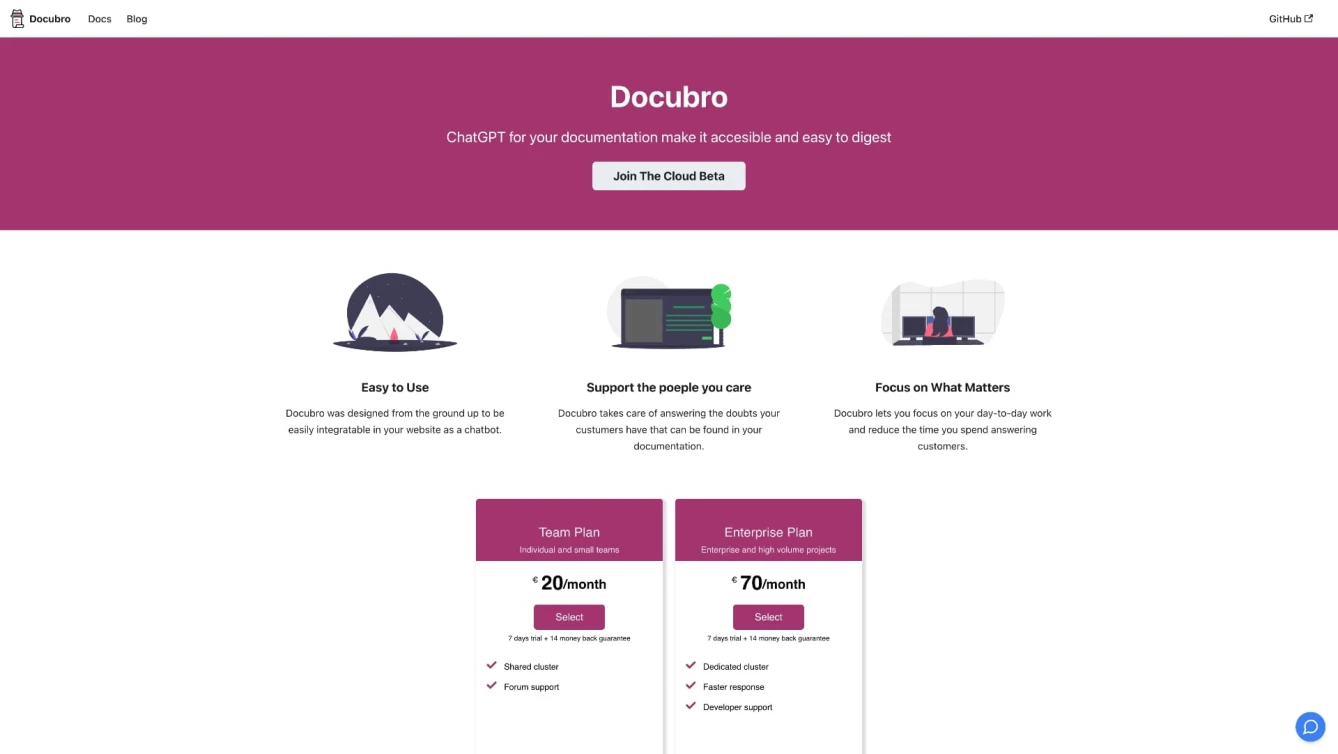 Revolutionizing Documentation Access with AI-Powered Chat Experience.
Product information and features
Explore the transformative potential of AI with Docubro, an AI tool that revolutionizes the way documentation is accessed and understood. This AI-powered bot integrates smoothly into websites, turning documentation into an interactive chat experience.
With Docubro, you can leave the job of responding to customer inquiries to the tool and focus on your core tasks. The tool uses the data from your documentation to provide accurate and timely responses, dramatically reducing the time you'd spend on manual responses. Its user-friendly interface, designed with React, ensures easy navigation across the platform.
Docubro caters to a wide spectrum of needs with varying pricing plans. The Team Plan, priced at €20 per month, is perfect for individuals and small teams. On the other hand, the Enterprise Plan, priced at €70 per month, is designed for high-volume projects and enterprises. Both plans come with a 7-day trial period and a 14-day money-back guarantee, ensuring your satisfaction before you make a commitment.
Every plan offers unique features, including shared or dedicated clusters for improved performance and faster response times. The Enterprise Plan goes a step further and provides developer support for any technical hiccups you might encounter. You can find more about these features and pricing plans on docubro.com.
Docubro also offers robust support through various channels. You can access comprehensive documentation, join a vibrant community forum, or connect with them on Twitter. The team at Docubro takes privacy seriously, providing clear Privacy Policy and Terms & Conditions for your reference.
In summary, Docubro empowers users by turning static documentation into a dynamic chat experience. Whether you're an individual, a small team, or a large enterprise, Docubro can help streamline your customer service process, improve response times, and boost overall productivity.
Tell the world Docubro has been featured on NaNAI.tools:
Docubro Reviews
What's your experience with Docubro?
There are no reviews yet.
Related AI tools to Docubro