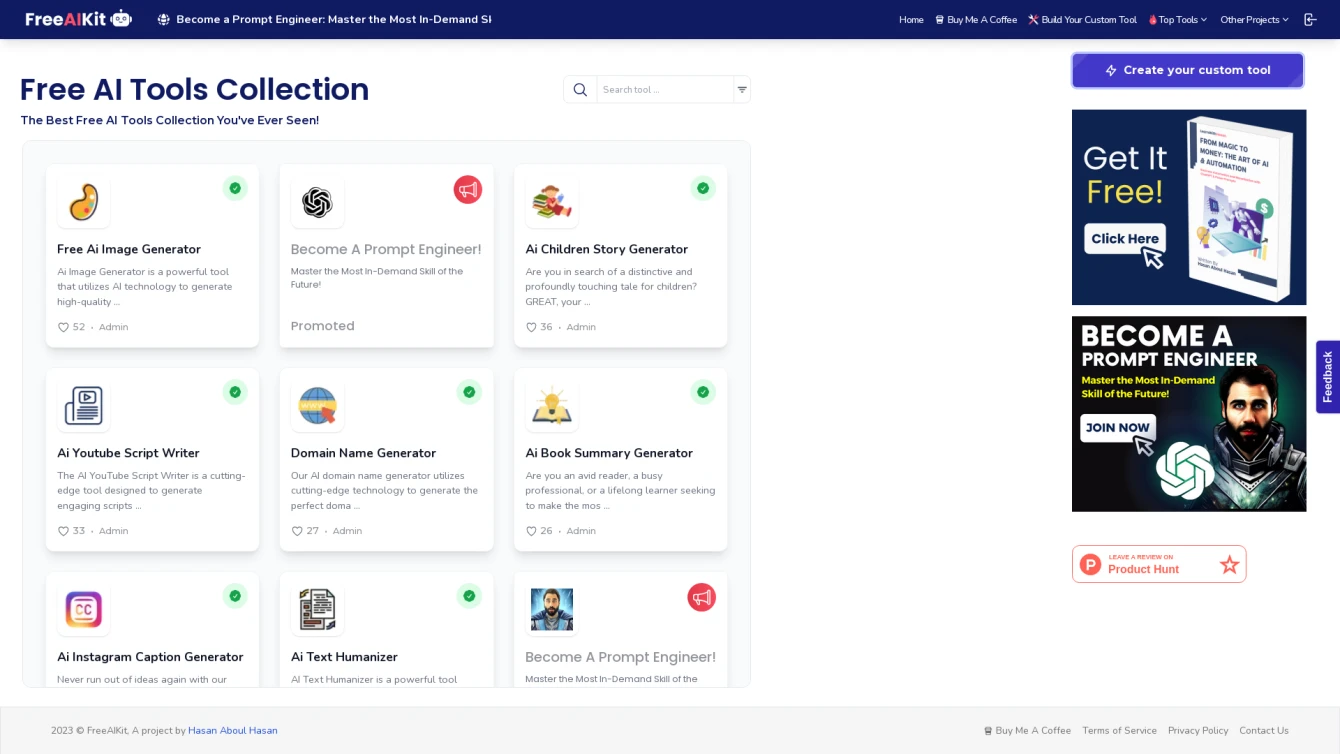 Empowering projects with AI-driven tools and technology.
Product information and features
Welcome to the world of FreeAIkit, an innovative platform that houses a vast selection of free AI tools. It also provides the unique possibility to customize and create your own AI tools, tailored to your project requirements. This AI tool is designed to fuel your projects with the latest AI technology, making complex tasks simpler and more efficient.
FreeAIkit.com has an extensive list of tools at your disposal. From an AI image generator that creates high-quality visuals, to a children's story generator that spins out charming and unique tales. It doesn't stop there, as you can also find a YouTube script generator to assist in crafting engaging video narratives, and a domain name generator that helps pinpoint the perfect name for your projects.
The platform doesn't just stop at visuals and scripts. It also caters to social media and content creation needs. Need compelling Instagram captions or viral Twitter threads? FreeAIkit has you covered. It even extends to creating concise book summaries, meta descriptions for web pages, and crafting catchy email subject lines. All these tools utilize AI technology to simplify and enhance your communication and content creation processes.
In summary, FreeAIkit is a comprehensive platform that gives you access to a multitude of AI-powered tools. It also allows you to create your own, making it a powerful asset for any project. With its vast array of features and tools, FreeAIkit can cater to a variety of use cases, whether it's content creation, social media strategy, or simply generating creative ideas. Harness the power of AI with FreeAIkit and elevate your projects to new heights.
Tell the world FreeAIkit has been featured on NaNAI.tools:
FreeAIkit Reviews
What's your experience with FreeAIkit?
There are no reviews yet.
Related AI tools to FreeAIkit