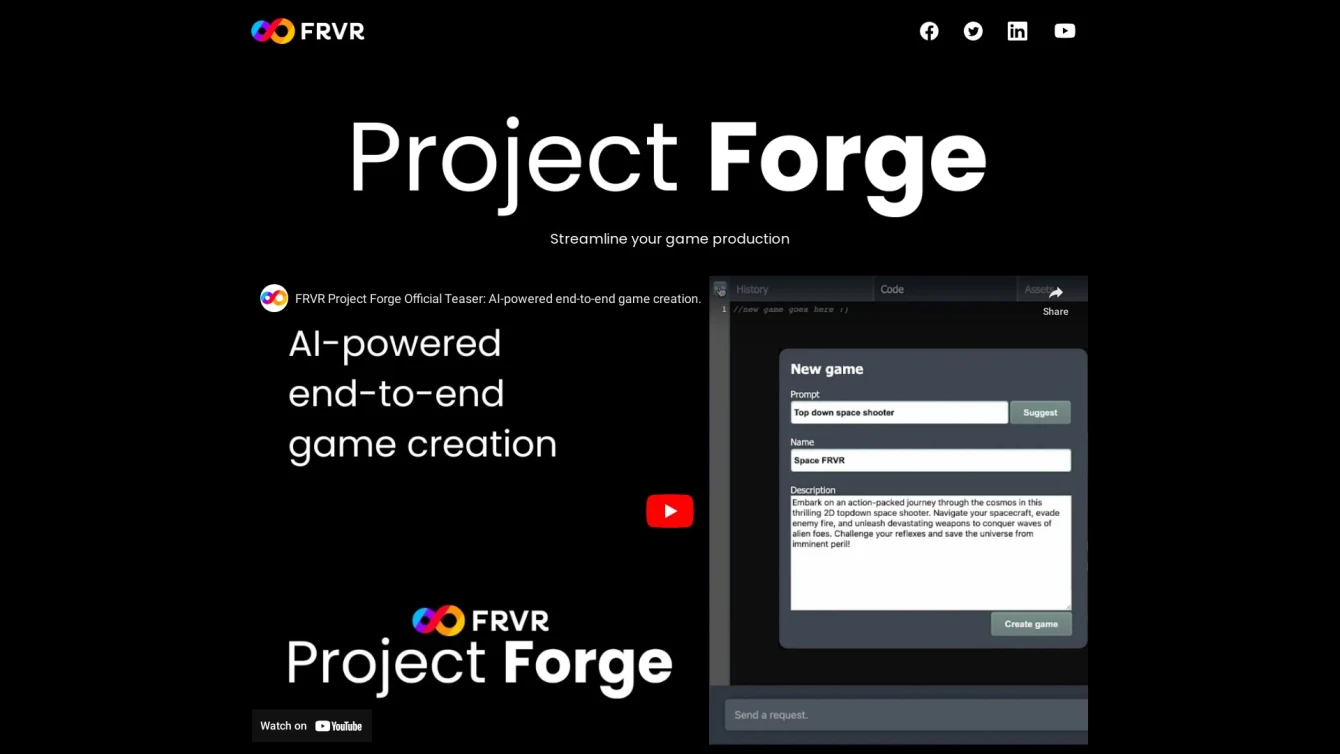 AI-powered end-to-end game creation.
Product information and features
FRVR Project Forge offers a unique approach to game development by allowing users to create games using prompts or AI-generated suggestions. The development process follows a play, instruct, and implement cycle, allowing for continuous iteration and improvement. The editor is powered by cloud technology, enabling access from various devices and can be used as a standalone application or through a web browser.

Publishing and sharing games is made effortless through the FRVR Platform and FRVR XS engine. Users can easily share their games with a simple click of the share button. Monetization options are also available, including advertising, in-app purchases, and subscriptions across over 30 channels. This makes it convenient for game creators to generate revenue from their creations.

The future of game development is revolutionized with FRVR Project Forge. By leveraging the power of generative AI, the tool streamlines game creation by providing suggestions and guidance based on game descriptions, modification history, and source code. Users can easily undo changes or revert to previous versions of the game, allowing for flexibility and exploration in game development. The tool also supports generative AI to create production-ready assets, offering a wide range of options for modifying size, color, and shape, making it easy to explore different aesthetics without extensive graphic generation.

Overall, FRVR provides an innovative and user-friendly platform for game development. Its AI-powered features and easy sharing capabilities make it a valuable tool for both experienced and novice game creators.
Tell the world FRVR Project Forge has been featured on NaNAI.tools:
FRVR Project Forge Reviews
What's your experience with FRVR Project Forge?
There are no reviews yet.
Related AI tools to FRVR Project Forge