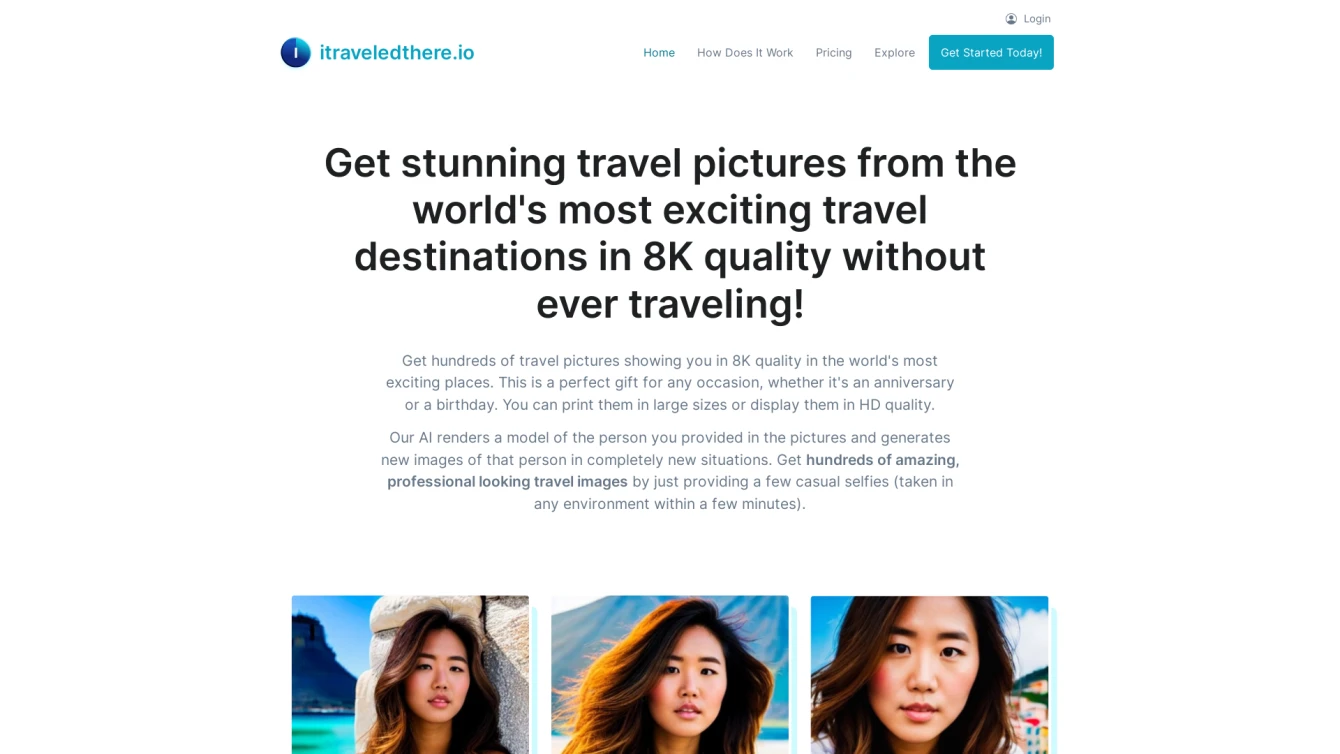 Crafting your virtual travel experiences with stunning AI-generated images.
Product information and features
Experience the magic of virtual travel with Itraveledthere, an AI tool that revolutionizes the way you explore the world. This cutting-edge platform allows you to virtually visit any corner of the globe without leaving your home. Simply upload your personal images and let the tool do the rest. Incorporating your own photos with real-life scenes from breathtaking locations, it creates a unique travel picture, making you a part of the scene.
Itraveledthere.io gives you the freedom to replace undesirables in your photos, or even recreate cherished memories from past trips when original photos are unavailable. It's not just a tool, but a gateway to relive or create your dream vacation moments.
The domain offers two distinct membership plans tailored to your needs. With the first plan, you can enjoy 50 images from randomly selected, exotic travel destinations. Opt for the second plan, and you'll get an impressive collection of 500 images, all in stunning 8K resolution, from the most captivating places around the world.
Membership plans are flexible and convenient, with options for monthly or yearly renewals. First-time users can take advantage of free trial and cancellation options. To ensure a seamless user experience, Itraveledthere also provides a succinct 'How Does It Work?' section, outlining the simple steps involved in transforming your pictures into travel masterpieces.
In conclusion, Itraveledthere, brought to you by Mighty Media LLC, is more than just an AI tool. It's your virtual passport to the world's most amazing places. Whether you're recreating precious memories or crafting new ones, this platform is designed to bring your travel dreams to life, all from the comfort of your own home.
Tell the world Itraveledthere has been featured on NaNAI.tools:
Itraveledthere Reviews
What's your experience with Itraveledthere?
There are no reviews yet.
Related AI tools to Itraveledthere