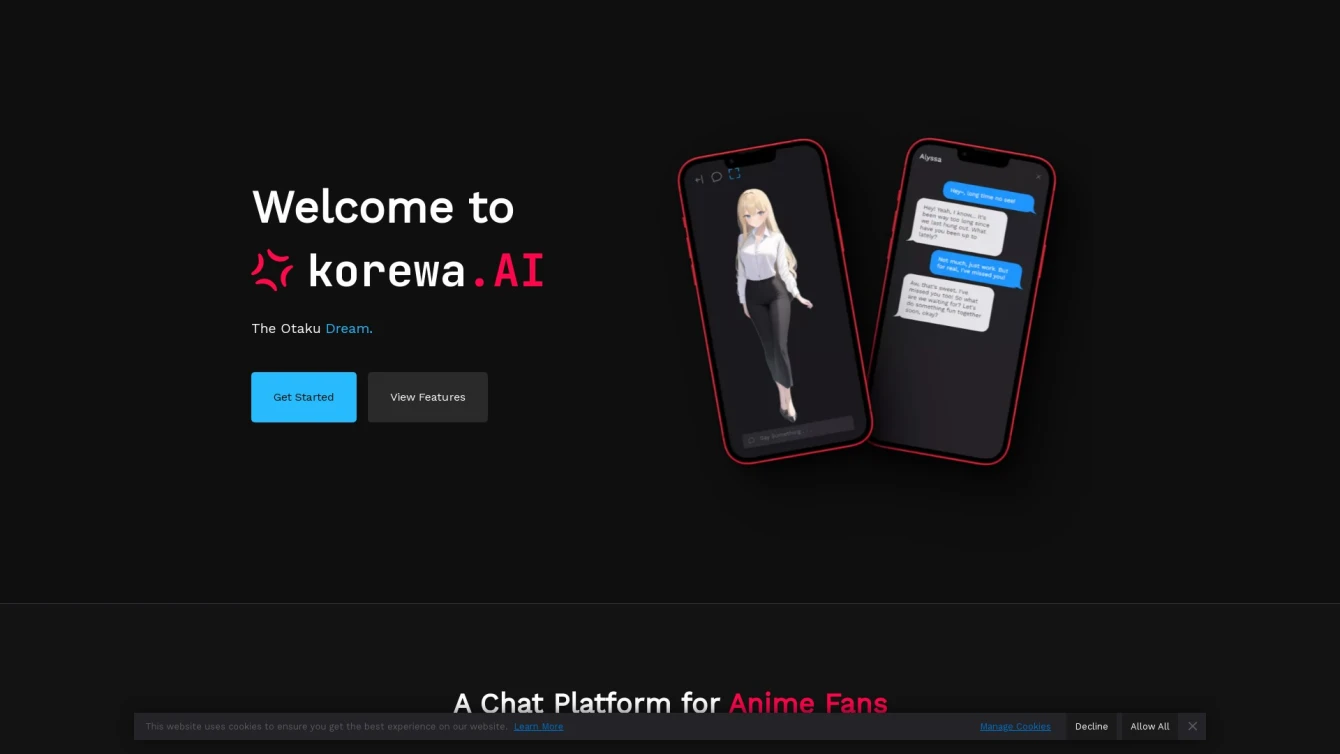 Animating your anime world with interactive, AI-powered characters.
Product information and features
Unleash your imagination with Korewa.AI, an AI tool designed to bring your favorite anime characters to life. This unique platform enables you to engage in lively conversations with AI-generated anime characters, enriched with emotions, memories, and distinct personalities.
With its visual-novel style interface, Korewa.AI takes user experience to the next level by offering a specialized AI model tailored for anime characters. You have the freedom to upload images of beloved characters, modify their personalities, memories, expressions, and feelings, and then chat with them. The AI tool remembers past dialogues, allowing the characters to evolve and grow with each conversation.
For more interactive fun, Korewa.AI allows you to publish your creative endeavors, enabling others on the platform to chat with your custom-made characters. Korewa.AI offers two subscription plans, demo and premium, catering to different user needs. The demo plan provides access to a basic AI model, while the premium plan offers an advanced, more emotive character simulation model, among other benefits.
The brain behind Korewa.AI is Ruel Alarcon, an 18-year-old undergraduate and anime enthusiast. His mission is to integrate lifelike AI into the realm of anime, offering fans a unique, immersive experience. Delivering a visual and emotive character simulation model, Korewa.AI stands out from similar platforms.
In summary, Korewa.AI breathes life into anime characters, offering an immersive AI tool that lets you interact with characters in a way you never thought possible. It's perfect for anime fans looking to explore their favorite characters in more depth or anyone interested in AI and character development. Its use of specialized AI models sets it apart, offering accurate emotion simulation and a rich, interactive user experience.
Tell the world Korewa.AI has been featured on NaNAI.tools:
Korewa.AI Reviews
What's your experience with Korewa.AI?
There are no reviews yet.
Related AI tools to Korewa.AI