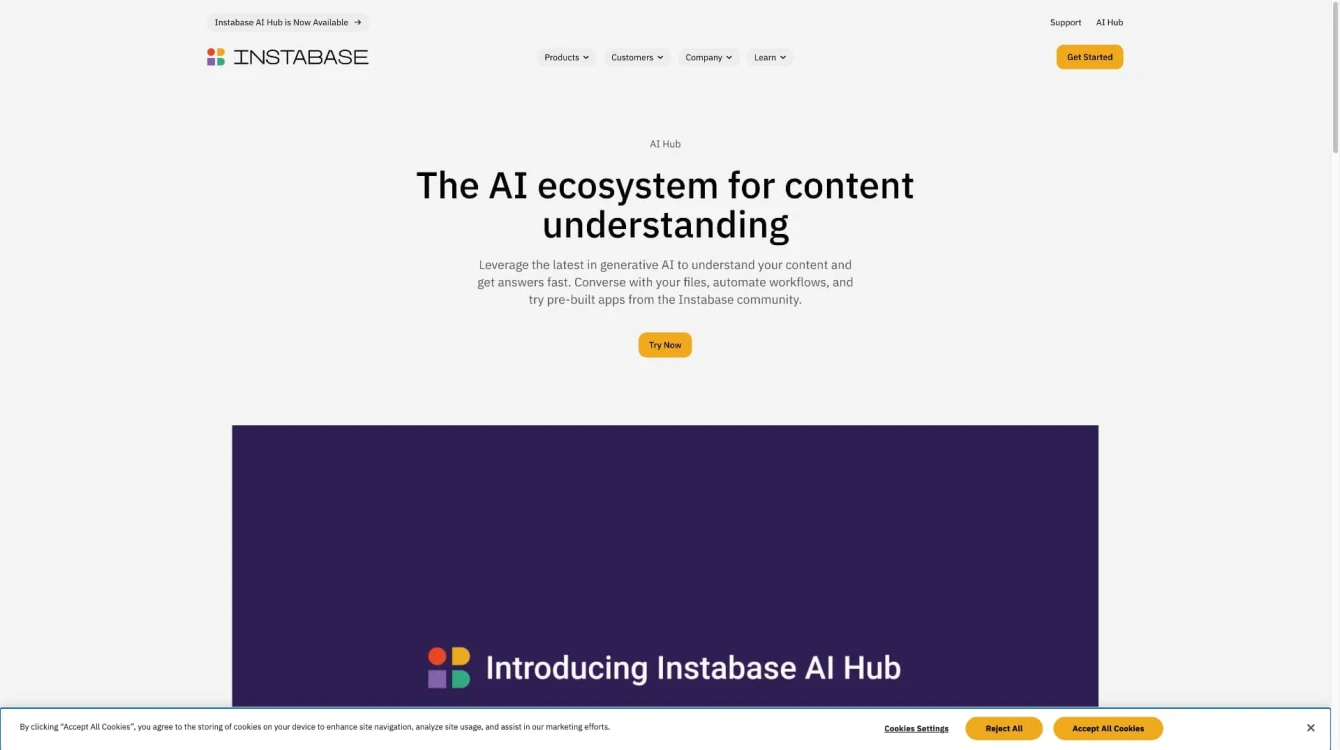 Revolutionizing Business Operations with Power of AI.
Product information and features
Step into the future with Instabase AI Hub, an innovative AI tool that brings the power of artificial intelligence to your fingertips. This generative platform is a treasure trove of AI-based products designed to revolutionize operations in a vast array of sectors - from financial services and healthcare to insurance and public administration.
Instabase AI Hub, found at instabase.com, is more than just a tool. It's a solution to myriad business challenges. Whether you're looking to boost your profits, enhance customer experiences, reduce backlogs, unlock operational efficiencies, or improve revenue cycle management, AI Hub by Instabase has got you covered.
AI Hub by Instabase is no one-trick pony. This platform offers a suite of AI solutions tailored to specific business needs. You can process trades and settlements, onboard customers and understand them (KYC), manage small business lending and mortgage origination, and even process broker submissions. The capabilities don't stop there. Commercial claims processing, utilization management, risk management, provider enrollment, appeals and denials, grants management, immigration processing, contract management, and tax processing automation are all within your grasp.
And for the creators out there, Instabase AI Hub has a special treat. Its AI Solution Builder is a low-code environment where you can craft your own business solutions. You can then deploy, monitor, and operate your AI models with the AI Runtime. It's a playground for AI enthusiasts and a game-changer for businesses.
With its impressive features and capabilities, it's no wonder Instabase AI Hub was recognized by Forbes as one of the best startup employers in America in 2023, reaching a valuation of $2 billion. This platform is more than just a tool. It's a testament to the potential of AI technology.
On top of all this, AI Hub by Instabase offers a treasure trove of resources. From eBooks and whitepapers to a comprehensive learning academy, you can deepen your knowledge and harness the full power of AI. AI-Hub is not just about simplifying business operations; it's about empowering businesses and people with the transformative power of AI technology.
In summary, Instabase AI Hub is a comprehensive AI tool designed to streamline operations and address business challenges across various industries. It offers a suite of AI-based solutions for specific business needs, along with a platform for creating and operating AI models. With resources for learning and innovation, it is an excellent choice for businesses and individuals looking to harness the power of artificial intelligence.
Tell the world Instabase AI Hub has been featured on NaNAI.tools:
Instabase AI Hub Reviews
What's your experience with Instabase AI Hub?
There are no reviews yet.
Related AI tools to Instabase AI Hub