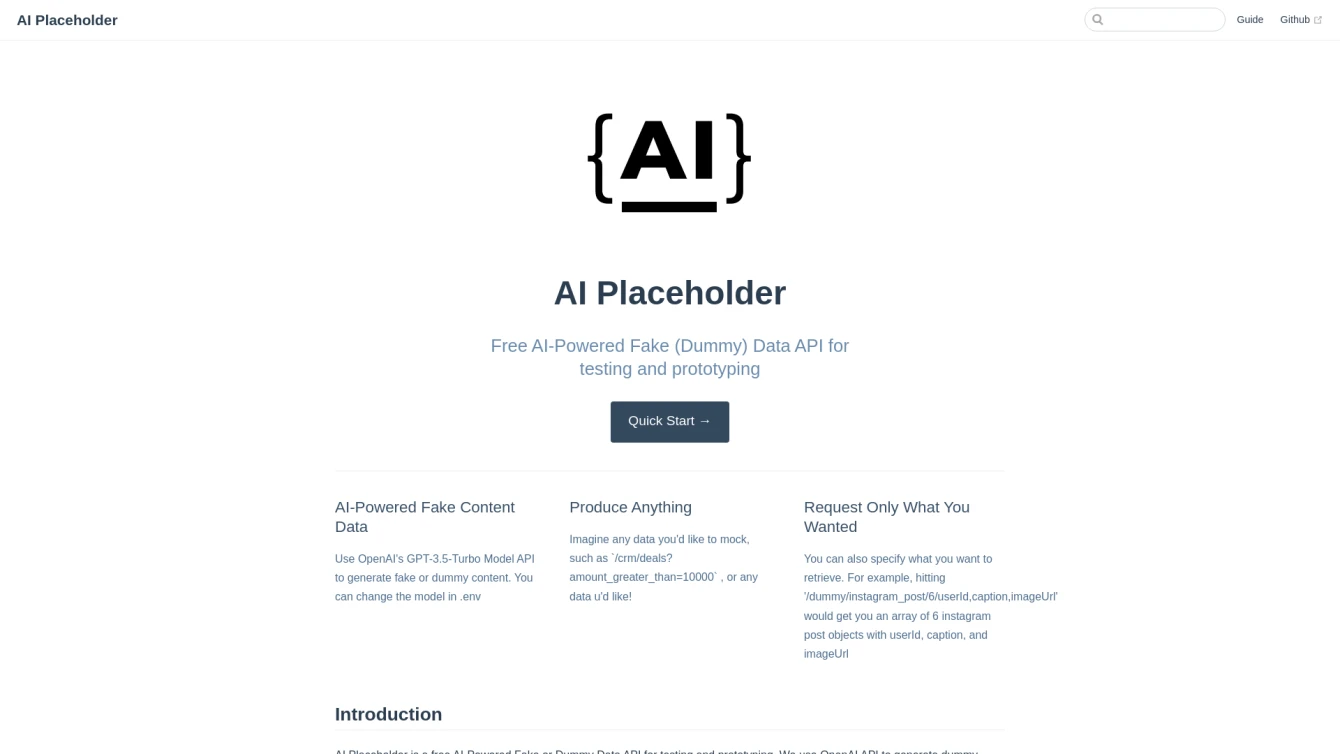 Generates AI-powered dummy data for testing and prototyping.
Product information and features
Introducing the AI Placeholder, an AI tool that provides free access to artificial intelligence-powered dummy data. Ideal for testing and prototyping, this tool utilizes OpenAI's GPT-3.5-Turbo Model API to create dummy content.
AIPlaceholder.net offers flexibility by allowing you to use the hosted version or self-host as per your requirements. This means you can access the generated data using standard HTTP request methods.
Regardless of the route specified, the API returns data. You have the freedom to add mock query strings or paths. This tool allows you to retrieve any data type, and you can request specific query methods through the API.
Moreover, to access specific information, simply go to 'fake' and add fields separated by commas. This will allow you to specify particular record objects. The diversity and adaptability of the generated data mean it can be employed across various applications. Whether it's CRM deals, user lists, product lists, or forum user info, this AI tool has you covered.
AI Placeholder is an excellent resource for teams that need dummy data for documentation, testing, or prototyping data-driven plugins. It's not only easy to install for self-hosting enthusiasts but also comes with in-depth documentation and user guides.
Interested users also have the chance to contribute to the project source code on GitHub. Licensed under permissive terms, AI Placeholder encourages users to support the project through donations.
In conclusion, AI Placeholder is an invaluable tool for generating any data required for testing or prototyping. It's flexible, versatile, and easy to use, making it ideal for teams needing dummy data for various applications. Its features, use cases, and user support options make it a must-have tool in the realm of data generation.
Tell the world AI Placeholder has been featured on NaNAI.tools:
AI Placeholder Reviews
What's your experience with AI Placeholder?
There are no reviews yet.
Related AI tools to AI Placeholder