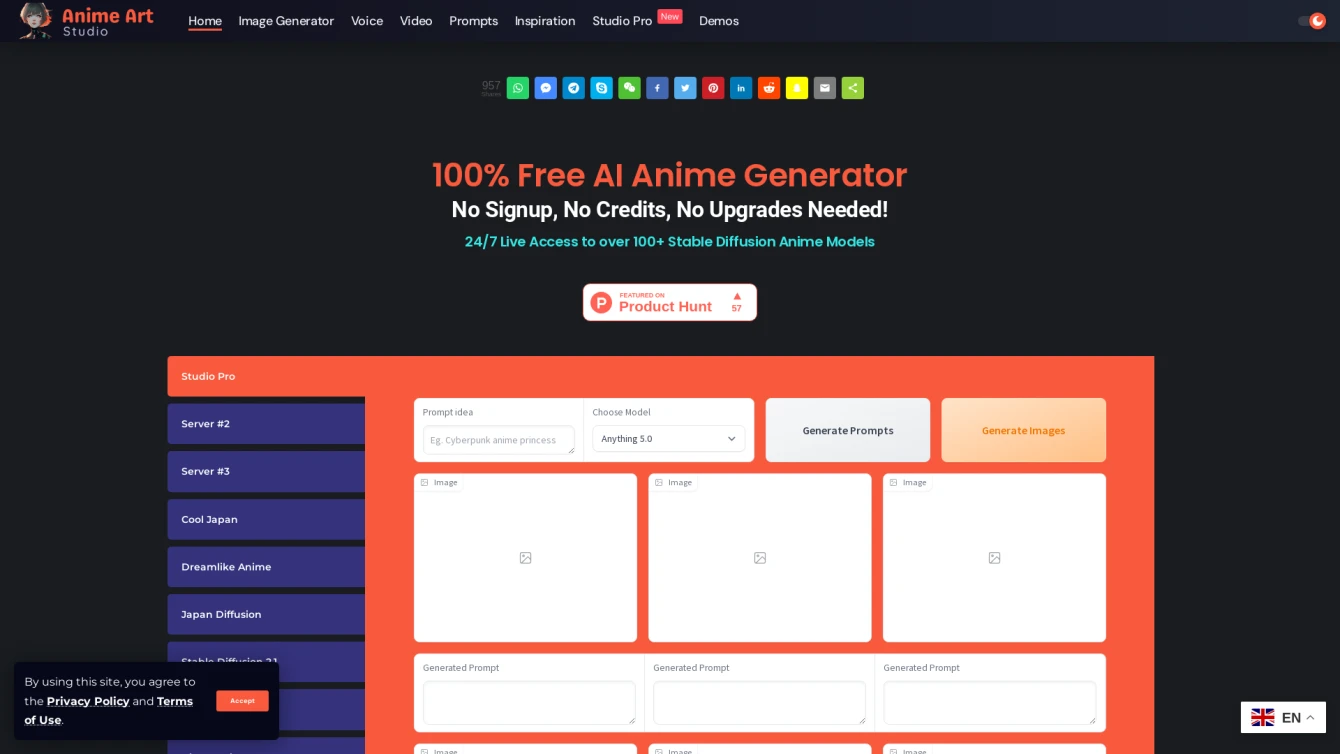 Creating limitless anime art with the power of AI.
Product information and features
Unleash your artistic potential with AnimeArt.Studio, an AI tool that effortlessly generates captivating and unique anime art. This platform is available around the clock, offering a wide variety of more than 100 stable diffusion anime models for you to choose from and experiment with.
At AnimeArt.Studio, you'll find a rich assortment of generators at your disposal. These include image, voice, video, and prompt generation, thereby enabling you to tap into your creativity and bring your ideas to life. Additionally, the platform provides demos to inspire and guide you as you navigate the world of AI-generated art.
Unlike other platforms, AnimeArt.Studio gives you the freedom to explore multiple models using the same prompt. This flexibility ensures you get impressive results every time, thanks to the pre-trained AI anime models that embody unique styles. Plus, you can run the same prompt across different models in real-time, making the creative process more seamless and efficient.
Quality and effectiveness are central to the AnimeArt.Studio experience. The team ensures this by conducting thorough testing and reviews of the models. The result is a suite of tools that you can use for personal or commercial projects, all free of charge. However, to uphold high standards, the platform may occasionally remove underperforming tools or those infringing developer licenses.
Lastly, AnimeArt.Studio is committed to providing an unparalleled AI-generated anime experience. It invites you to explore the endless possibilities that AI-generated anime art has to offer.
In conclusion, AnimeArt.Studio adapts to your needs, providing a wide array of generators, multiple models, and real-time processing. Whether you're working on a personal project or something for commercial use, AnimeArt.Studio is the AI tool to help you bring your creative vision to life.
Tell the world Anime Art Studio has been featured on NaNAI.tools:
Anime Art Studio Reviews
What's your experience with Anime Art Studio?
There are no reviews yet.
Related AI tools to Anime Art Studio