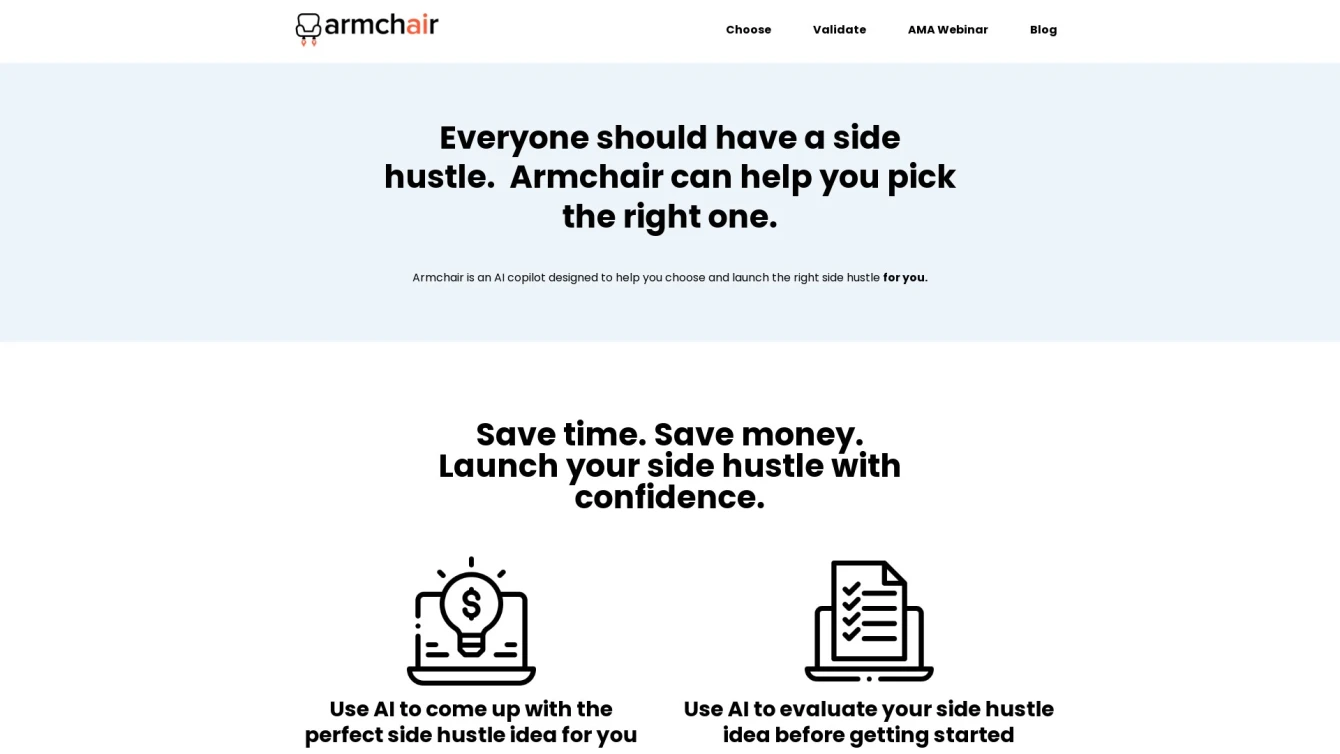 Personalizing your entrepreneurial journey with intelligent recommendations.
Product information and features
Welcome to the world of Armchair, an AI tool designed with the goal of guiding you towards the ideal business or side hustle. Tailored to your unique interests, skill set, experiences, and objectives, this AI tool sifts through a vast amount of data on available opportunities, delivering personalized recommendations in a matter of minutes.
With Armchair, you can bypass the detours of pursuing a mismatched idea, thus saving you from expending your valuable time and effort on a venture that doesn't resonate with your core strengths and passions. armchair.ai doesn't just cater to the experienced entrepreneurs; whether you're a novice looking to earn some extra cash or an ambitious individual with a vision of establishing a successful enterprise, Armchair is there for you.
To begin utilizing this AI tool, you simply need to answer a series of questions about your aspirations, proficiency, experiences, and interests. Based on your responses, Armchair then crafts a custom list of suggested businesses and side gigs that align with your profile.
Unlike other AI tools, Armchair steers clear of hype and buzzwords, instead emphasizing precision and objectivity. It does not dish out arbitrary numbers or predictions but provides clear, personalized, and actionable recommendations.
In summary, Armchair is a robust AI tool that offers personalized business and side hustle recommendations based on your unique profile. It's a versatile platform that caters to individuals at various stages of entrepreneurship. With its emphasis on objectivity and precision, Armchair can be a valuable tool in your journey towards finding the right business opportunity.
Tell the world Armchair has been featured on NaNAI.tools:
Armchair Reviews
What's your experience with Armchair?
There are no reviews yet.
Related AI tools to Armchair