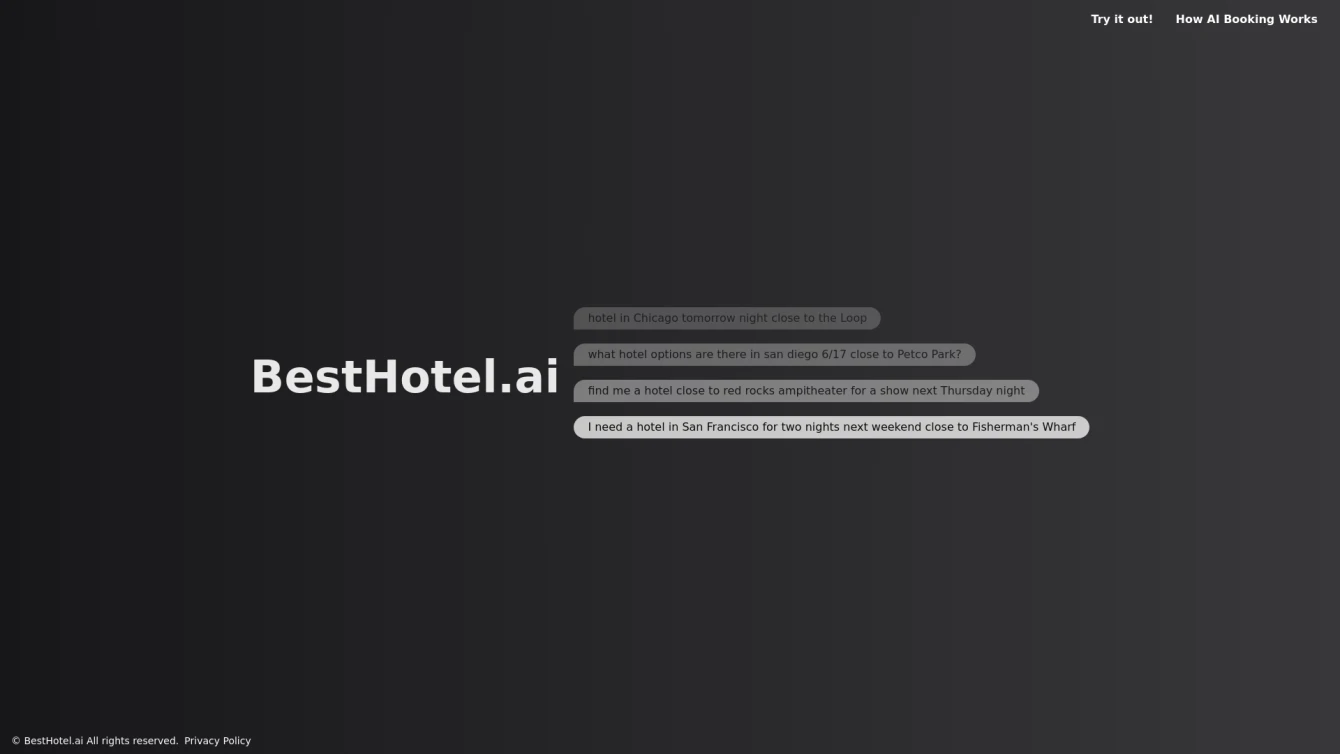 Simplifying hotel booking with AI-powered precision.
Product information and features
Dive into the world of AI-enhanced accommodation with the BestHotel platform. This AI tool is designed to take the hassle out of hotel hunting, providing you with a plethora of options tailored to your specific needs.
BestHotel.ai leverages its artificial intelligence capabilities to comprehend and handle natural language queries. This permits you to interact with the tool in a casual, conversational style. Whether you're looking for a hotel close to a concert venue for a specific date or need accommodation in the vicinity of a particular landmark, this tool can provide precise and relevant options based on your input.
BestHotel.ai isn't just about location and date; you can also use it to find accommodations in proximity to specific landmarks or areas. Simply state your needs, like a two-night stay in San Francisco close to Fisherman's Wharf, and watch as the tool delivers.
While the tool does feature a 'Try it out!' button, it remains unclear whether user registration is required prior to usage. The site does not offer details about the number of hotels or suppliers it aggregates, or how its database stacks up against other hotel platforms.
In summary, BestHotel.ai offers a unique, AI-powered approach to hotel bookings. Its ability to understand natural language queries makes it a user-friendly tool that can be extremely beneficial to travelers seeking easy and quick hotel booking solutions. However, the lack of information about its database might be a point to consider for some users.
Tell the world Besthotel has been featured on NaNAI.tools:
Besthotel Reviews
What's your experience with Besthotel?
There are no reviews yet.
Related AI tools to Besthotel