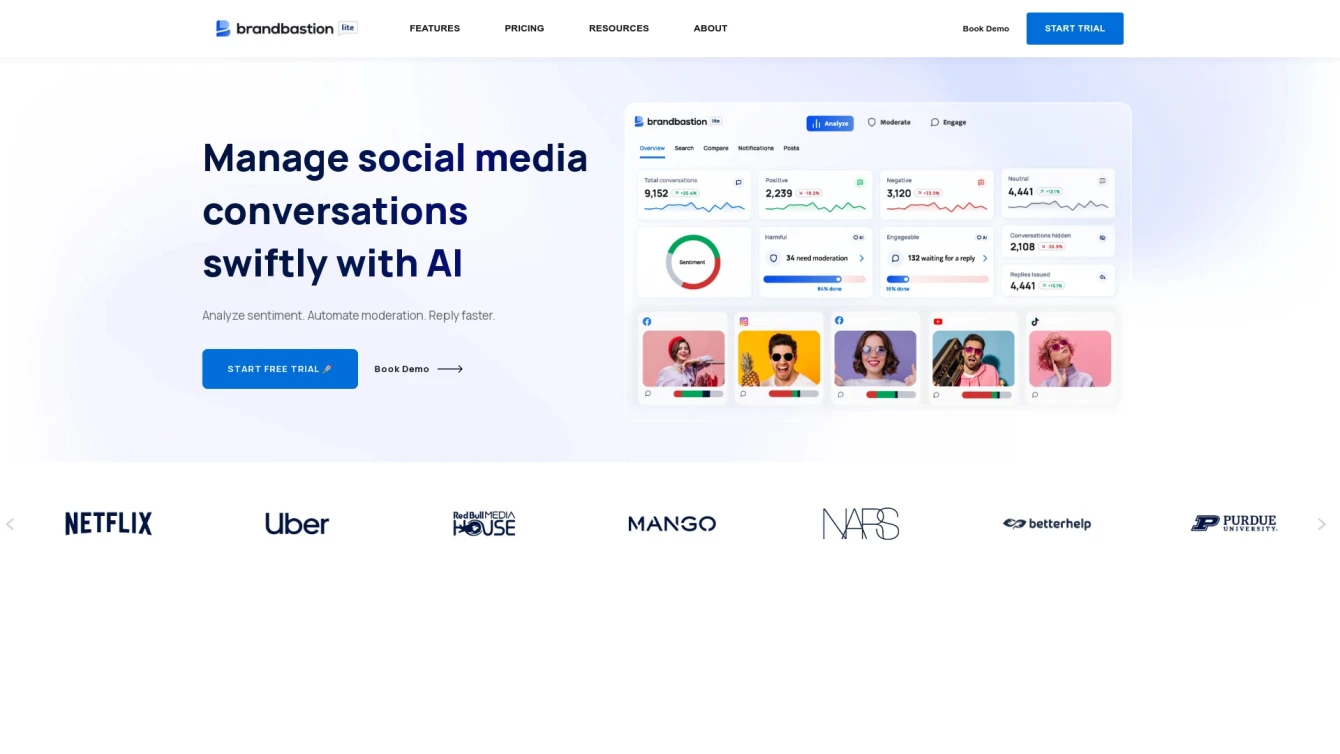 Streamlining social engagement with AI-powered efficiency.
Product information and features
Take control over your social engagement with BrandBastion, an AI tool designed to streamline communication and sentiment analysis across various social platforms. This software offers you an efficient way to manage and respond to comments, hide any undesired messages, and identify the ones that require your attention.
BrandBastion.com/lite provides a consolidated inbox, where you can view all comments from posts, ads, and dynamic ads, irrespective of the social platform they originated from. The AI tool assists in identifying comments that need a response or those that need to be hidden, making your social media management efficient and hassle-free.
With this tool, you can sort comments by keywords, sentiment, campaign, post, platform, and more using robust filters. It also allows you to set up notifications for sudden increases in comment volume or specific keyword mentions, ensuring that you're always on top of your social media interactions.
BrandBastion also enables efficient team collaboration by allowing you to assign conversations to specific team members. Pre-set replies to common questions are also available to expedite your communication process. The tool's reach extends to Facebook, Instagram, YouTube, Twitter, and TikTok, both for organic and ad-related interactions.
In addition to these features, BrandBastion offers valuable insights from conversations, including sentiment analysis and content resonance. This AI tool not only helps in managing your social engagement but also provides actionable data, assisting you in making informed decisions for your business.
In summary, BrandBastion is a highly efficient AI tool that takes care of your social engagement across multiple platforms. It facilitates comment management, sentiment analysis, team collaboration, and offers insightful data. With its help, you can stay on top of your social media interactions, respond promptly, and make strategic decisions based on the analysis provided.
Tell the world BrandBastion has been featured on NaNAI.tools:
BrandBastion Reviews
What's your experience with BrandBastion?
There are no reviews yet.
Related AI tools to BrandBastion