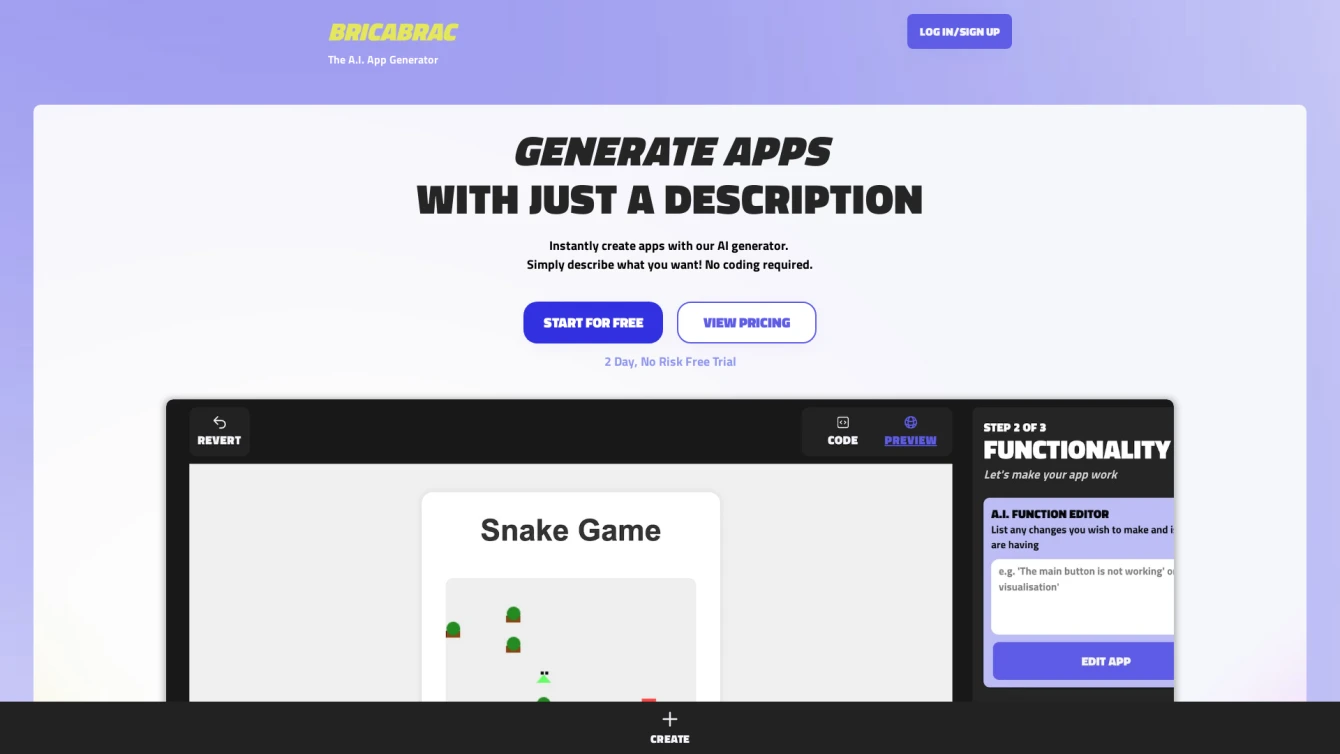 Empowering users to create custom web apps without coding.
Product information and features
Immerse yourself in the world of app development with the Bricabrac AI tool, a cutting-edge platform that empowers you to create your own web apps, games, and tools without any programming experience. Utilizing the advanced GPT-4 natural language processing technology, this AI tool transforms your text descriptions into fully operational web apps.
On submission of your app description, Bricabrac crafts a responsive and intuitive web app, providing you the freedom to tweak the output with a no-code editor. From hobbyists to professional developers, everyone can create their dream app with ease and efficiency.
Bricabrac offers a diverse range of plans tailored to meet your needs. The free plan, allowing for six app creations per month, also takes care of hosting and code export. For power users, the Power Plan offers 102 AI generations per month, unlimited hosting and code export, and a flexible cancellation policy.
Apart from its core functionality, Bricabrac also fosters community engagement with its gallery feature, currently in beta. This unique feature allows you to host your creations and invite others to remix and export the code, fueling collaborative development.
Despite being in beta, additional functionalities such as external libraries, native apps, and user data storage and authentication are also available, making it a versatile tool for app development.
In summary, Bricabrac is a user-friendly, powerful AI tool that drastically cuts down on the time and cost associated with custom web app development. Its AI-driven generator and no-code editor make it an ideal choice for those who wish to create apps without diving into the intricacies of coding. Whether you're an aspiring developer or a seasoned pro, Bricabrac opens up a world of possibilities for app creation.
Tell the world Bricabrac has been featured on NaNAI.tools:
Bricabrac Reviews
What's your experience with Bricabrac?
There are no reviews yet.
Related AI tools to Bricabrac