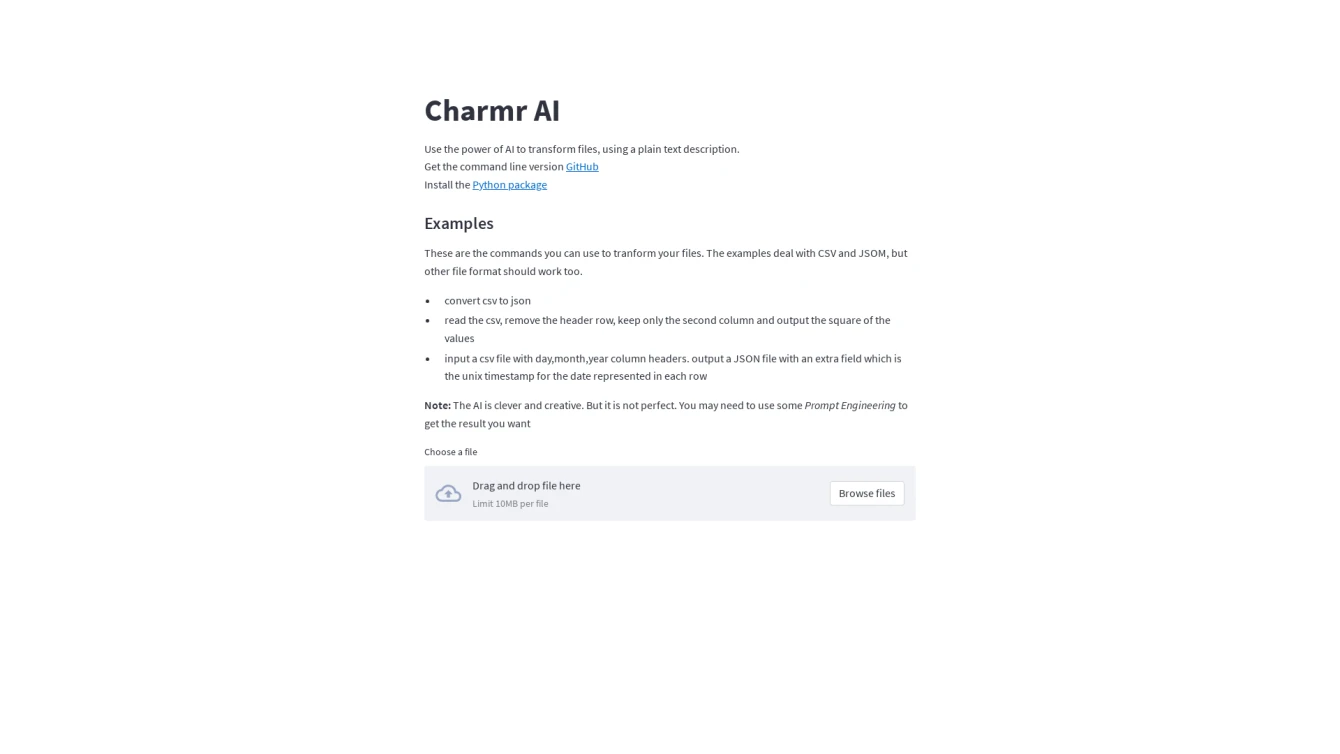 Transform files effortlessly with concise text descriptions.
Product information and features
Achieve file transformation with ease using Charmrai, an AI tool that enables you to modify a myriad of file types with concise text descriptions. With it, you can effortlessly convert CSV files to JSON format, eliminate header rows, retain specific columns, and yield squared values. It also provides capabilities to transform CSV files containing day, month, and year column headers into a JSON format with an additional Unix timestamp field for each row.
Charmrai is accessible via GitHub as a command-line version and can be installed as a Python package. Despite its AI's creativity and intellect, it might necessitate some Prompt Engineering for optimal results. Charmrai also allows you to upload files up to a size of 10MB via its user interface, which is constructed on Streamlit.
Although Charmrai's website primarily demonstrates transformations with CSV and JSON files, the AI tool supports other file formats as well. However, to obtain desired outcomes, it's crucial to give the AI clear and comprehensive instructions.
In a nutshell, Charmrai is a powerful and user-friendly tool, designed to make file transformations simpler. By combining a drag-and-drop interface with AI-powered transformation capabilities, Charmrai streamlines the often complex task of file manipulation, benefitting users across a wide range of sectors.
Tell the world Charmrai has been featured on NaNAI.tools:
Charmrai Reviews
What's your experience with Charmrai?
There are no reviews yet.
Related AI tools to Charmrai