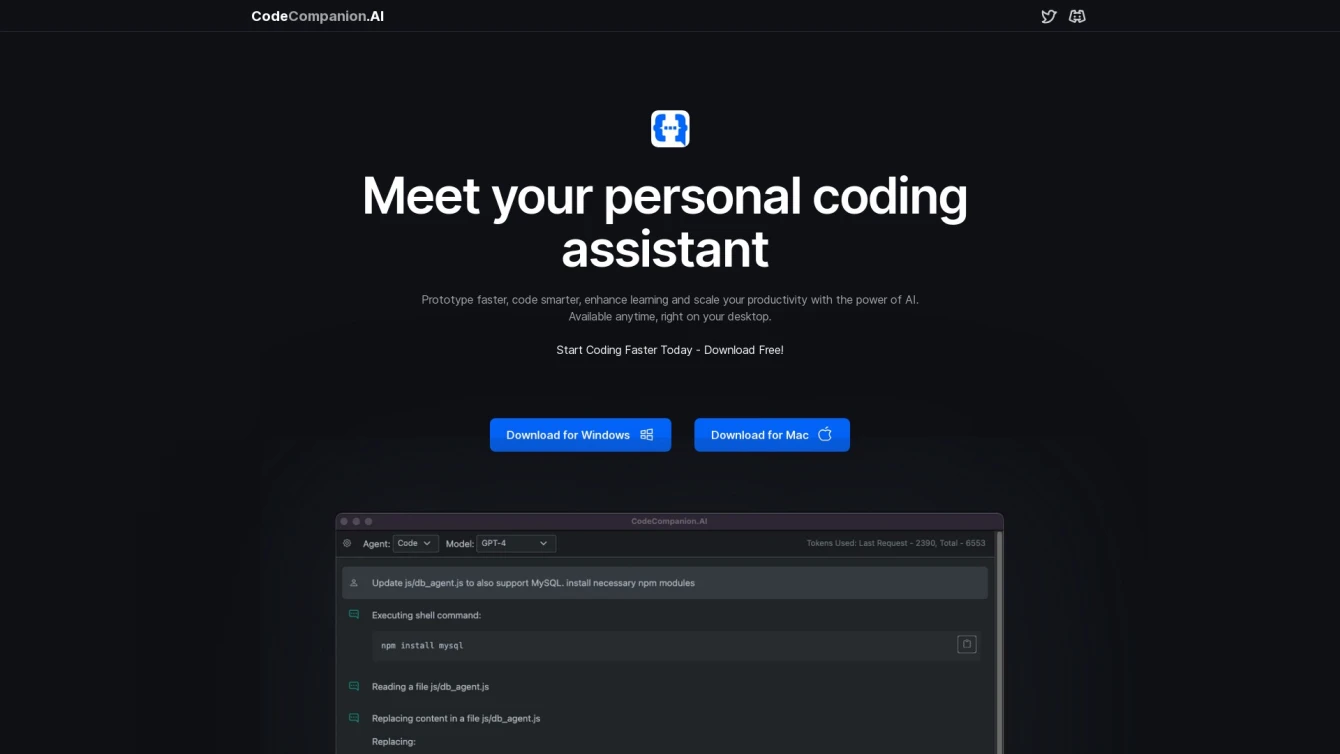 Automating Coding and Data Analytics with Natural Language.
Product information and features
Experience the future of coding with CodeCompanion.AI (AKA Chat2Code.ai), an AI tool that effortlessly automates your coding process and dependency installation. Take advantage of this platform-agnostic instrument that enables you to create and modify apps in any coding language.
The AI tool flaunts a unique 'natural language to SQL' feature, integrating your database directly and performing natural language queries. This makes it an invaluable tool for hassle-free data exportation, effectively serving as a business intelligence tool.
Even data analytics becomes a breeze with its 'plain English to any chart' conversion feature. This guarantees a user-friendly approach to data visualization. And no need to worry about your data privacy; rest assured, your data will never leave your device.
Chat2Code.ai also enhances the ChatGPT experience by allowing multi-file uploads, large file handling, webpage accessibility, and a speech-to-text function. All these features contribute to a more optimized and enjoyable user experience.
Enjoy the benefits of Chat2Code.ai starting at a minimal monthly fee of $5, or try out the free version using your OpenAI API key. Please be reminded that the tool is still in beta, and users are advised to use it at their own discretion.
Summing up, Chat2Code.ai is a revolutionary AI tool that offers automation and integration benefits for programmers. It enables app creation in various platforms and languages, using only natural language. Its standout features simplify data analytics and uphold data privacy, making it a must-have tool for modern-day programmers.
Tell the world CodeCompanion.AI (AKA Chat2code.ai) has been featured on NaNAI.tools:
CodeCompanion.AI (AKA Chat2code.ai) Reviews
What's your experience with CodeCompanion.AI (AKA Chat2code.ai)?
There are no reviews yet.
Related AI tools to CodeCompanion.AI (AKA Chat2code.ai)