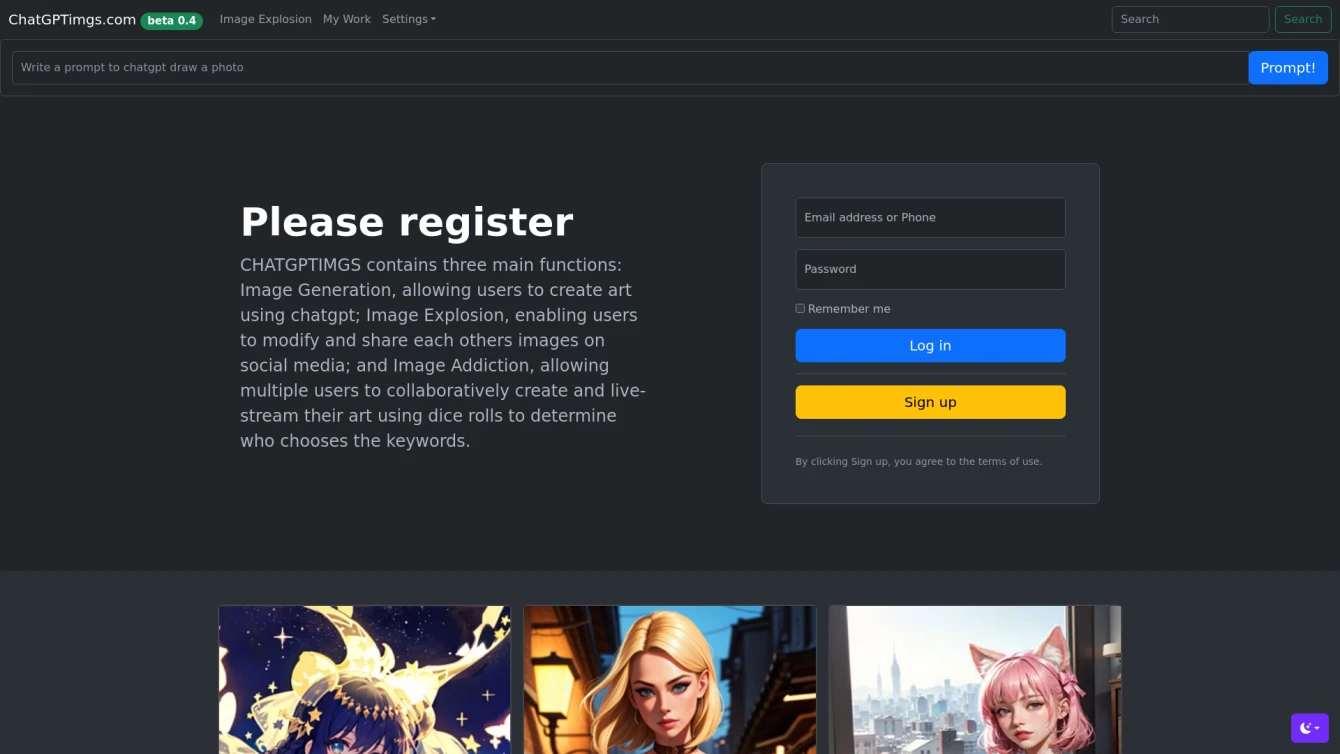 Unleashing creativity with AI, one art piece at a time.
Product information and features
Immerse yourself in the world of art creation with ChatGPTImgs. This AI tool is your gateway to explore your artistic side. The Image Generation feature of this tool lets you create diverse and engaging art pieces with the help of AI technology. It's not just about creating art, it's about sharing it too. With the Image Explosion feature, you can modify, enhance, and share your creations with your social media network, making it an interactive experience.
ChatGPTImgs not only caters to individual users but also encourages collaborative efforts. The Image Addiction feature offers an opportunity for multiple users to come together, create, and live-stream their art. This feature incorporates a unique dice roll element to decide which user chooses the keywords for collaborative art creation.
With ChatGPTImgs, convenience is a priority. The tool offers a secure login option for users and a straightforward registration process for new users. It also provides a 'Remember me' feature for quick login, customization options, password change facilities, and a logout feature, ensuring that your experience remains user-friendly and secure.
It's worth noting that ChatGPTImgs.com is in its beta 0.4 version, implying that the tool is continuously evolving. The potential for improvements and enhancements over time is immense, promising an ever-improving user experience.
In summary, ChatGPTImgs.com is a comprehensive platform that combines AI technology with art creation. It offers a multitude of features from image creation, modification, and sharing to collaborative art creations. It's not just a tool, it's a community for art enthusiasts to come together, create, share, and enjoy art.
Tell the world ChatGPTImgs has been featured on NaNAI.tools:
ChatGPTImgs Reviews
What's your experience with ChatGPTImgs?
There are no reviews yet.
Related AI tools to ChatGPTImgs