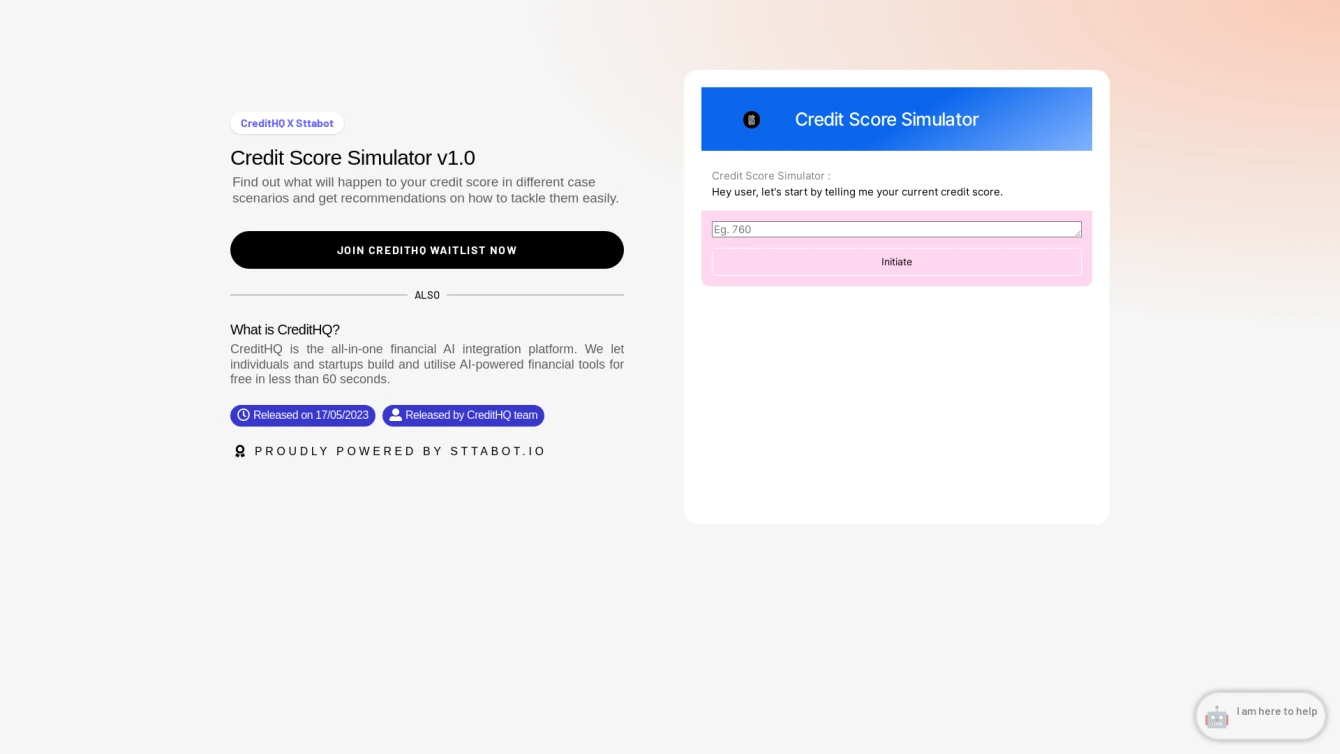 Shaping your financial future with AI-powered credit score simulation.
Product information and features
Explore the potential impacts on your credit score with the Credithq x Sttabotcredit Score Simulator V1.0 at Credithq.tech. This AI tool enables individuals and startups to understand how different scenarios might affect their credit score. It offers insightful recommendations to help you deal with potential issues and reinforce your credit score effectively.
Despite being in its nascent stages, this AI tool has a waitlist you can join to secure access. It's an integral part of Credithq.tech, a comprehensive financial AI integration platform. This platform empowers users to create and utilize AI-driven financial tools with no cost, all within a minute.
Credithq.tech is committed to democratizing financial tools and insights through cutting-edge AI technology. The Credithq x Sttabotcredit Score Simulator V1.0 stands as a valuable asset for those eager to understand how their credit score can fluctuate under various circumstances, from making hefty purchases to skipping payments.
The recommendations offered by this AI tool can guide users in making well-informed decisions about their finances. The convenience of accessing this tool via the Credithq.tech platform increases its accessibility for anyone keen on comprehending the financial consequences of their actions.
In summary, the Credithq x Sttabotcredit Score Simulator V1.0 is a powerful AI tool that provides a deeper understanding of credit scores. It not only simulates different scenarios but also offers practical advice to improve your financial health. The tool's easy accessibility on the Credithq.tech platform makes it a go-to solution for individuals and startups seeking financial insights and tools powered by AI.
Tell the world Credit Score Simulator AI has been featured on NaNAI.tools:
Credit Score Simulator AI Reviews
What's your experience with Credit Score Simulator AI?
There are no reviews yet.
Related AI tools to Credit Score Simulator AI