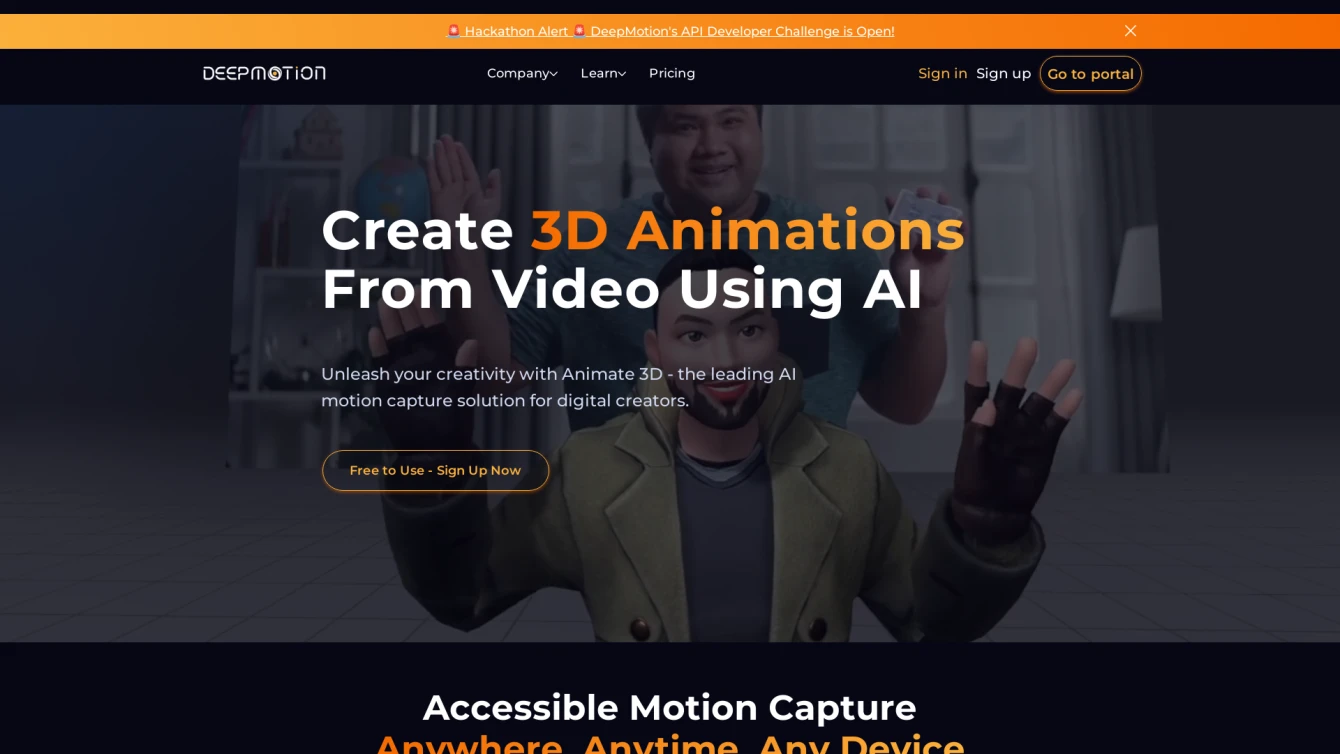 Revolutionizing Animation and Motion Capture with AI.
Product information and features
Discover a new dimension in animation and motion capture with the AI tool, DeepMotion. This advanced tool lets you create 3D animations from videos, accessible through any web browser. It's a cutting-edge solution that brings character animation and motion tracking to your fingertips.
DeepMotion.com offers four distinctive products, each tailored to satisfy different animation needs. Animate 3D breathes life into your videos by generating 3D animations. Real-Time Body Tracking captures and rebuilds 3D full body motion, creating a seamless user experience. Virtual Reality Tracking spawns immersive full-body avatars using minimum trackers. Lastly, Motion Brain shifts digital beings from animated to alive, injecting realism into your projects.
DeepMotion leverages the power of AI and markerless motion capture, an industry-first for web and mobile solutions for creating and animating digital characters. The team behind this tool is a group of industry veterans with rich experience from world-renowned companies like Blizzard, Pixar, and Disney. They are driven by their mission to pioneer in the field of Motion Intelligence.
DeepMotion has also forged alliances with industry giants such as Samsung, Qualcomm, Nvidia, and Intel to bolster performance and enhance user experiences. You can test the tool for free or get in touch with their sales team for further details.
In summary, DeepMotion is an AI tool that brings a revolution in 3D animation and motion capture. Whether you need to animate digital characters or track bodily movements in real-time, this tool can be your go-to solution. It offers four different products catering to diverse animation requirements. With DeepMotion, creating sophisticated and lifelike animations has never been easier.
Tell the world Deepmotion has been featured on NaNAI.tools:
Deepmotion Reviews
What's your experience with Deepmotion?
There are no reviews yet.
Related AI tools to Deepmotion