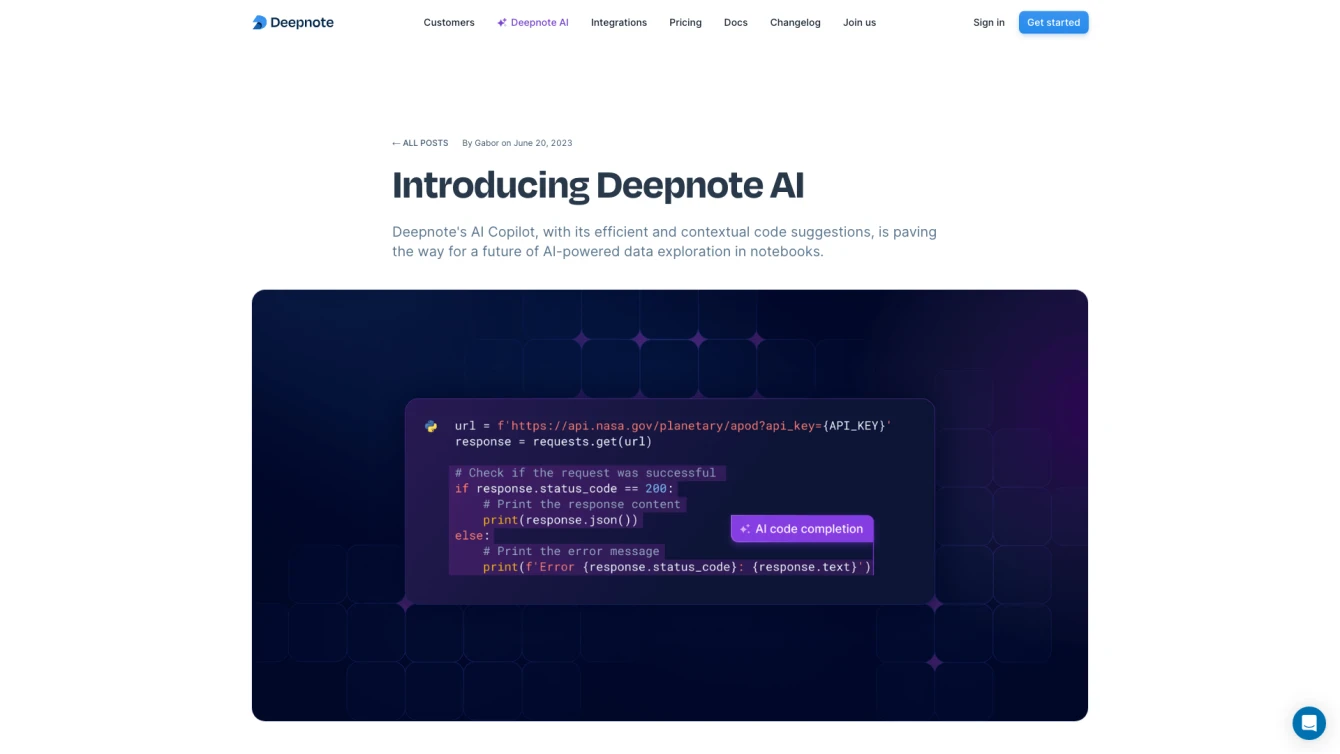 Revolutionizing data analytics with AI-powered code suggestions.
Product information and features
Introducing Deepnote Copilot, an AI tool that revolutionizes the way data scientists and analysts work with Python and other coding languages. This tool excels in providing context-based code suggestions within your notebook inputs and outputs, boosting your efficiency and productivity with its rapid, relevant coding advice.
Unlike traditional chat interfaces, this AI tool offers a dynamic workspace, allowing you to maintain your workflow focus. Deepnote Copilot takes advantage of the rich context provided by notebooks, which encapsulate code, files, data, narratives, analytical goals, and thought processes. This abundant resource offers vast potential for AI assistance.
Deepnote Copilot reduces boilerplate code and repetitive tasks, allowing you to focus on the bigger picture. It provides insightful contextual code suggestions, enhancing your productivity. The developers at deepnote.com are actively working to introduce more conversational AI features, such as code editing, debugging, and understanding, as well as SQL assistance. These features are aimed at increasing the productivity of analytics professionals and lowering the entry barrier to impactful data work, regardless of technical skills.
In partnership with Codeium, Deepnote Copilot offers improved model performance, remarkable speed, and a generous context window, delivering collaborative notebooks that enhance user productivity.
In summary, Deepnote Copilot is an innovative AI tool that boosts data exploration in notebooks. It's a promising resource for increasing productivity in data analytics workflows, providing insightful contextual code suggestions, reducing boilerplate code, and offering a range of conversational AI features for code generation, editing, debugging, and SQL assistance.
Tell the world Deepnote Copilot has been featured on NaNAI.tools:
Deepnote Copilot Reviews
What's your experience with Deepnote Copilot?
There are no reviews yet.
Related AI tools to Deepnote Copilot