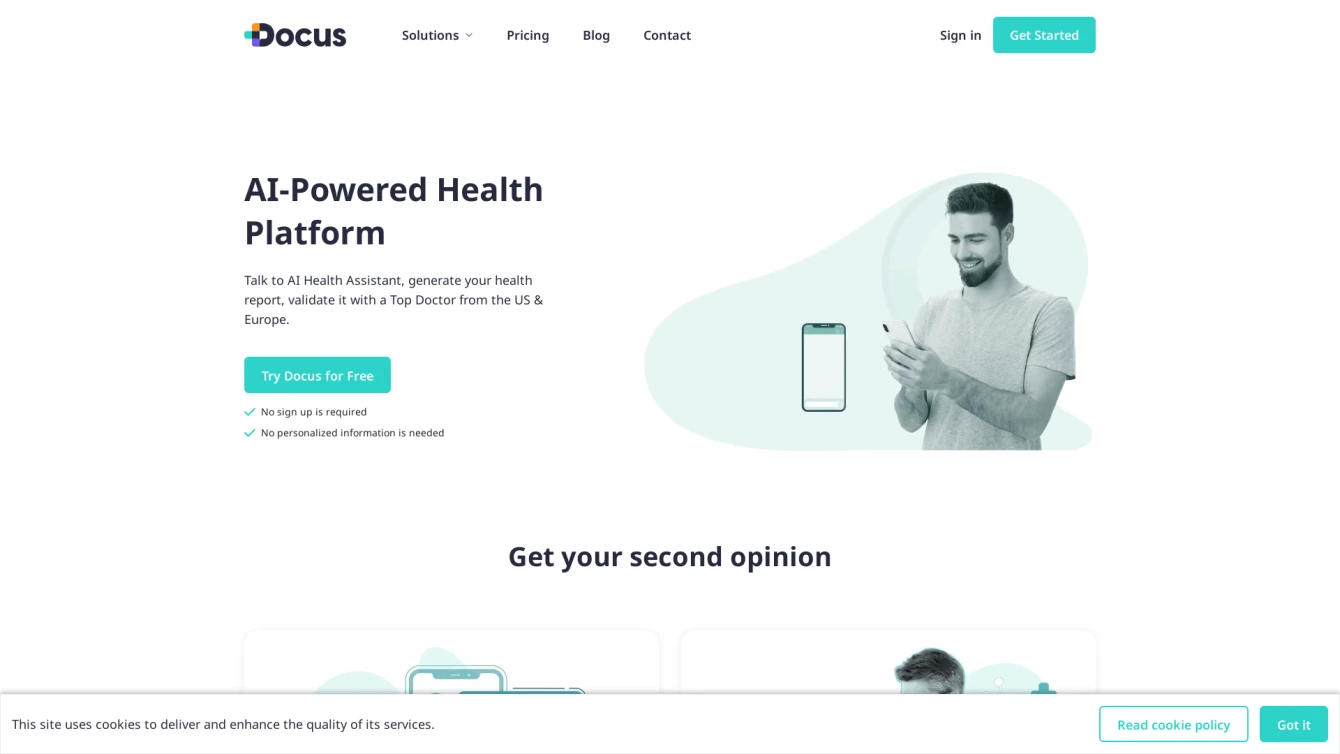 Revolutionizing Healthcare Decisions with AI.
Product information and features
Discover the power of AI in the healthcare sector with Docus AI. This AI tool is a health platform that empowers users to make more precise health choices. Docus AI's AI Health Assistant generates a comprehensive health report, which can be validated by obtaining a second medical opinion from a renowned doctor.
With Docus AI, you can submit your health details and ask health-related questions, receiving detailed and insightful responses from the AI Health Assistant. Furthermore, you can select a doctor from top-notch medical institutions in the US and Europe to provide a medical second opinion either in writing or through a video call.
Please keep in mind that the AI Health Assistant is intended to be used for gaining information only and should not replace professional medical advice. Always consult with a doctor before making any health-related decisions.
Endorsed by credible sources like Forbes, Entrepreneur, and others, docus.ai has gained trust and recognition for its secure and reliable services. Users have shared positive feedback about the ease of obtaining a second opinion, saving them time, money, and unnecessary travel.
With its speed, accuracy, and valuable insights, the AI Health Assistant is changing the way healthcare is approached, enabling users to make informed decisions about their health from the comfort of their homes.
In summary, Docus AI is a robust health platform powered by AI. It provides insightful health reports, allows for easy consultation with top doctors, and aids in making informed health decisions. It's a one-stop solution for those looking for a second opinion on their health condition, making healthcare more accessible and efficient.
Tell the world Docus AI has been featured on NaNAI.tools:
Docus AI Reviews
What's your experience with Docus AI?
There are no reviews yet.
Related AI tools to Docus AI