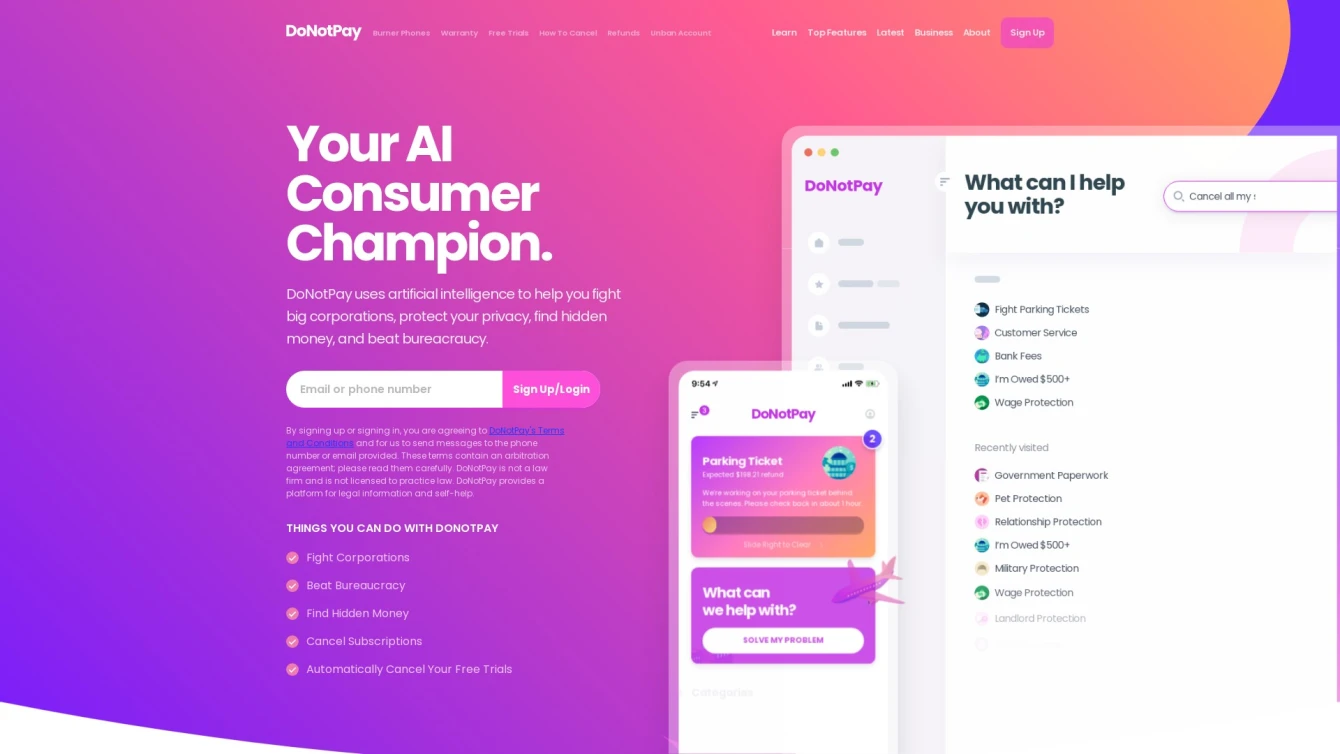 Empowering users with legal services at their fingertips.
Product information and features
Explore the incredible range of legal services offered by DoNotPay, an AI tool that simplifies the complex world of law. It is an AI-powered platform that empowers you to challenge corporations, overcome bureaucracy, and even initiate lawsuits with ease. Donotpay.com provides an array of services to make your life simpler.
Features offered include canceling free trials, contesting parking tickets, suing robocallers for cash, uncovering hidden money, filing 83b elections, creating advance health care directives, and appealing banned accounts, among others. These services are designed to give you the upper hand in dealing with legal matters.
With a user-friendly interface, you can effortlessly locate the service you require on Donotpay's website. To further enhance your experience, it also provides a host of resources such as articles about laws, legal advice, and tips on how to optimize the available services.
While DoNotPay is not a law firm, it is an incredibly useful platform for acquiring legal information and self-help. The aim of this AI tool is to make legal matters more manageable and comprehensible so that you can obtain the assistance you need without breaking the bank.
In summary, DoNotPay is a comprehensive AI tool that provides a wide array of legal services to simplify your life. Whether you need to contest a parking ticket, sue a robocaller, or create an advance health care directive, this platform has you covered. It's a one-stop-shop for legal information and self-help that can help you navigate the often confusing world of law.
Tell the world Donotpay has been featured on NaNAI.tools:
Donotpay Reviews
What's your experience with Donotpay?
There are no reviews yet.
Related AI tools to Donotpay