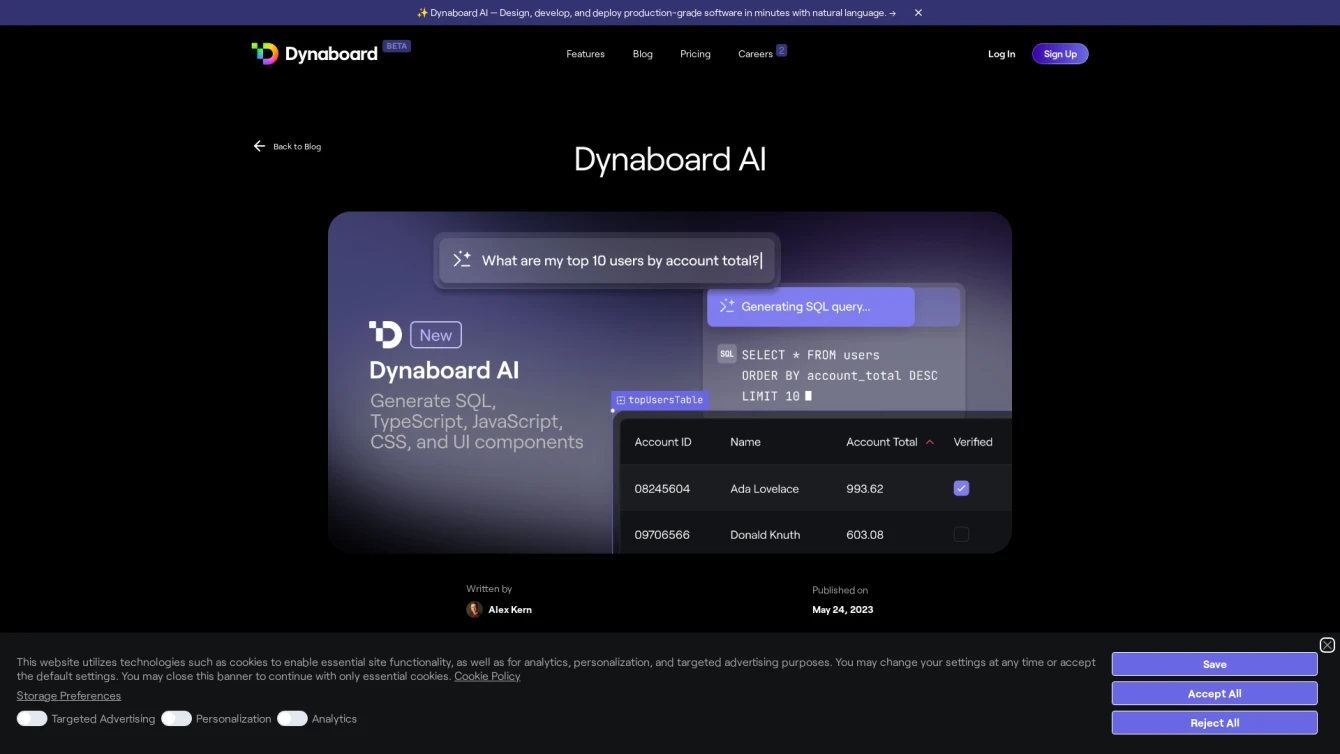 Accelerating software development with AI-powered functionalities.
Product information and features
Imagine a world where software development gets a lot easier and faster, thanks to an AI tool. That's precisely what Dynaboard AI brings to the table. This innovative software accelerates the custom software creation process by providing key features such as UI generation, code generation, and code refactoring. These features, working in tandem, allow users to design, develop, and deploy software swiftly and efficiently.
With Dynaboard AI, you can easily generate TypeScript/JavaScript, SQL, and CSS in your preferred code or query editor. Beyond the basic code generation, the AI tool also enables you to create interactive UI components without breaking a sweat. Simply type your prompts into the command bar and watch as data-rich forms with automatically configured components come to life.
Furthermore, Dynaboard AI facilitates the creation of charts, tables, and dropdowns that connect to PostgreSQL, MySQL, or BigQuery databases. Want to add some interactivity to your software? The tool's generated filters will do the trick, allowing you to filter charts and tables based on dropdown input. What's more, because Dynaboard AI understands your pages, functions, components, and database schema, modifying existing apps is a breeze.
Whether you're a newbie or a seasoned developer, Dynaboard AI, accessible through the Dynaboard editor, offers a seamless and straightforward experience. It doesn't just stop there, though. The tool also targets other time-consuming aspects of app development, such as launching large apps, keeping up with documentation, and fixing bugs.
So, what's the catch? There isn't one. You can try out Dynaboard AI for free and share your feedback using the editor's up- and down-vote feature or via Twitter. In summary, the tool is an all-in-one solution for software development that enhances productivity, simplifies complex processes, and offers a range of functionalities to meet your development needs.
Tell the world Dynaboard AI has been featured on NaNAI.tools:
Dynaboard AI Reviews
What's your experience with Dynaboard AI?
There are no reviews yet.
Related AI tools to Dynaboard AI