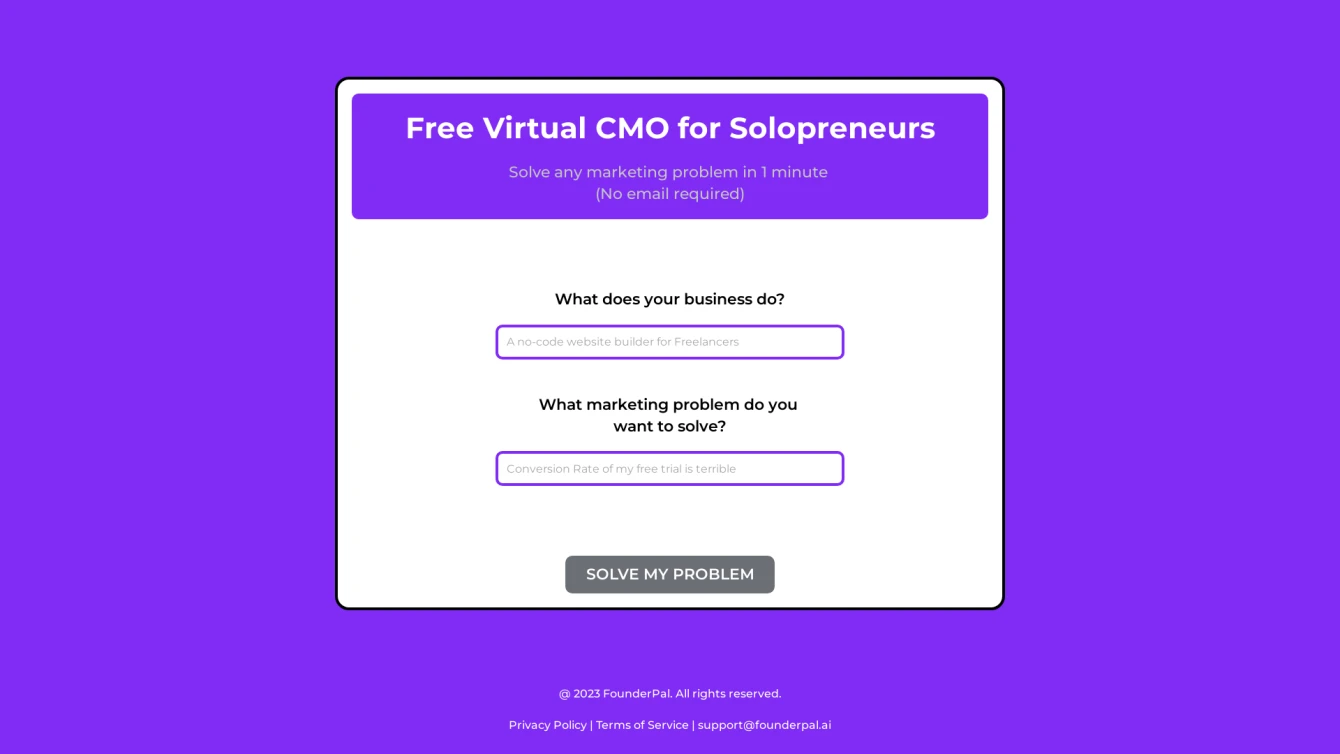 Your Personal AI-Powered Marketing Advisor for Solopreneurs.
Product information and features
Experience the power of having a marketing advisor right at your fingertips with Virtual CMO. This free AI tool is specifically crafted for solopreneurs grappling with marketing challenges but short on resources. With a straightforward chat interface, you can outline your business nature and the marketing obstacles you're facing.
Virtual CMO's engine, ChatGPT, utilizes natural language processing and machine learning, diving deep into the heart of your challenges and surfacing with relevant solutions in just a few minutes. You can access this service without having to divulge any personal details or email addresses.
Virtual CMO's uniqueness lies in its ability to offer personalized, immediate marketing strategies to small business owners, who often lack time and funds. It can tackle a myriad of marketing challenges, from SEO to social media marketing. Its AI-driven platform eschews pre-built templates, opting instead for custom solutions designed to meet each business's unique requirements.
Virtual CMO is revolutionizing the way solopreneurs enhance their marketing strategies without draining their resources. It's a convenient, efficient way for business owners to gain marketing advice and solutions, allowing them to focus on other crucial aspects of their business.
In summary, Virtual CMO is a robust AI tool that offers personalized marketing solutions to solopreneurs. From identifying and resolving SEO issues to formulating impactful social media marketing strategies, Virtual CMO provides a wide array of services. Its unique AI-driven platform creates custom solutions, making it a valuable tool for small business owners looking to improve their marketing while minimizing resource use.
Tell the world Founderpal has been featured on NaNAI.tools:
Founderpal Reviews
What's your experience with Founderpal?
There are no reviews yet.
Related AI tools to Founderpal