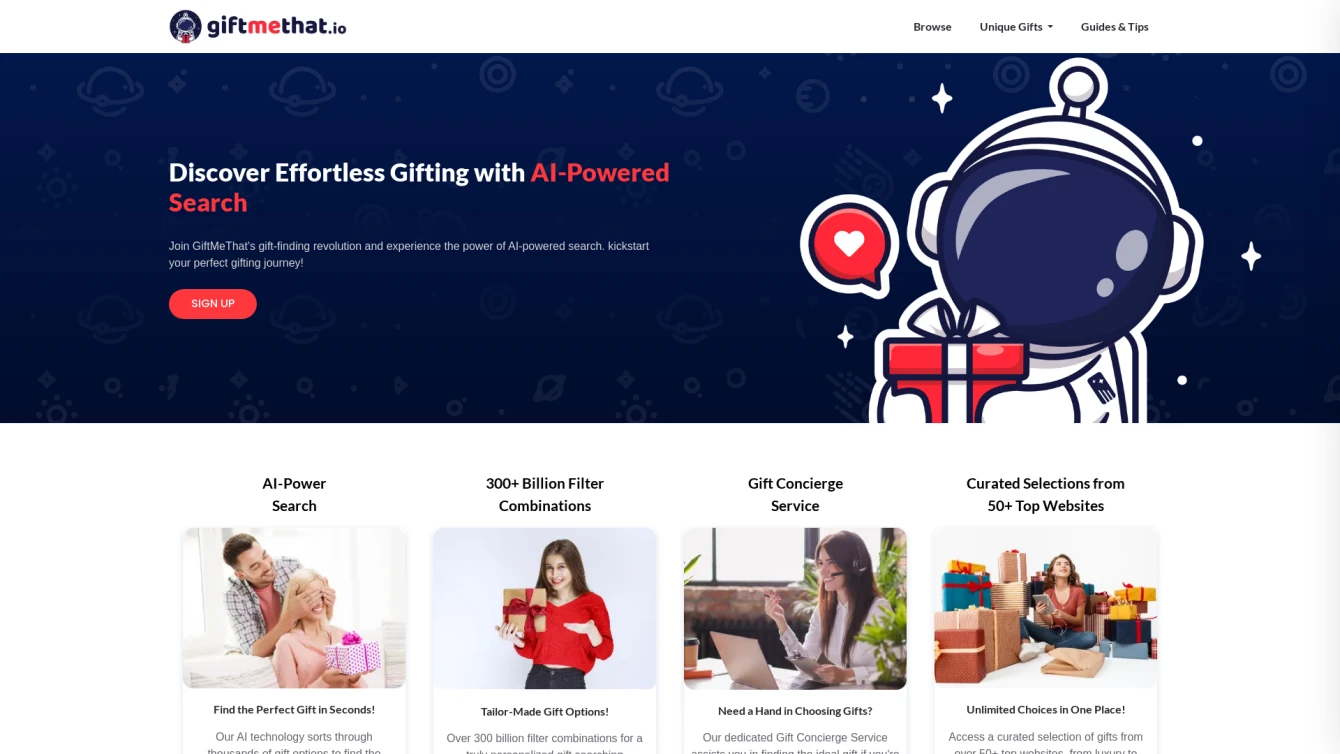 Unleashing a world of gifting possibilities, effortlessly.
Product information and features
Explore a world of gifting possibilities with the AI tool, GiftMeThat.io. This tool uses advanced algorithms to curate personalized gift ideas for any occasion, eliminating the need to browse through multiple websites. With over 300 billion filter combinations, finding an ideal gift has never been easier.
At GiftMeThat.io, you can select gifts that align with specific interests, styles, occasions, budgets, and recipients. Whether it's for newborns or seniors, or even for unique professionals like scientists, doctors or writers, this platform has got you covered.
GiftMeThat.io boasts a user-friendly interface, complete with a hamburger menu for smooth navigation. Discover new gifting ideas, save favorites to a wishlist for later, or get inspired by the most popular and latest gift searches. There's also the exciting opportunity to join the gift-finding revolution by signing up for a beta invitation, speeding up your gift discovery process.
In conclusion, GiftMeThat.io is your one-stop solution for gift hunting. Its AI tool offers personalized and curated gift ideas, diverse filter options, and an easy-to-navigate interface. Whether you're searching for a perfect gift for a newborn, a unique gift for a professional or just browsing for ideas, this platform simplifies your search, making it an enjoyable experience.
Tell the world GiftMeThat has been featured on NaNAI.tools:
GiftMeThat Reviews
What's your experience with GiftMeThat?
There are no reviews yet.
Related AI tools to GiftMeThat