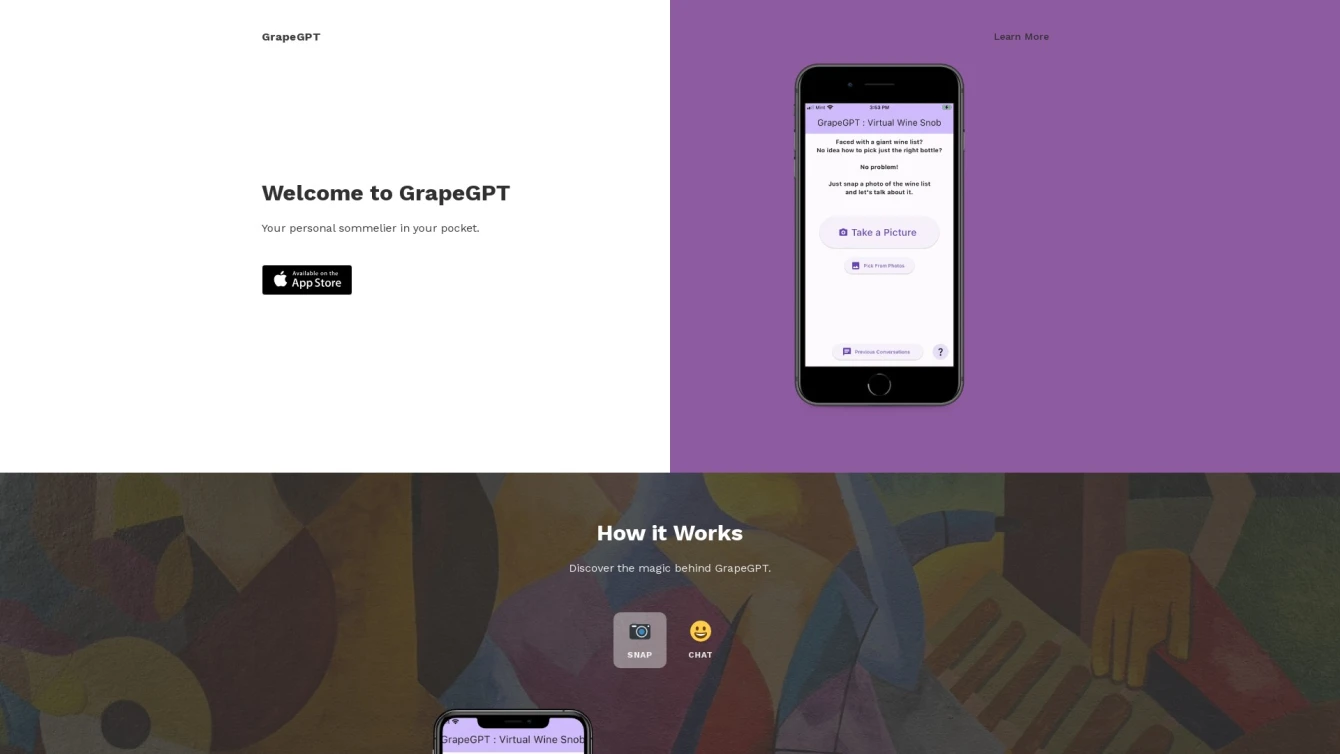 Your personal digital sommelier providing tailored wine recommendations.
Product information and features
Allow your taste buds to meet their perfect match with GrapeGPT, an AI tool that provides personalized wine recommendations. Acting as your very own digital sommelier, this tool can generate wine pairing suggestions based on a picture of your wine list or through an interactive conversation. The AI technology embedded in grapegpt.wine learns your unique taste and caters suggestions accordingly, making your wine selection process effortless and enjoyable.
Its interactive chat feature sets it apart, allowing for real-time discussions about your wine preferences. This feature not only enhances your wine selection experience but also allows you to delve deeper into the world of wines, ask questions, and seek clarifications about your choices.
Testimonials from satisfied users abound, attesting to GrapeGPT's effectiveness in transforming the way they pick their wines. It's not just about choosing a bottle of wine; it's about discovering what suits your palate best and exploring new tastes.
Ultimately, GrapeGPT's mission is to make the often daunting task of wine selection approachable and convenient, putting the expertise of a sommelier right in your pocket. It's important to remember, though, that the recommendations are based on the input you provide and are not tied to any exact metrics or numbers, which may vary.
In a nutshell, GrapeGPT is a handy AI tool that simplifies wine selection, providing personalized recommendations and facilitating real-time conversations about wine choices. It's a tool that can be utilized by both wine novices and connoisseurs to discover, learn, and enjoy wine in a whole new way.
Tell the world GrapeGPT has been featured on NaNAI.tools:
GrapeGPT Reviews
What's your experience with GrapeGPT?
There are no reviews yet.
Related AI tools to GrapeGPT