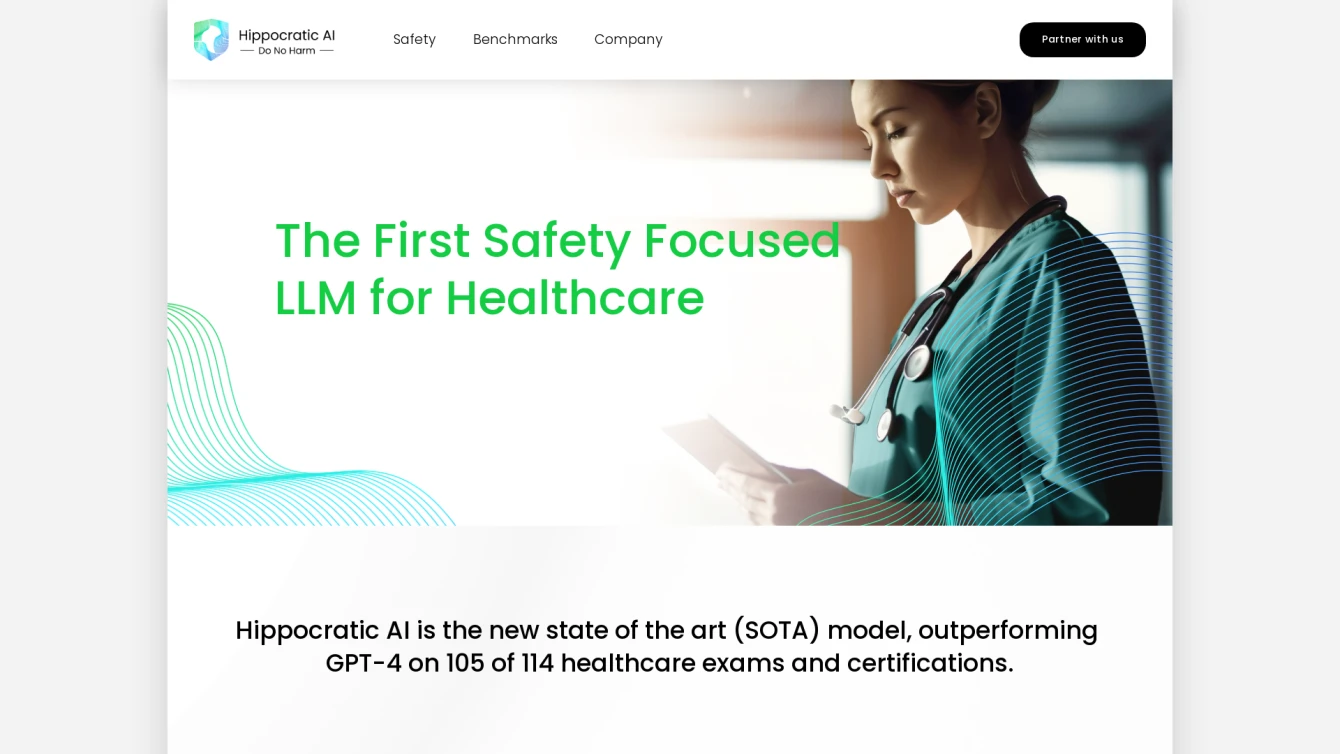 Revolutionizing Healthcare with Trusted AI.
Product information and features
Welcome to the world of healthcare revolutionized by AI! Discover Hippocraticai, a ground-breaking AI tool focused on delivering trusted, evidence-based healthcare information. Unlike traditional language models that rely on a common internet crawl, this tool ensures the validity of its content by pre-training with trustworthy sources, eliminating the risk of misinformation.
What sets Hippocraticai apart from its competitors is its state-of-the-art model that outperforms even GPT-4 in 105 out of 114 healthcare examinations and certifications. With the objective of enhancing healthcare access, equity, and outcomes, it offers high-quality Language Learning Models (LLMs) specifically tailored for healthcare applications.
Recognizing the importance of compassion and bedside manner in healthcare, Hippocraticai focuses on developing LLMs that cater to these needs. To guarantee the model's safety and efficiency, a unique Reinforcement Learning with Human Feedback process is implemented. This includes involving licensed healthcare professionals in the training and validation process, ensuring the model meets the highest standard before deployment.
The team behind Hippocraticai is a diverse group of healthcare professionals and AI researchers from prestigious institutions like El Camino Health System, Johns Hopkins Hospital, Washington University in St. Louis, The University of Pennsylvania, Stanford, Google, and Nvidia. They've garnered the trust of top healthcare investors, raising an impressive $50MM in a seed round.
Looking forward, Hippocraticai plans to establish an objective evaluation system for developing a compassionate and caring healthcare-focused LLM. They also aim to set the standard for bedside manner benchmarks in the AI industry.
In summary, Hippocraticai is a healthcare-focused AI tool that aims to improve healthcare accessibility, equity, and outcomes. It uses a unique training process involving healthcare professionals and emphasizes the importance of compassion in healthcare. With its powerful model and trusted team of experts, it is a tool that can revolutionize how we perceive and interact with AI in healthcare.
Tell the world Hippocraticai has been featured on NaNAI.tools:
Hippocraticai Reviews
What's your experience with Hippocraticai?
There are no reviews yet.
Related AI tools to Hippocraticai