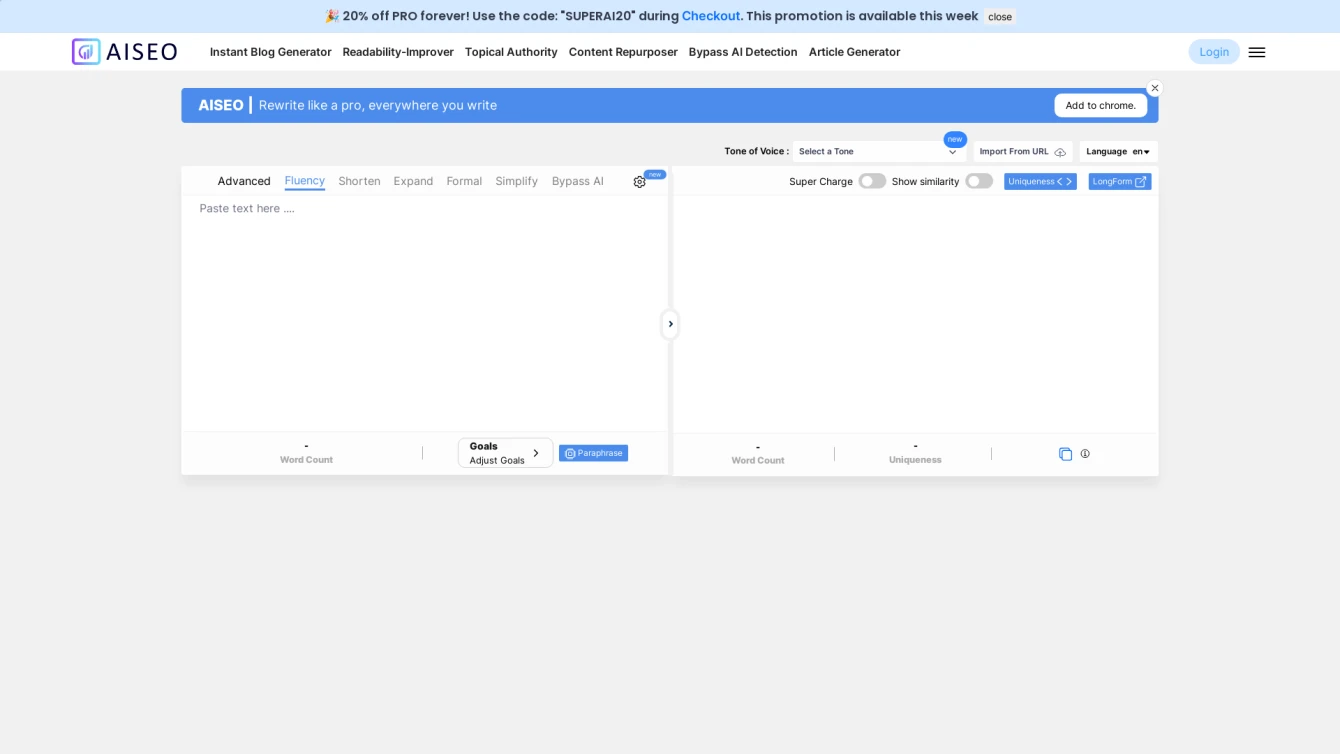 Transforming your content into original pieces with a single click.
Product information and features
Plagiarism is a serious concern when rewriting content and sometimes, it's challenging to keep your content unique and original. But not anymore, with the Intelligent Paraphraser. This AI tool, hosted on aiseo.com, transforms your content into an original piece, ensuring it's free from any plagiarism concerns.
With six distinct modes - Standard, Expand, Shorten, Formal, Creative, and more - the Intelligent Paraphraser gives you the power to control the output. These various modes allow you to customize the rewriting process to fit your specific needs. Whether you want to keep it simple with the Standard mode or exercise your creativity with the Creative mode, the tool has got you covered.
Besides English, this AI tool supports an impressive 26 languages, expanding its usability to a global level. Regardless of your language preference, you can use the Intelligent Paraphraser to rewrite your content accurately.
What's more, aiseo.com offers a 7-day free trial for you to explore the capabilities of the Intelligent Paraphraser. This gives you a chance to test the tool and see if it meets your content rewriting needs.
In summary, the Intelligent Paraphraser is a powerful AI tool that helps you rewrite content quickly and accurately. It offers six customizable modes, supports multiple languages, and hosts a free trial period. It's an excellent tool for anyone looking to save time and resources while creating original, plagiarism-free content.
Tell the world Intelligent paraphraser has been featured on NaNAI.tools:
Intelligent paraphraser Reviews
What's your experience with Intelligent paraphraser?
There are no reviews yet.
Related AI tools to Intelligent paraphraser