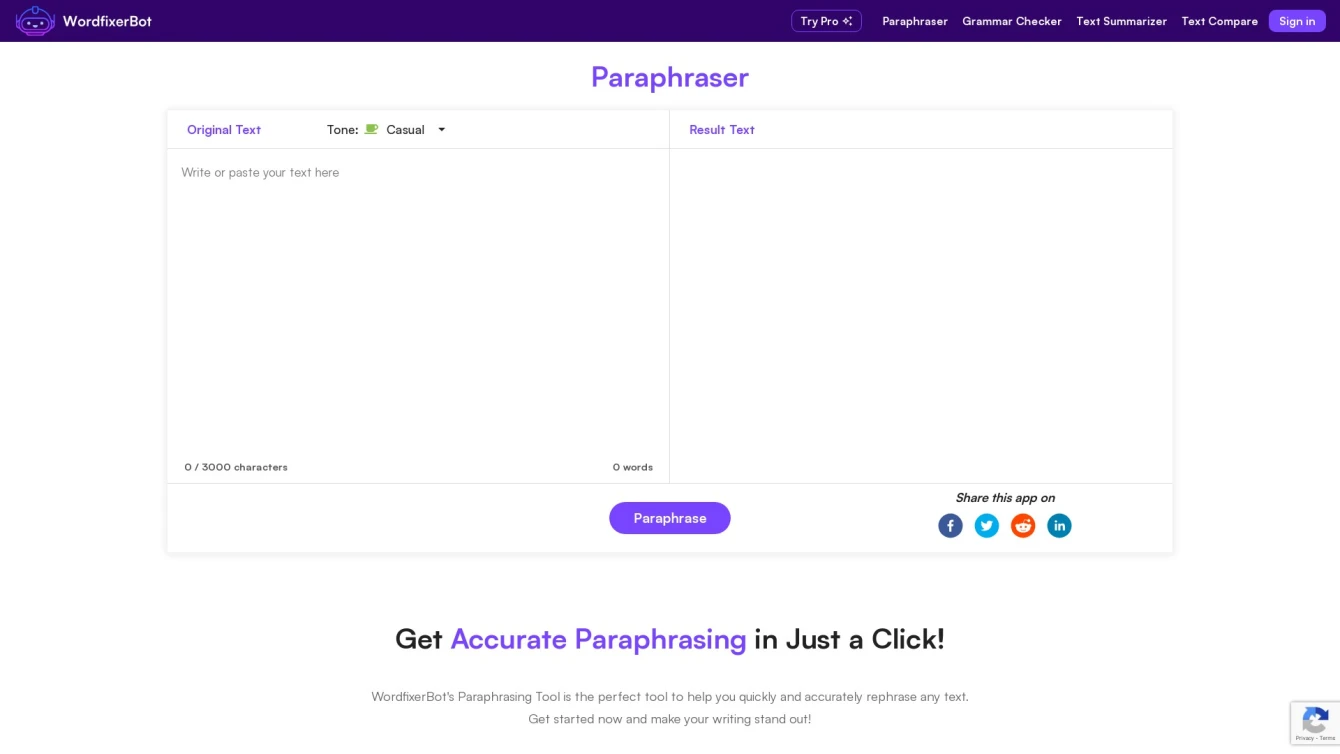 Revolutionizing text rephrasing with advanced AI.
Product information and features
Unlock the potential of your writing with WordfixerBot, an AI tool that revolutionizes the way you rephrase your text. It leverages advanced artificial intelligence models to generate text that not only mirrors human-like quality but also retains the essence of your original content.
With WordfixerBot, you have the power to choose from a range of tones for rephrasing your text. Whether it's casual or formal, descriptive or creative, persuasive or reflective, or even emotional or passionate, this AI tool has got you covered.
WordfixerBot.com caters to a diverse range of users including but not limited to writers, marketing gurus, bloggers, students, copywriters, journalists, business professionals, and content creators. This tool is painstakingly designed to meet your rephrasing needs, regardless of your profession or writing style.
Operating this AI tool is a breeze. Just paste your text in the input box, select your preferred tone, and hit the 'Paraphrase' button. In no time, you'll be presented with an optimally rephrased version of your text. Plus, you can easily copy or download the result for your convenience.
Experience the power of WordfixerBot free for an initial 7-day period. To unlock more features and continue leveraging this tool, consider upgrading to the Pro version.
In summary, WordfixerBot is an innovative AI tool that assists users in swiftly and accurately rephrasing their text. With a selection of tones to choose from and a user-friendly interface, it serves as an invaluable asset for a wide range of users. Whether you're a student looking to paraphrase an essay or a professional in need of sprucing up a business proposal, WordfixerBot provides a convenient and efficient solution.
Tell the world WordfixerBot has been featured on NaNAI.tools:
WordfixerBot Reviews
What's your experience with WordfixerBot?
There are no reviews yet.
Related AI tools to WordfixerBot