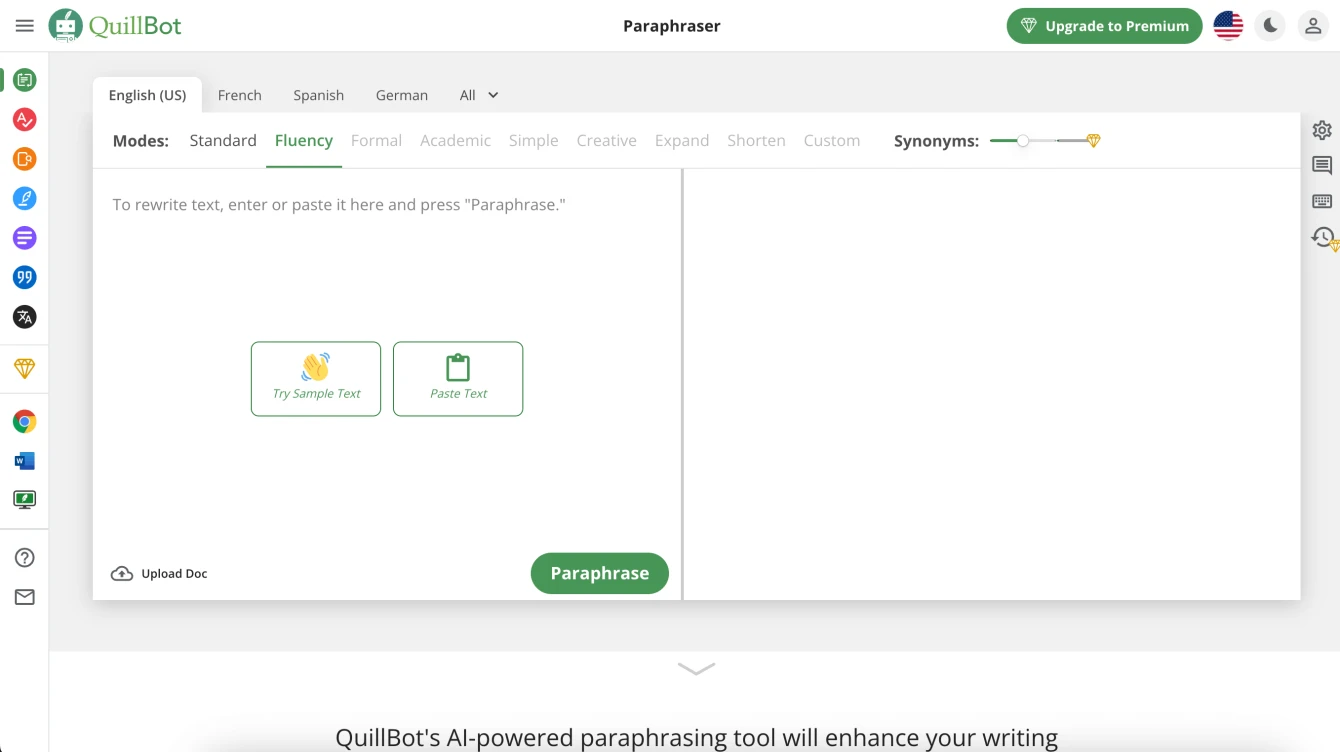 Refining text, enhancing clarity, and fostering comprehension with AI.
Product information and features
QuillBot is a sophisticated AI tool that offers an exceptional solution for refining text, enhancing clarity, and fostering comprehension. It becomes an invaluable resource for students and professionals alike, providing a variety of modes to tailormake and perfect the reworded content. Some people say it is the perfect paraphraser.
quillbot.com offers two free modes and five premium modes, each meticulously designed to cater to diverse paraphrasing needs. Plus, the tool goes above and beyond just paraphrasing. It's an efficient way of avoiding plagiarism by offering unique renditions of your text.
One of its key features is the Synonym Slider, which lets you control the degree of vocabulary alteration. It's like having an AI-empowered thesaurus at your fingertips, providing a list of synonyms for you to select from. The platform integrates flawlessly with Chrome, Microsoft Word, Gmail, Google Docs, Facebook, and LinkedIn, making it incredibly accessible and user-friendly.
With QuillBot, you can conveniently rephrase sentences, paragraphs, essays, and articles in just a few clicks. It offers seven unique modes to choose from, each one designed for a specific purpose. These include Standard, Fluency, Formal, Simple, Creative, Expand, and Shorten.
In addition to its main function, the tool also comes equipped with a Grammar Checker, Summarizer, Citation Generator, and Plagiarism Checker. These additional features are designed to make writing an effortless and efficient process.
To sum it up, QuillBot is your go-to AI tool for all your rewriting / paraphrasing needs. It caters to a wide range of use cases, from academic writing to professional content creation. Its main features, including various paraphrasing modes, a synonym slider, and additional writing tools, make it a comprehensive solution for enhancing text quality and avoiding plagiarism. Trusted and used by millions worldwide, it's a tool designed with the user in mind, making writing a faster, smoother, and more efficient process.
Tell the world QuillBot AI has been featured on NaNAI.tools:
QuillBot AI Reviews
What's your experience with QuillBot AI?
There are no reviews yet.
Related AI tools to QuillBot AI