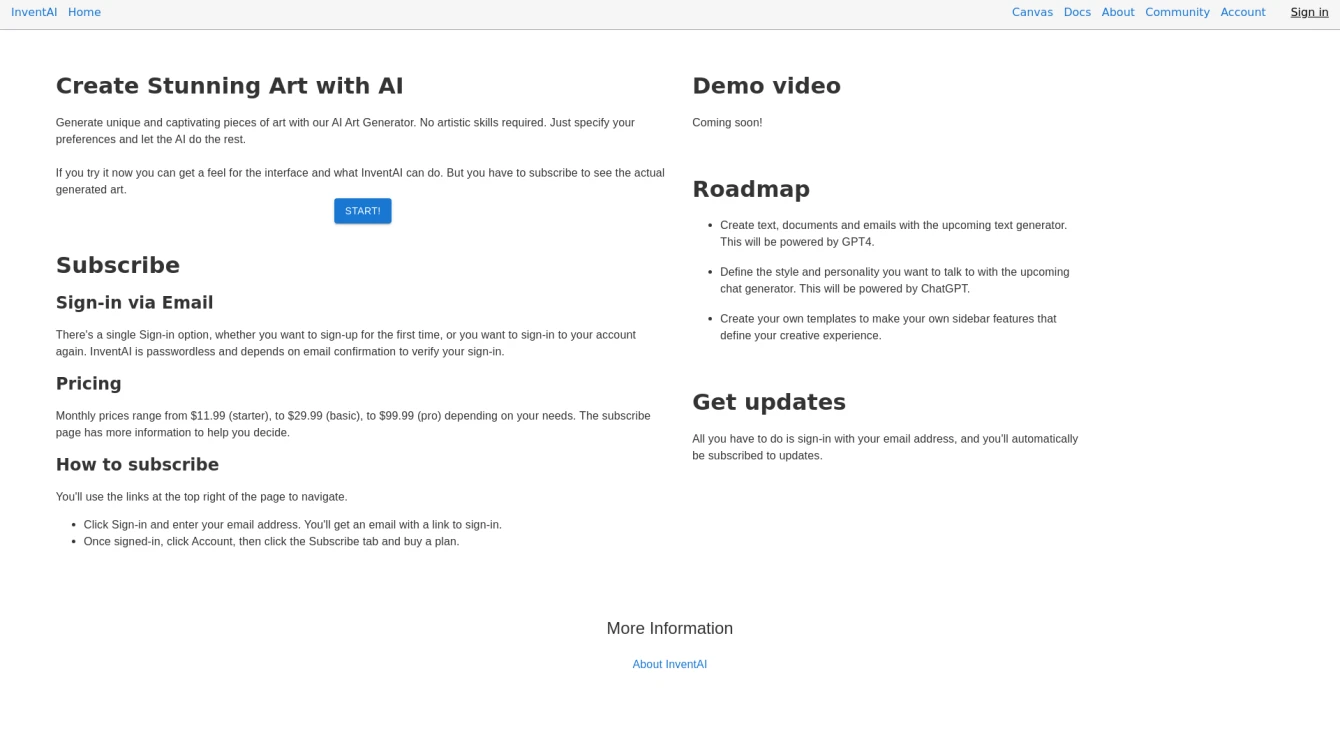 Unleashing your artistic potential through artificial intelligence.
Product information and features
Discover a world of limitless creativity with the AI Art Generator by InventAI. This AI tool empowers you to create mesmerizing art pieces without needing any artistic prowess. Just specify your preferences and let the artificial intelligence work its magic, resulting in breathtaking artwork that is uniquely yours.
The subscription-based service, with plans from $11.99 to $99.99 monthly, opens doors to an array of stunning art pieces. InventAI.com offers a streamlined sign-in process via email verification, providing a seamless experience for new and returning users. All this without the need for remembering another password, as the system is passwordless.
Once logged in, you can easily choose your subscription plan and dive into the creative journey. The website also plans to release a demo video to walk you through the features of the AI Art Generator, making it easier for you to exploit its full potential.
Beyond just creating art, InventAI.com's upcoming features include a text generator powered by GPT4 and a chat generator driven by ChatGPT. These will allow you to define the style, personality, and even create your own templates for a personalized creative experience.
In summary, the AI Art Generator is an invaluable resource for anyone wanting to generate high-quality and distinctive art without any artistic background. Its key features include user preference specification, a range of subscription plans, a simple sign-in process, and upcoming features like a text and chat generator. Whether you're an art enthusiast, a professional designer, or a hobbyist, this tool can revolutionize your creative process.
Tell the world Inventai has been featured on NaNAI.tools:
Inventai Reviews
What's your experience with Inventai?
There are no reviews yet.
Related AI tools to Inventai