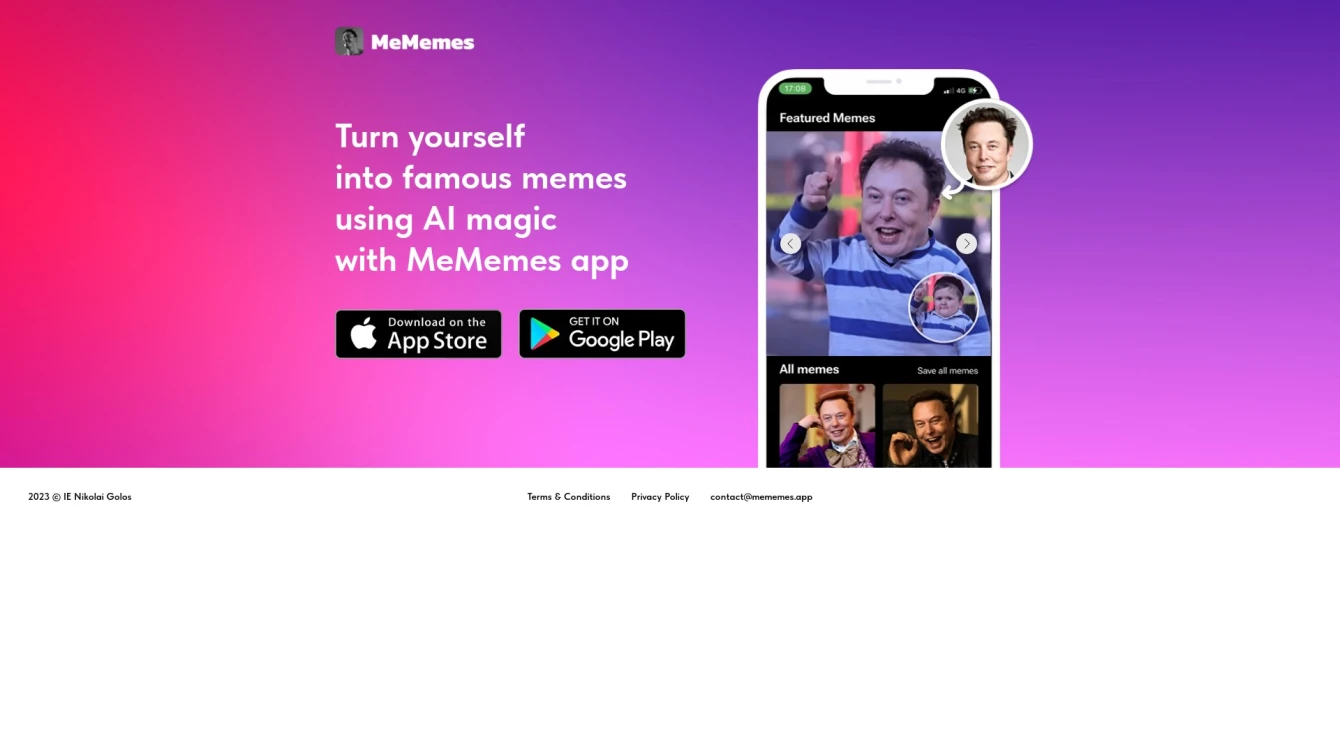 Unleash your creativity, transform into memes with MeMemes.
Product information and features
Immerse yourself in the world of meme culture with the MeMemes app. This AI tool lets you morph yourself or your friends into personalized, unique meme avatars. The sophisticated AI technology lets you generate viral content that accurately reflects your personality or that of your friends, opening up a new dimension of creativity.
MeMemes.com harnesses the power of AI to accurately identify and interpret facial expressions and features. This leads to the creation of high-definition, realistic meme avatars. Just upload a photo or select an image from your gallery, and let the AI tool do the rest. It uses advanced algorithms to automatically extract specific features, amplifying the humor and entertainment value of your memes.
No need to worry about time-consuming manual adjustments. The AI infrastructure enables swift generation of meme avatars. Thanks to a user-friendly interface and intuitive design, meme creation is a breeze, regardless of your skill level.
Whether you're looking to share a laugh, entertain friends, or delve into the boundless world of meme culture, MeMemes provides a fun, convenient platform for your creative endeavors.
In summary, MeMemes is a unique AI tool that offers an exciting, user-friendly platform for creating personalized meme avatars. It opens up a world of creative possibilities, letting you generate viral content that is truly reflective of you or your friends' personalities. This tool can be a great source of entertainment and a novel way to engage with meme culture.
Tell the world MeMemes has been featured on NaNAI.tools:
MeMemes Reviews
What's your experience with MeMemes?
There are no reviews yet.
Related AI tools to MeMemes