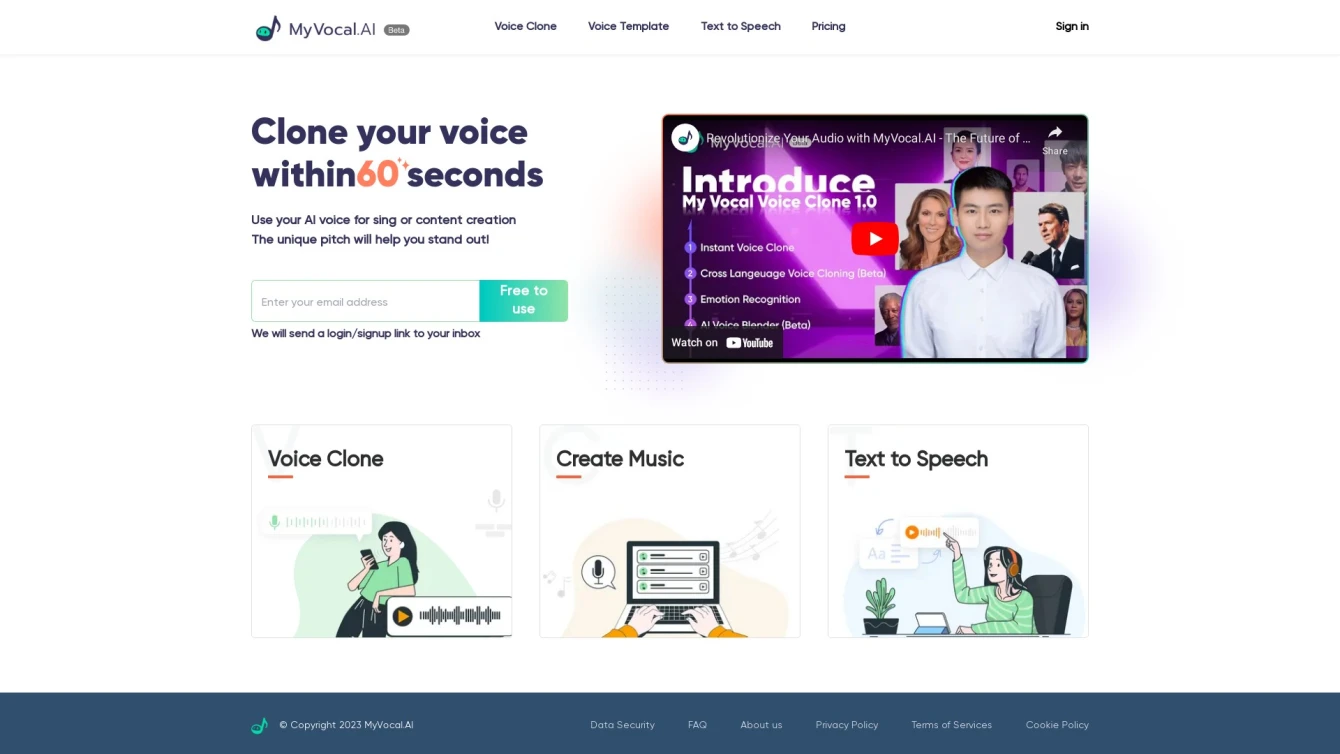 Cloning your voice made simple and quick for various creative applications.
Product information and features
Get ready to discover an innovative AI tool that empowers you to clone your voice for various purposes. Welcome to MyVocal.ai, a platform that blends cutting-edge technology and user-friendly features to deliver an extraordinary voice cloning experience. This tool can be extremely useful for content creators, voice-over artists, and even singers.
At MyVocal.ai, you are presented with three primary features: Record Voice, Voice Template, and Upload. The Record Voice feature is designed to let you record your voice directly on the platform. Meanwhile, the Voice Template feature supplies pre-existing voice templates, allowing you to effectively clone your voice.
The Upload feature, on the other hand, gives you the ability to upload pre-recorded voices for cloning. Not stopping there, MyVocal.ai also furnishes a Text to Speech functionality. This function enables you to transform written text into spoken words in your own cloned voice.
What sets MyVocal.ai apart is its promise to generate a unique pitch for every cloned voice, enabling your voice to distinguish itself in content creation or singing projects. Moreover, it boasts of a quick and effortless process, with voice cloning reportedly done in less than a minute.
One of the best parts? Access to this tool is free. All you need to do is sign up or log in using your email address. In addition to its primary features, the platform also provides helpful information and resources, including Data Security, FAQ, About Us, Privacy Policy, and Terms of Services.
In summary, MyVocal.ai is a practical and innovative AI tool that enables you to create voice clones for various applications. Whether you are a content creator, a voice-over artist, or a singer, this unique tool offers a simple, quick, and effective solution to your voice cloning needs.
Tell the world MyVocal.ai has been featured on NaNAI.tools:
MyVocal.ai Reviews
What's your experience with MyVocal.ai?
There are no reviews yet.
Related AI tools to MyVocal.ai