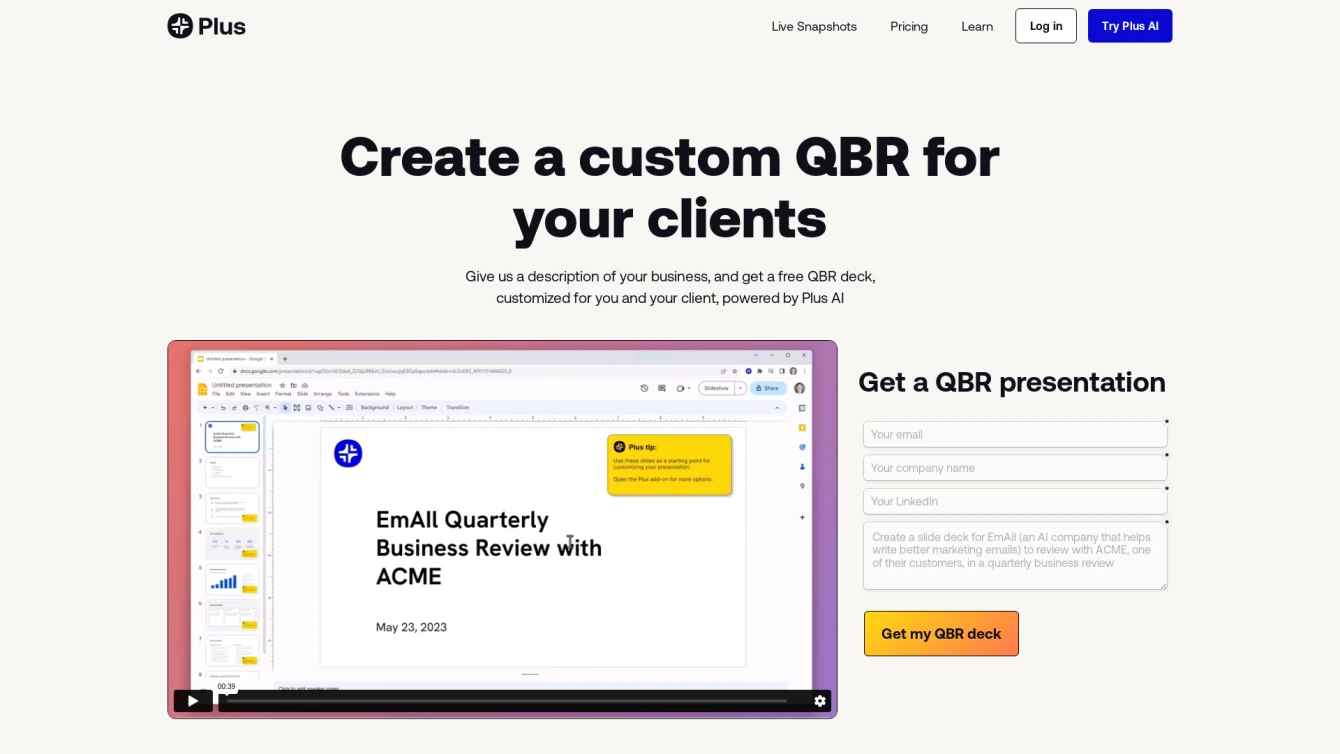 Revolutionizing business presentations with AI-driven solutions.
Product information and features
Immerse yourself in a revolutionary AI-tool experience with Plus AI QBR. This tool masterfully crafts personalized Quarterly Business Review (QBR) decks that cater to your unique business requisites. Simply feed the tool with your business description and the work you're performing for a client, and let the magic of cutting-edge AI technology unfold an easy-to-comprehend QBR presentation.
Upon completion, you receive a link to your fresh-off-the-press slides, which you can further customize and share with your team members and clients. This tool isn't just for QBR presentations; it's equally proficient at crafting pitch decks, client overviews, weekly meetings, and even book reports. PlusAIQBR.com is your one-stop solution for all your presentation needs.
Plus AI QBR also features other presentation-centric tools including AI for Presentations - a tool that allows you to focus more on delivering your content rather than fiddling with slides; Webinar Presentation - a tool for crafting online courses, training materials and other educational content; and Personal Business Analyst - a tool that harnesses the power of AI to create the first draft of your next strategic business or research presentation.
Besides, Plus AI QBR also offers a handy Chrome extension - Snapshots. This extension enables you to capture up-to-date screenshots of any website without any complex integrations. It provides self-updating images of any app or website that you can embed anywhere and use within tools like Notion, Slack, Coda, and Confluence.
In summary, Plus AI QBR is an all-encompassing AI tool that delivers personalized QBR decks, caters to a variety of presentation needs, offers other AI-powered presentation tools, and even a browser extension for capturing snapshots. It's designed to save time, facilitate productivity, and enhance your presentation game.
Tell the world Plus AI QBR has been featured on NaNAI.tools:
Plus AI QBR Reviews
What's your experience with Plus AI QBR?
There are no reviews yet.
Related AI tools to Plus AI QBR