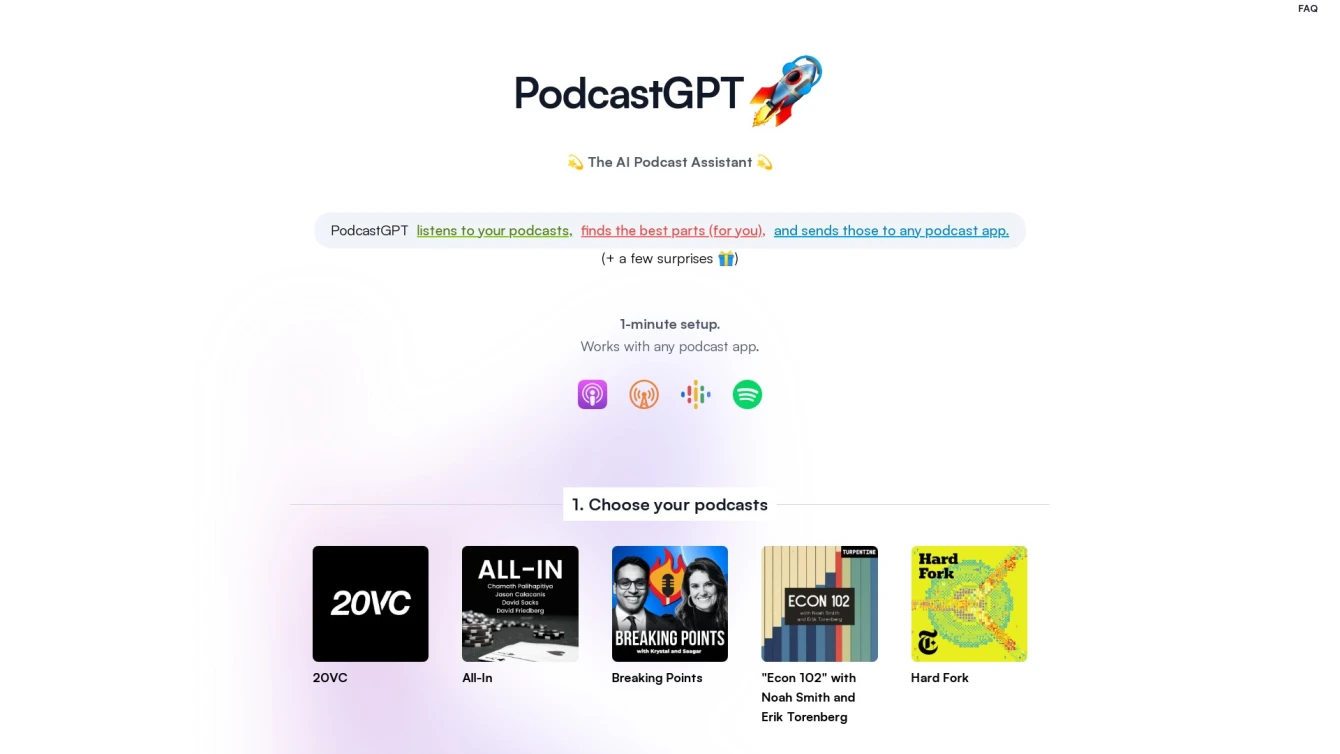 Revolutionizing podcast experience through AI-powered content curation.
Product information and features
Introducing PodcastGPT, an AI tool designed to revolutionize your podcast listening experience. This AI tool integrates effortlessly with your existing podcast apps, identifying and extracting segments of your chosen podcasts that align with your interests.
Setting it up is a breeze, taking just about a minute, and it's compatible with any podcast app of your choice. Once you've selected your favorite podcasts, PodcastGPT steps in to curate the content, focusing on the elements that resonate with your preferences.
PodcastGPT doesn't just stop at curating content. It listens, identifies, and sends the most engaging segments right to your podcast app. While it doesn't host the audio content itself, it acts as a bridge between you and your podcast app to deliver a personalized listening experience.
In addition, PodcastGPT offers an exciting feature: a chatbot for optional customization. By interacting with this chatbot, you can provide details about your interests and preferences, further refining the podcast recommendations you receive.
While the specifics of some surprises offered by PodcastGPT aren't detailed, you can expect a rich, engaging, and personalized podcast listening experience. For any support or inquiries, you can easily reach out to the developers.
In summary, PodcastGPT is a powerful AI tool that acts as an AI assistant for podcast curation. It integrates seamlessly with your podcast apps, curates content based on your preferences, and enhances your overall listening experience. Its interactive chatbot feature allows for further customization of your podcast recommendations. It's a must-have tool for any podcast enthusiast who prioritizes a personalized and streamlined listening experience.
Tell the world PodcastGPT has been featured on NaNAI.tools:
PodcastGPT Reviews
What's your experience with PodcastGPT?
There are no reviews yet.
Related AI tools to PodcastGPT