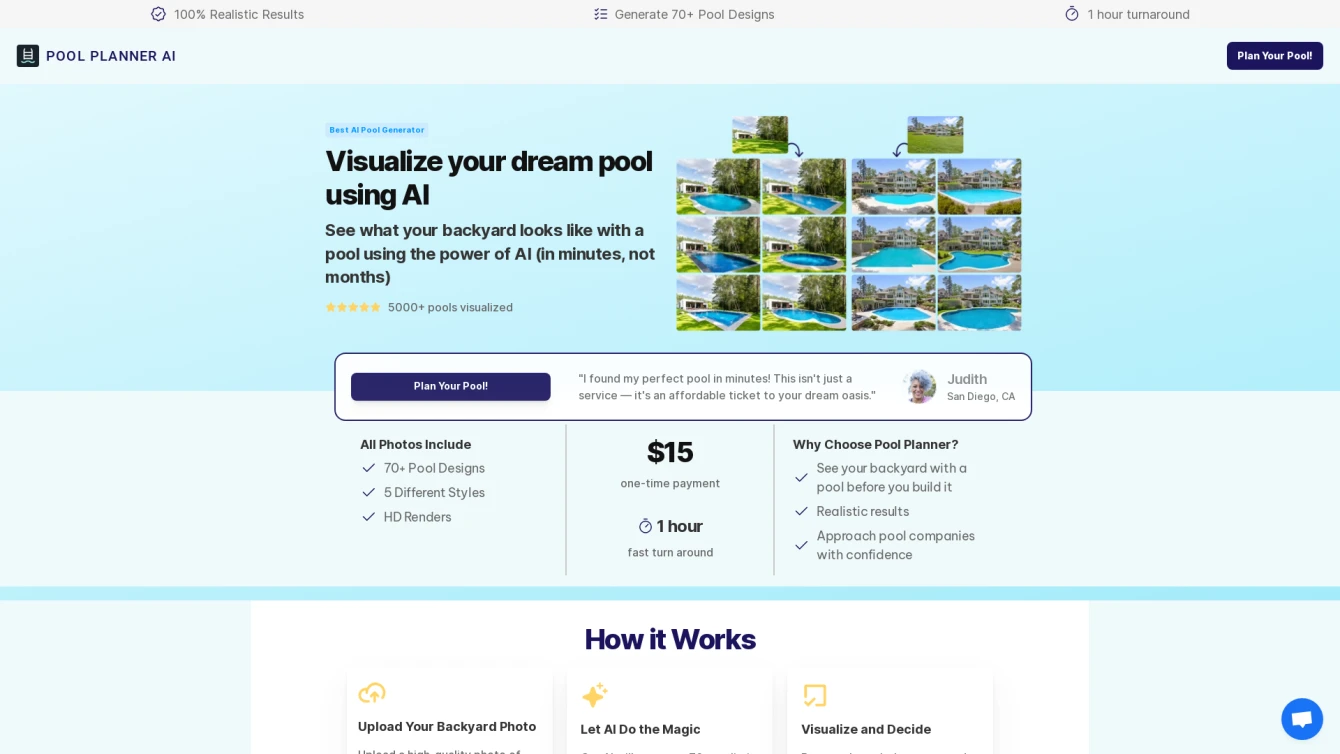 Visualizing Your Dream Pool Design Made Easy.
Product information and features
Imagine the ability to visualize your dream swimming pool design right in your backyard with just a few clicks. That's what Poolplannerai, an AI tool, does. Simply upload a high-quality picture of your backyard and let the AI tool work its magic. In no time, it generates over 90 HD images of various inground pool designs fitting perfectly into your backyard's landscape.
The AI's power doesn't just stop at generating designs. It also allows you to compare options and choose the design that best matches your vision. No need for guesswork or risking costly errors. poolplannerai.com offers you a clear visualization of your backyard's potential transformation with a pool.
Accuracy and realism are the hallmarks of this AI tool. It produces precise and lifelike images swiftly, providing you a true-to-life representation of your yet-to-be-built pool. The tool's pricing is straightforward with a one-off fee that covers over 90 HD photos, 9+ pool shapes and sizes, and the model's training on your specific backyard. You also get continued access to these photos after training.
Poolplannerai accepts photos in various formats and ensures a secure payment process. If you have any questions or need more information, you can easily access the FAQ page on poolplannerai.com.
In conclusion, Poolplannerai is an invaluable resource for those intending to build a pool. It provides visualizations of various pool designs, facilitates comparison of options, and aids in making informed decisions. Above all, it ensures your dream pool design becomes a reality.
Tell the world Poolplannerai has been featured on NaNAI.tools:
Poolplannerai Reviews
What's your experience with Poolplannerai?
There are no reviews yet.
Related AI tools to Poolplannerai