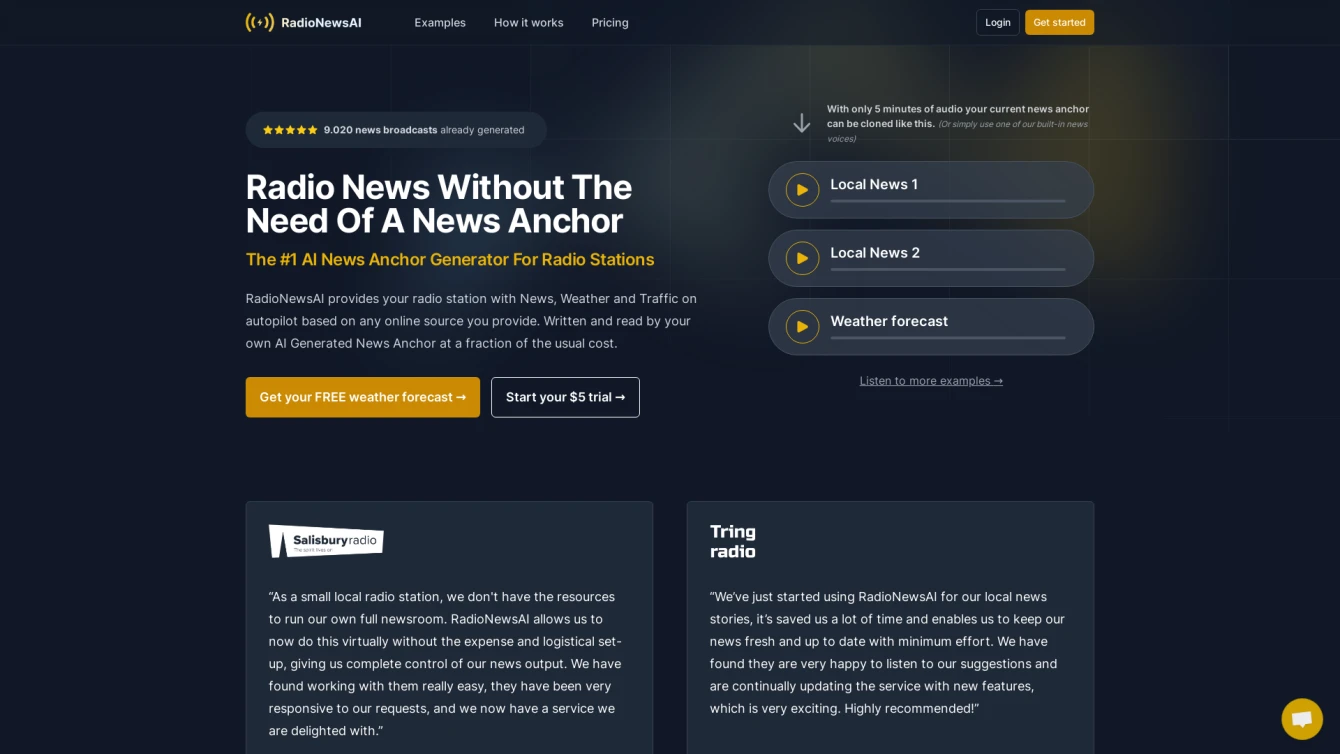 Revolutionizing radio newscasts with AI-powered news anchors.
Product information and features
Introducing RadioNewsAI, an AI tool that revolutionizes the way local radio stations operate by offering virtual news anchors. RadioNewsAI's sophisticated AI model breathes life into your newscasts by transforming inputted news content into a compelling narration, echoing the realism of a human news anchor.
The tool is designed to seamlessly integrate content from any local website or RSS feed. You can draft original news stories and adjust the newscast format with the easy-to-use drag-and-drop editor. RadioNewsAI allows you to schedule regular newscast updates and customize announcements and closings, ensuring your content always remains fresh and relevant. The platform's strength lies in its ultra-realistic AI voices, meticulously crafted for delivering news content.
RadioNewsAI uses a straightforward pricing model based on the amount of AI-generated audio per month. Each package includes a specific number of minutes, and you're only billed when the AI generates new audio for a unique news item. The option to refresh news items more frequently is also available, albeit at an increased cost.
The platform's flexibility extends to its multi-station capability. RadioNewsAI even includes a review and approval feature for each newscast before it airs, ensuring quality control. RadioNewsAI.com also offers a free trial of the tool, alongside the option of usage-based billing for greater flexibility.
In summary, RadioNewsAI is a game-changing AI tool that adds a new dimension to local radio stations. By providing realistic AI news anchors, facilitating content integration, and offering comprehensive scheduling and customization options, it truly empowers radio stations to create engaging, high-quality newscasts. The platform's user-friendly design and flexible pricing make it an invaluable asset for any radio station.
Tell the world RadioNewsAI has been featured on NaNAI.tools:
RadioNewsAI Reviews
What's your experience with RadioNewsAI?
There are no reviews yet.
Related AI tools to RadioNewsAI