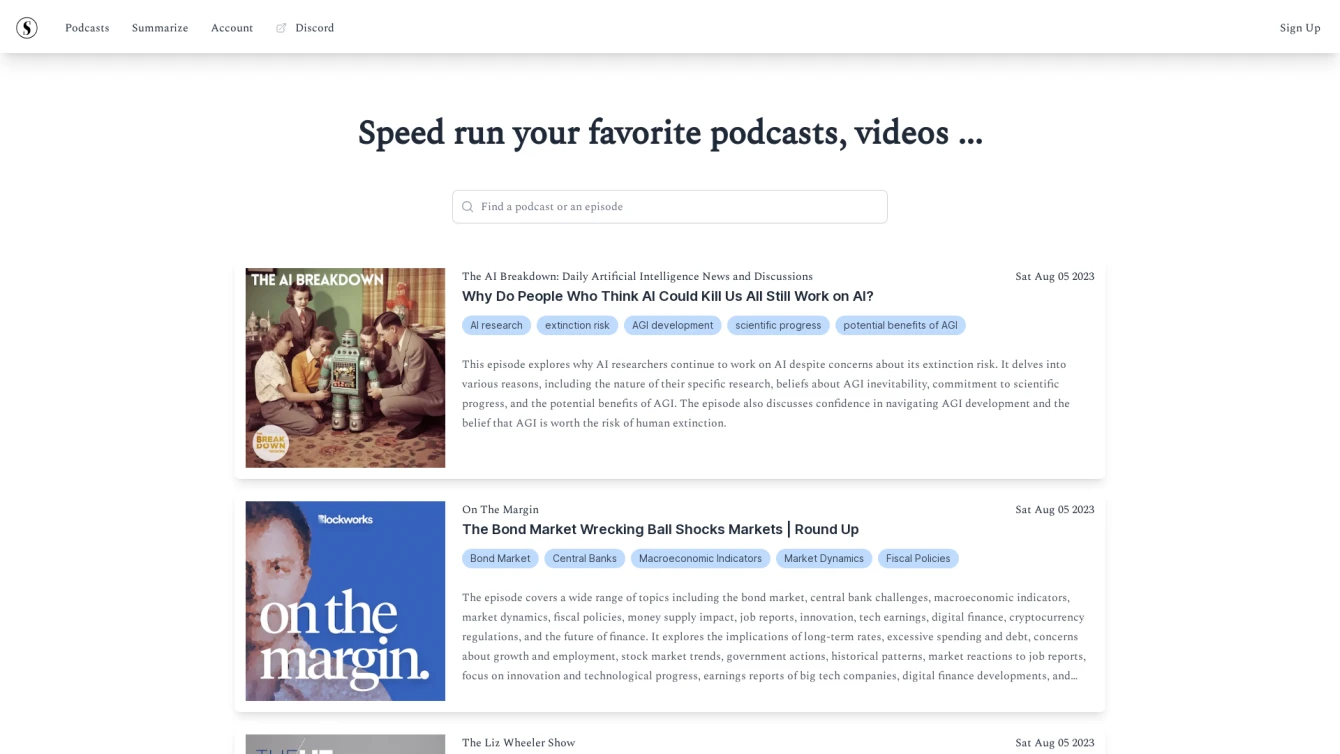 Revolutionizing podcast listening with AI-powered convenience.
Product information and features
Unlock the power of your favorite podcasts in a breeze with Scribbler.so, a state-of-the-art AI tool. This innovative platform offers you a vast array of popular podcasts, providing an enhanced listening experience tailored to your tastes and preferences.
By signing up on Scribbler.so, you gain access to an extensive list of highly sought-after podcasts. Simply select one that piques your interest and dive into the latest episodes and content available.
The unique feature of this AI tool is its ability to summarize. It efficiently condenses the main points of a podcast episode, enabling you to grasp vital information swiftly. This feature is designed to help you save time, allowing you to pinpoint and listen to the most pertinent segments of a podcast.
Whether you're a fan of Freakonomics Radio, The Intelligence from The Economist, The Matt Walker Podcast, Huberman Lab, The Liz Wheeler Show, or I Read Comic Books, Scribbler.so has you covered. It houses popular podcasts from a variety of genres, ensuring there's something for everyone.
Moreover, Scribbler.so takes the podcast experience a notch higher with its Discord integration feature. This allows you to share and engage in discussions about your favorite podcasts with other users, enriching your overall podcast listening experience.
In summary, Scribbler.so is a comprehensive tool that revolutionizes the way you listen to podcasts. With its unique summarizing capability, vast podcast library, and integrated Discord feature, it provides an efficient and enjoyable podcast experience. Whether you're an avid podcast listener or simply seeking to optimize your listening process, Scribbler.so is an excellent choice.
Tell the world Scribbler.so has been featured on NaNAI.tools:
Scribbler.so Reviews
What's your experience with Scribbler.so?
There are no reviews yet.
Related AI tools to Scribbler.so