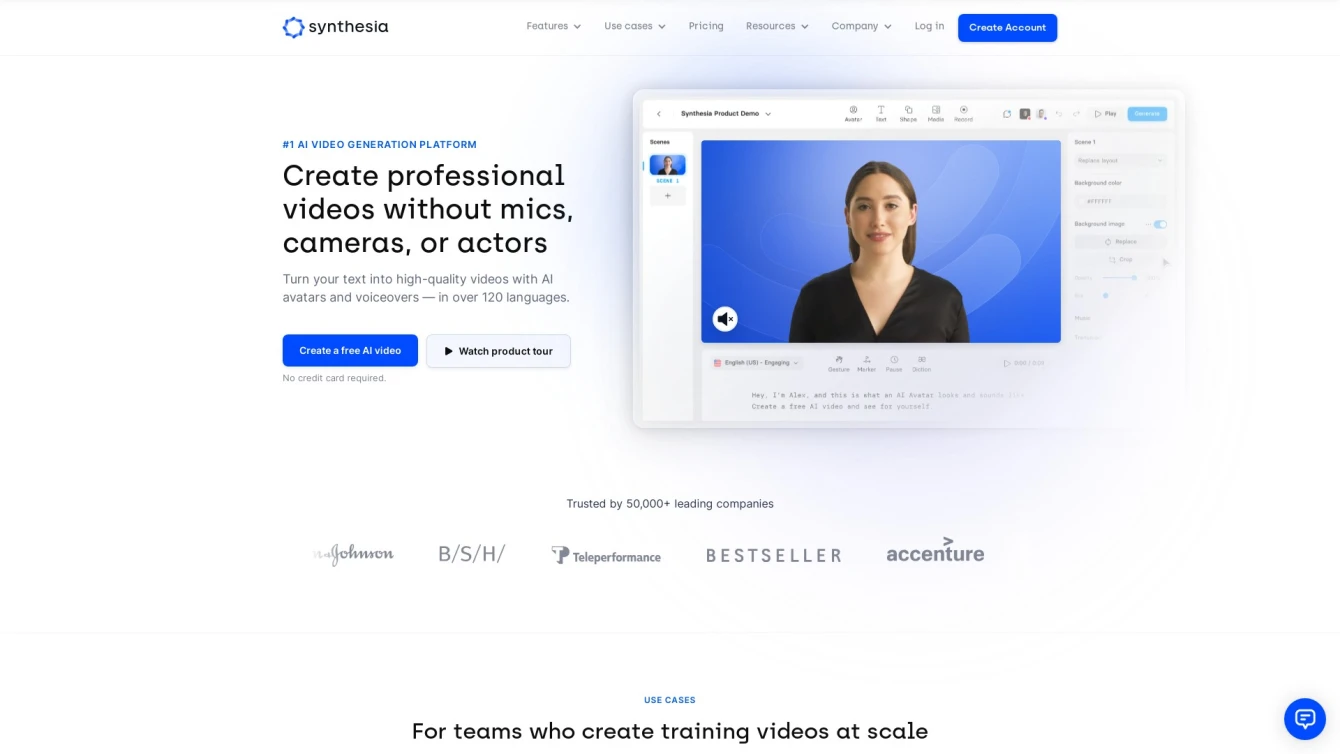 Revolutionizing Video Creation with AI.
Product information and features
Explore the world of innovative video generation with Synthesia, an AI tool that revolutionizes the way you create and design videos. This platform enables you to generate engaging, professional-quality videos featuring human presenters without requiring advanced video editing skills or software. All you need is your browser and a dash of creativity.
Enjoy a vast array of features offered by Synthesia. Choose from over 85 diverse AI avatars, or even create your own. You can also take advantage of more than 120 languages and accents, ensuring your message reaches your audience clearly, no matter where they are. With over 55 pre-designed templates, getting started and crafting a captivating video is a breeze.
Join the ranks of over 30,000 companies that trust Synthesia for their video creation needs. With this AI tool, you can save up to 80% of your time and budget, compared to traditional video creation methods. It's a solution designed to be efficient, effective, and budget-friendly, no matter the size of your business.
Synthesia is not only a video creation tool but also an educational platform. It provides numerous resources like example videos to emulate, case studies to learn from, and an academy to hone your video creation skills.
Whether you aim to produce compelling training videos for your learning and development team, customer support videos that address common queries, or product marketing videos that showcase your latest offerings, Synthesia is your go-to solution. It's simple, comprehensive, and designed to cater to a multitude of applications. In summary, Synthesia is a versatile AI tool that makes video creation accessible, efficient, and enjoyable.
Tell the world Synthesia has been featured on NaNAI.tools:
Synthesia Reviews
What's your experience with Synthesia?
There are no reviews yet.
Related AI tools to Synthesia