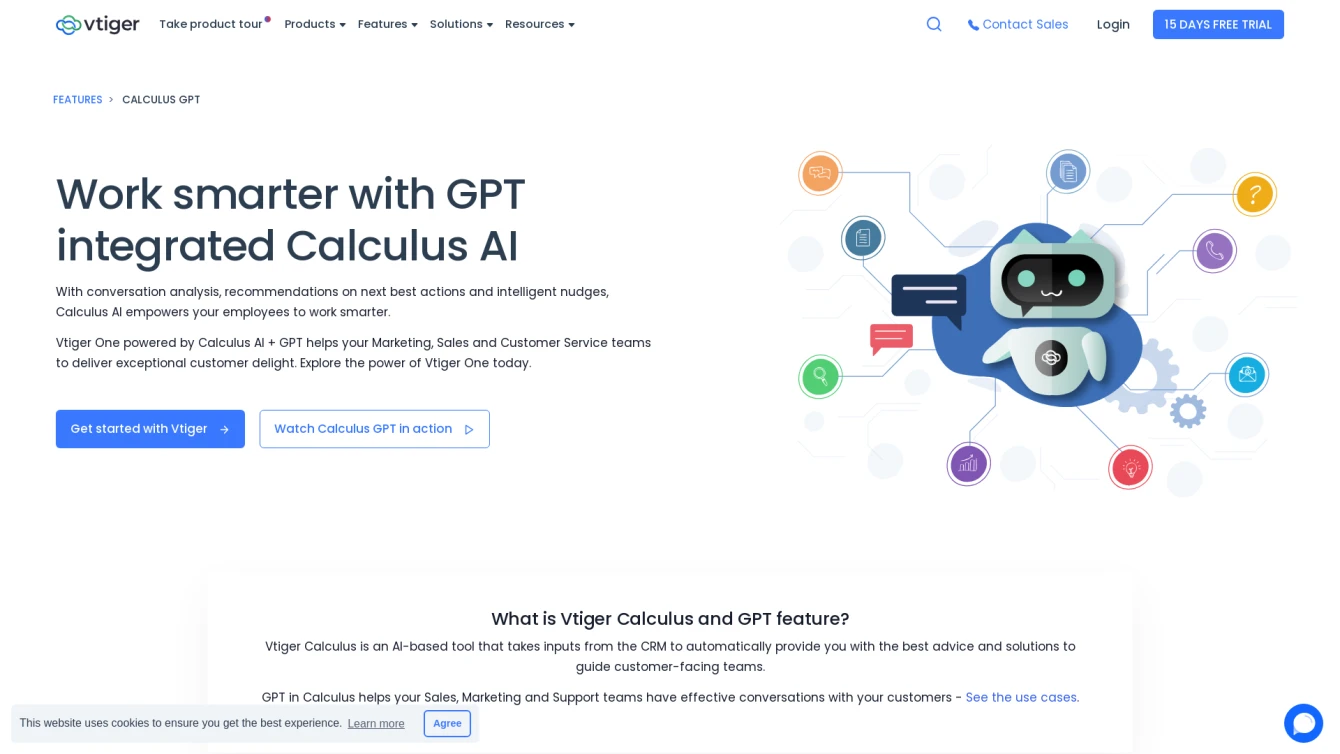 Streamlining Sales and Enhancing Revenue Growth with Predictive Insights.
Product information and features
Explore the potential of an AI tool that blends analytics with business intelligence seamlessly. The Vtiger Calculus GPT is an integral part of the Vtiger CRM product suite. It employs machine learning algorithms to discern patterns and trends in sales data, generating predictive insights to empower businesses with informed decision-making capabilities.
Vtiger Calculus GPT allows sales teams to monitor and forecast key performance metrics such as sales forecasts, deal values, win rates, customer engagement, and retention. This tool also offers a plethora of sales automation features including contact management, sales funnels, and process design.
For sales enablement, it provides document management, appointment scheduling, email and print templates, and pipeline management features like deal room, forecasting, and quotas. It's not just about sales, but also about fostering communication and collaboration with features like internal collaboration, calendar and events management, email tools, video conferencing integration, and agent enablement for helpdesk automation.
Marketing automation is also a strong suit of vtiger.com, complete with email marketing, social media integration, landing pages, and SMS campaigning capabilities. It also boasts project management features like task management, inventory, work orders, and import/export customization tools that boost productivity.
In a nutshell, Vtiger Calculus GPT is a comprehensive AI tool that streamlines the entire sales process from prospecting to customer retention, maximizing revenue growth. With its wide array of features, it caters to a variety of business needs, making it a valuable asset for any organization.
Tell the world Vtiger Calculus GPT has been featured on NaNAI.tools:
Vtiger Calculus GPT Reviews
What's your experience with Vtiger Calculus GPT?
There are no reviews yet.
Related AI tools to Vtiger Calculus GPT