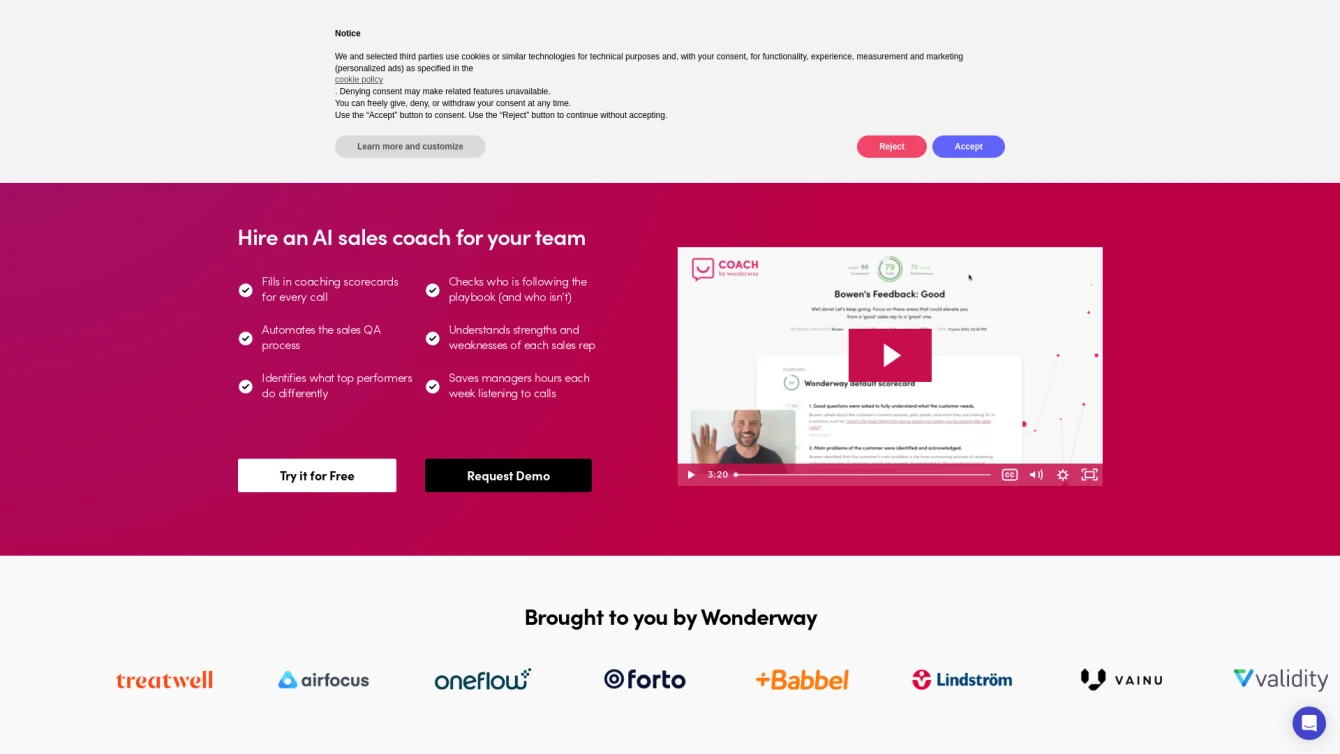 Revolutionizing sales coaching with AI-driven feedback and analysis.
Product information and features
Looking for a solution to optimize your sales strategy? Consider the Wonderway AI Coach, an AI tool designed to revolutionize sales coaching efforts. This unique platform leverages artificial intelligence, specifically ChatGPT, to scrutinize each sales call and provide actionable feedback, similar to having a dedicated sales coach on your team.
With Wonderway AI Coach, sales reps receive instantaneous feedback, giving them the opportunity to enhance their performance swiftly. For sales managers, this tool is an efficient way to identify gaps, recognize trends, and save valuable time. Unlike traditional sales call recording tools, this AI tool seamlessly integrates with call recording and conversation intelligence tools. This integration enables it to complete scorecards faster and provide real-time written feedback to reps.
The coaching provided by Wonderway AI Coach extends to a range of hard and soft skills. These include goal attainment, pain identification, root cause analysis, product knowledge, and objection handling. The feedback is delivered in a three-fold manner: identifying a key area for improvement, providing a specific example, and offering actionable advice for future interactions.
When it comes to security, Wonderway AI Coach places a high priority on the privacy of call transcripts. It employs encryption, access controls, and secure connections through SSL/TLS protocols to ensure data protection. wonderwaycoach.com is currently offering early access to this tool for free.
To summarize, Wonderway AI Coach is an innovative AI tool that provides instant feedback to sales reps and helps managers identify performance trends and gaps. Its comprehensive coaching covers a wide range of skills and delivers feedback in a structured, actionable manner. This tool is an efficient and scalable solution for sales coaching, already trusted by the top sales teams globally.
Tell the world Wonderway AI Coach has been featured on NaNAI.tools:
Wonderway AI Coach Reviews
What's your experience with Wonderway AI Coach?
There are no reviews yet.
Related AI tools to Wonderway AI Coach