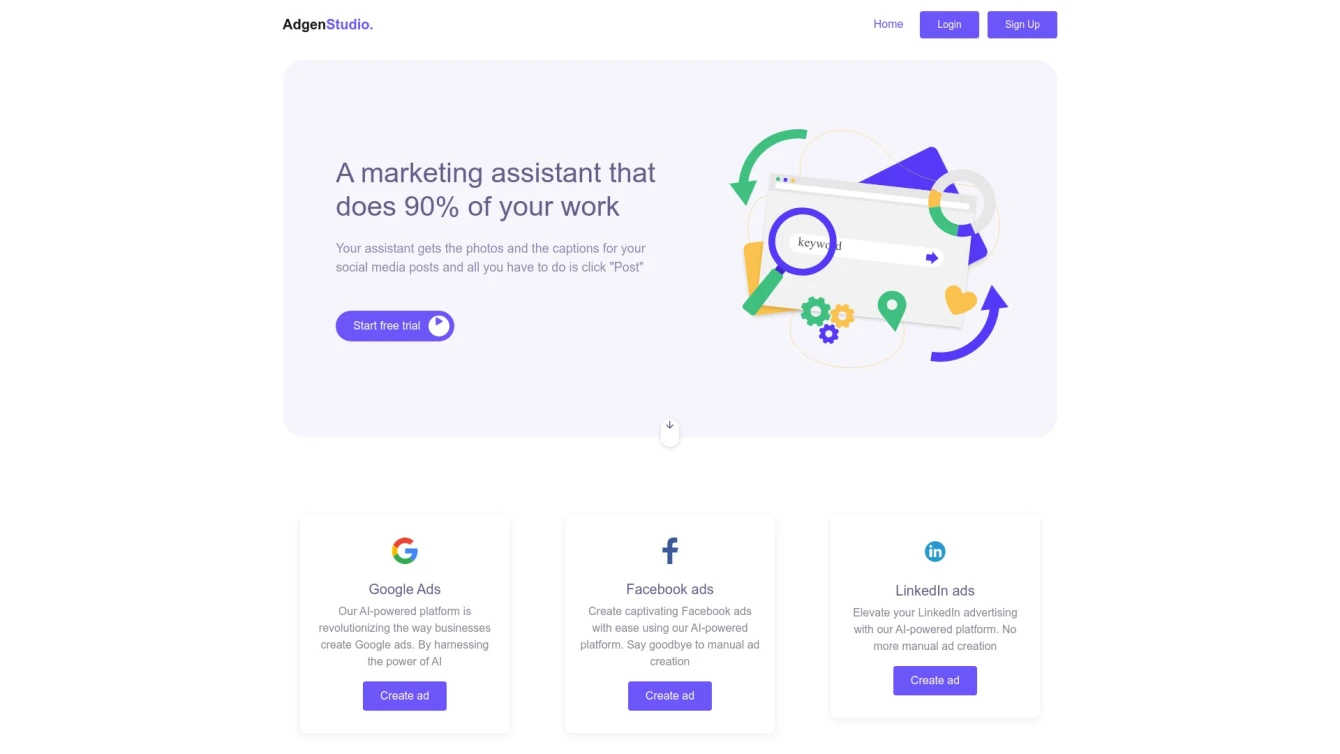 Streamlining ad creation with AI-powered efficiency.
Product information and features
Explore the power of Adgen Studio, an AI tool that revolutionizes the process of creating captivating social media ads for platforms like Google, Facebook, and LinkedIn. It's like having your very own AI-powered marketing assistant.
With Adgen Studio, you can put the laborious task of manual ad creation behind. The AI-powered tool automatically selects suitable photos and crafts engaging captions, making ad creation as simple as one click. It's a game-changer for businesses looking to create effective Google ads.
Adgen Studio also elevates your Facebook and LinkedIn advertising game. It offers a smooth and efficient ad creation process, giving users the power to generate professional-grade ads without any prior experience. It ensures brand consistency and high performance for all your social media posts.
adgenstudio.com offers a range of pricing plans, including a free option and various subscription tiers, catering to different needs and budgets. It's a testament to the power and efficiency of AI in the digital marketing space, enabling businesses to produce ads in seconds.
In summary, Adgen Studio is a tool that empowers businesses to create engaging, brand-consistent ads for multiple social media platforms. It streamlines the ad creation process, making it effortless and highly efficient. It's a tool that can truly optimize your digital marketing strategies.
Tell the world Adgen Studio has been featured on NaNAI.tools:
Adgen Studio Reviews
What's your experience with Adgen Studio?
There are no reviews yet.
Related AI tools to Adgen Studio