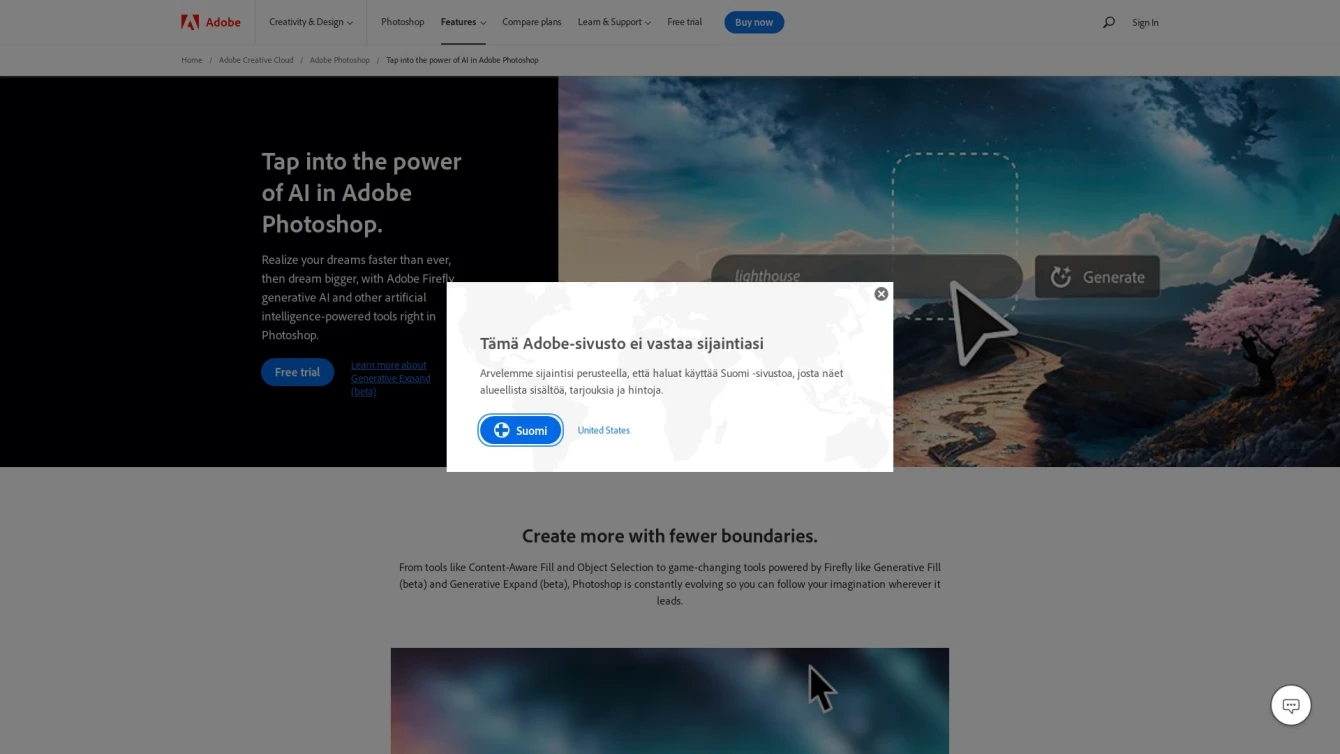 Tap into the power of AI in Adobe Photoshop. AI-powered Photoshop.
Product information and features
Adobe has introduced a new tool called Generative Fill, which utilizes its exclusive Firefly AI model to enhance the capabilities of Photoshop. This tool provides users with the freedom to add or remove objects to their heart's content, expanding the possibilities of post-production editing. Throughout this article, you will find examples of composites created using Adobe's beta version of this creative tool. Let's say hi to Adobe Photoshop AI.

It is important to note that while anyone can access the Adobe Firefly beta, a Creative Cloud subscription is still required to use the software. Photoshop's Generative Fill functions similarly to its existing content-aware fill tool, commonly used to remove unwanted or distracting elements from images. However, Generative Fill takes this functionality to the next level. Instead of analyzing only the single image being worked on, Generative Fill harnesses the power of Adobe's Firefly AI image generator.

Various AI image generators, such as Midjourney, Stable Diffusion, and DALL-E, have been present in the field for some time now. Firefly follows a similar approach, utilizing machine learning and generative AI to produce digital artwork. Adobe claims that Firefly is trained solely using Adobe stock images, openly licensed content, and public-domain material. One of the notable advantages of Generative Fill is its ability to accomplish significant tasks with minimal effort.

For example, in the image provided, I was able to seamlessly add a mountain to a photograph that originally only featured a tree line in the background. Another practical application of Generative Fill is its capability to remove unwanted objects from an image. By simply clicking and dragging over the object to be removed, typing a command in the prompt box, Photoshop is able to work its magic and eliminate the chosen item. The ease of use is one of the standout features of Photoshop's new generative-fill tool.

In conclusion, Adobe's Generative Fill tool, powered by the Firefly AI model, offers users the freedom to add or subtract objects in Photoshop with ease. This tool expands the capabilities of content-aware fill and allows for efficient post-production editing. The integration of machine learning and generative AI in Firefly enables the creation of digital artwork using a vast range of training data. Generative Fill simplifies complex tasks and enhances the user experience, making it a valuable addition to any post-production workflow.
Tell the world Adobe Photoshop AI has been featured on NaNAI.tools:
Adobe Photoshop AI Reviews
What's your experience with Adobe Photoshop AI?
There are no reviews yet.
Related AI tools to Adobe Photoshop AI