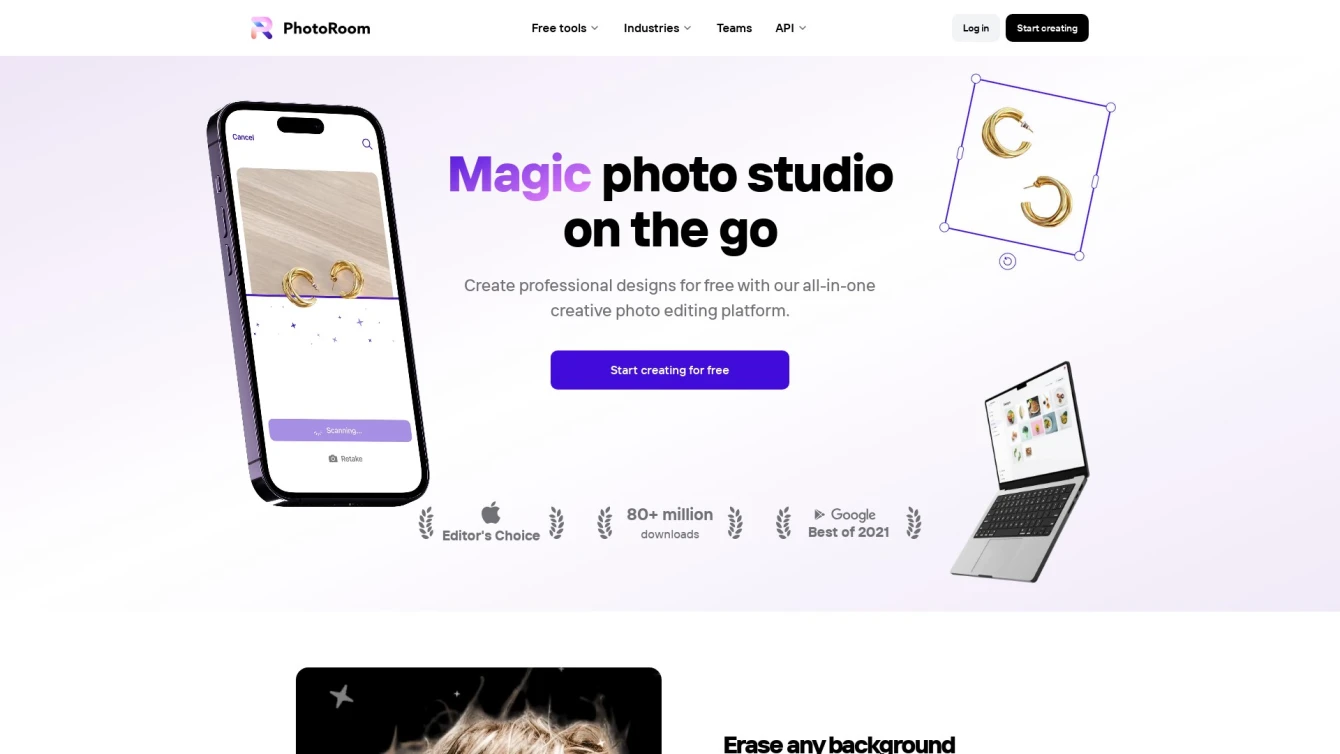 Remove Background and Create Product Pictures with PhotoRoom.
Product information and features
PhotoRoom is an innovative app that utilizes artificial intelligence (AI) to seamlessly remove the background from photos, allowing users to place the subject into a new scene. However, its capabilities extend beyond background removal. With the help of AI, the app can also eliminate unwanted images and generate entirely original scenes around the subject. This feature proves to be particularly useful for product photos, as PhotoRoom's background removal is incredibly accurate and efficient. Even when dealing with complex subjects, the app can swiftly cut them out with precision. In case any adjustments are necessary, users can easily make them with just a few swipes. Additionally, while the app is primarily designed for product images, it can also effectively work with photos of people and various other subjects, effortlessly handling challenging aspects like hair.

One of the most impressive features of PhotoRoom is its Instant Background function. This feature utilizes AI image generation to place the cut-out subject into a new scene. Although there may be occasional results that leave users puzzled, the majority of the outcomes are astonishingly realistic. By simply clicking on a background suggestion, users are presented with four options for their new scene. They can further customize their chosen scene by resizing the aspect ratio and making additional edits. Furthermore, users have the freedom to try out different scenes with the same cut-out subject, allowing them to find the most visually appealing option or simply indulge in some creative experimentation.

Overall, PhotoRoom is a remarkable app that offers a range of AI-powered features. Its precise background removal capabilities make it an invaluable tool for product photos, while its Instant Background function adds a touch of creativity by seamlessly integrating the subject into new scenes. With its user-friendly interface and impressive results, PhotoRoom is a must-have for anyone looking to enhance their photos and create eye-catching visuals.
Tell the world PhotoRoom has been featured on NaNAI.tools:
PhotoRoom Reviews
What's your experience with PhotoRoom?
There are no reviews yet.
Related AI tools to PhotoRoom