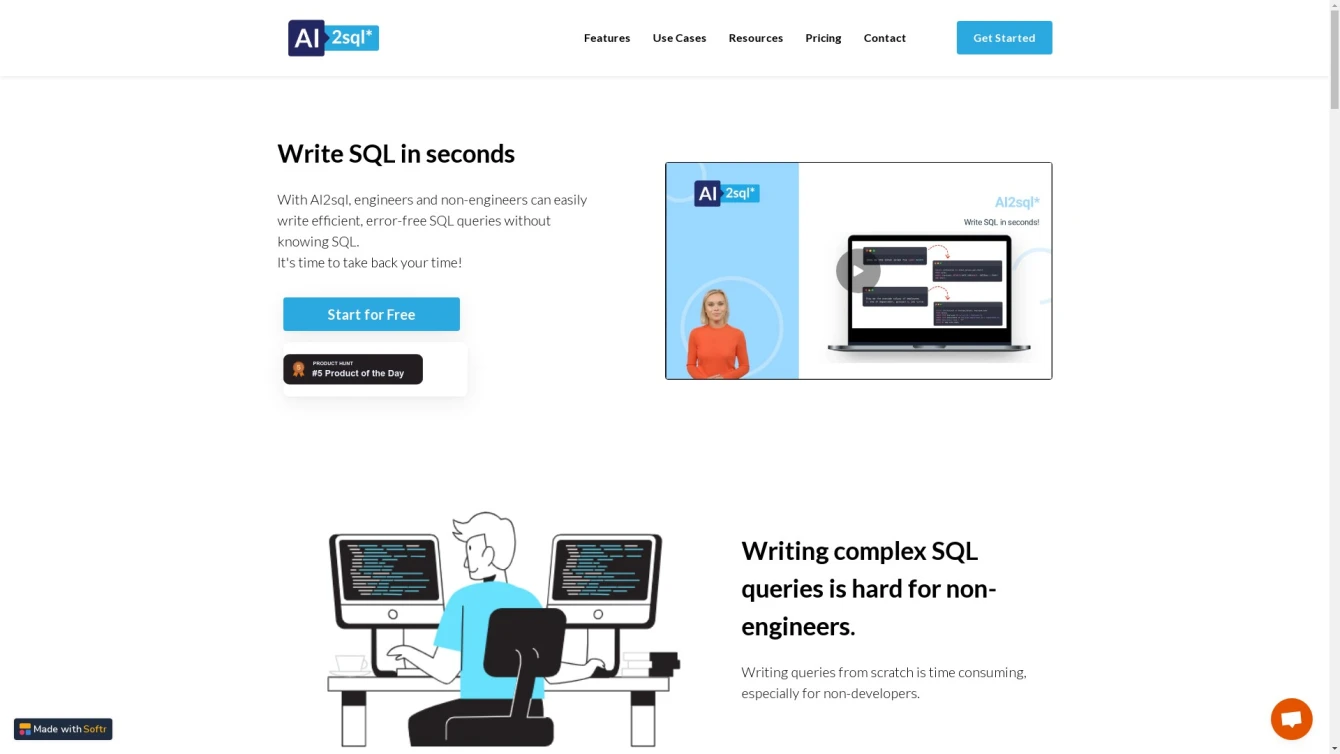 Simplifying SQL Query Creation Through the Power of AI.
Product information and features
Unlock the power of artificial intelligence with AI2SQL, a state-of-the-art AI tool designed to simplify the process of creating SQL queries. Whether you're an expert or a novice, this tool paves the way for efficient and error-free SQL query generation, all without the need for deep SQL knowledge. Simply input keywords related to your data and watch as AI2sql.io produces an optimized SQL query, tailored to your requirements.
With AI2SQL, you can work with a variety of databases such as SQL, MySQL, PostgreSQL, Microsoft SQL Server, MongoDB, and Pandas. This broad compatibility ensures that no matter your database preference, AI2sql can accommodate your needs. Time efficiency and error reduction are at the heart of this tool, making it a reliable partner for all your SQL query needs.
But it doesn't stop at query generation. AI2SQL also houses a SQL code beautification feature. This will help you enhance the readability of your code, increase productivity, and sidestep syntax errors. It's all about making your SQL code as clean and efficient as possible.
AI2SQL also excels in generating queries for data analysis, aiding in SQL learning, and boosting overall efficiency. You're even offered a free 7-day trial to experience all these features firsthand before deciding on a subscription.
In summary, AI2SQL is your go-to AI tool for hassle-free SQL query generation, code beautification, and more. It supports a range of databases, making it adaptable to your specific needs. Its use cases span from data analysis to SQL learning, and its features are designed to maximize user efficiency. Give the 7-day free trial a shot and experience the benefits yourself.
Tell the world AI2SQL has been featured on NaNAI.tools:
AI2SQL Reviews
What's your experience with AI2SQL?
There are no reviews yet.
Related AI tools to AI2SQL