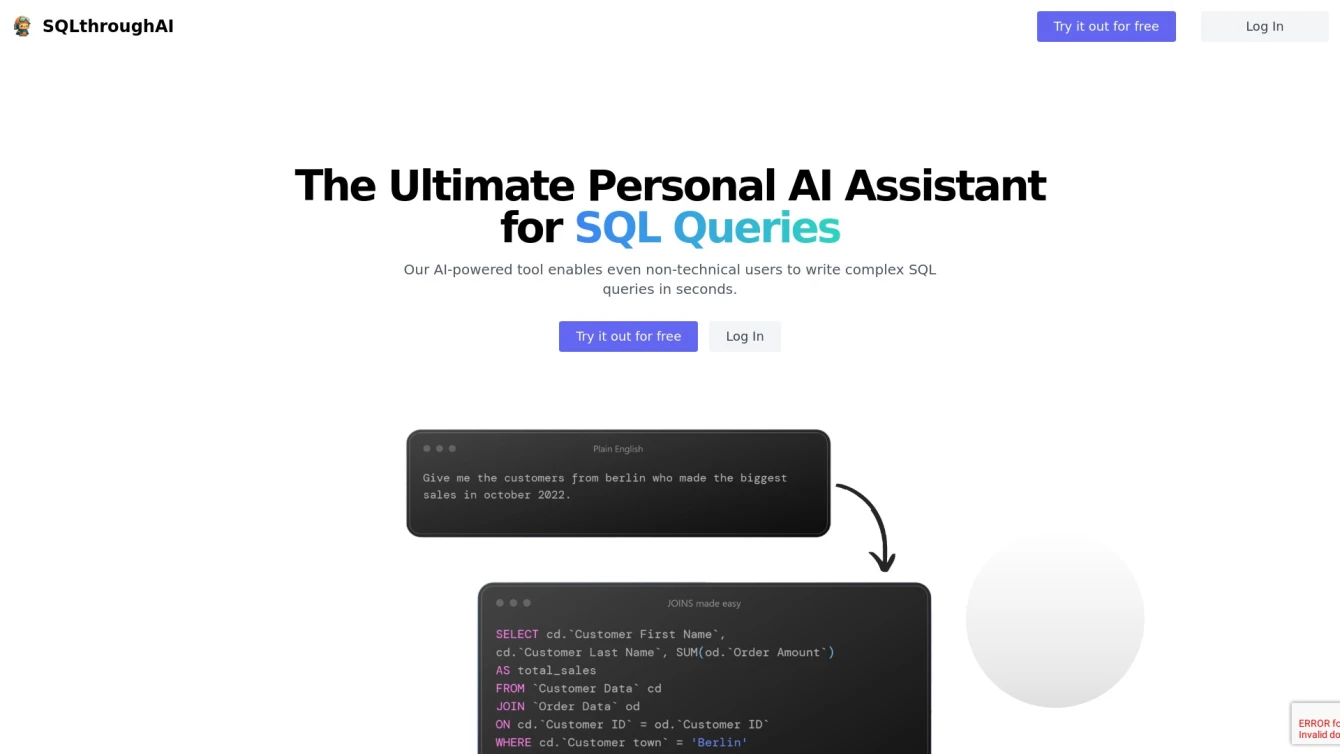 Crafting precise SQL queries swiftly with AI-powered technology.
Product information and features
Introducing SQLtroughAI, an advanced AI tool designed with the power to generate SQL with incredible speed and accuracy. Whether you're a technical whiz or a beginner, you can now write complex SQL queries in a matter of seconds. The tool leverages cutting-edge AI technology to comprehend your data requirements and formulates the ideal query in the language you prefer, be it MySQL, Mongo DB, Oracle PL/SQL, or others.
Setting up databases with SQLtroughAI is a breeze. You have the option to upload data from Excel or CSV files, or manually input columns, according to your needs. This AI tool is designed to accelerate your workflow, generating swift and precise queries that could potentially save you over 40 hours of precious time.
With sqltroughai.com, you can utilize the latest OpenAI technology, specifically tailored for its SQL Builder. This feature provides sharp and efficient insights, making it a valuable asset for business analysts and data analysts alike. The platform is designed to be user-friendly, enabling you to grasp its functionalities quickly and effortlessly.
What's more, you can take advantage of SQLtroughAI's free trial. This allows you to get a feel for the tool and its capabilities before committing to a subscription. It truly serves as a personal AI assistant for your SQL queries, simplifying the often intricate task of writing SQL queries.
Summing up, SQLtroughAI is a state-of-the-art AI tool that greatly simplifies and accelerates the process of writing SQL queries. It supports a wide range of languages, offers easy database setup, and provides valuable insights for analysts. Whether you are a business analyst seeking to streamline your workflow or a beginner aiming to learn quickly, SQLtroughAI is the perfect tool to enhance your productivity and efficiency.
Tell the world SQLtroughAI has been featured on NaNAI.tools:
SQLtroughAI Reviews
What's your experience with SQLtroughAI?
There are no reviews yet.
Related AI tools to SQLtroughAI