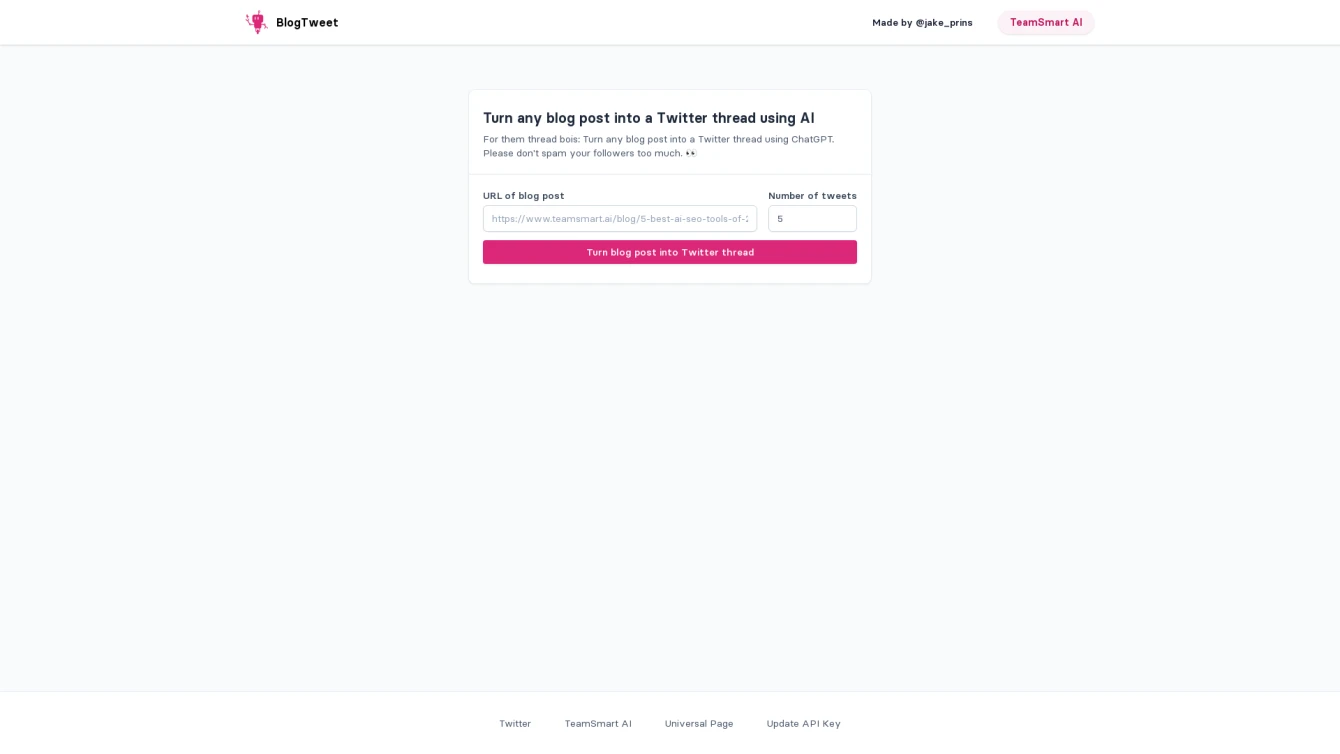 Transforming your blog posts into engaging Twitter threads effortlessly.
Product information and features
If you're looking to boost your online visibility, look no further than BlogTweet, an AI tool that seamlessly converts your blog content into engaging Twitter threads. This innovation, a brainchild of @jake_prins and TeamSmart AI, employs ChatGPT to turn your blog post into a Twitter-ready series of tweets.
The tool saves you the hassle of manually crafting individual tweets, making the process of sharing your blog on Twitter both quick and efficient. BlogTweet is an ideal solution for those aiming to amplify their reach and engage a wider audience on Twitter.
Using BlogTweet is as straightforward as copying and pasting your blog post's URL into the tool, which then crafts a thread that you can share with your Twitter followers. While BlogTweet takes care of the heavy lifting, it's important to be mindful of your followers and avoid flooding their feeds with excessive tweets.
The beauty of this AI tool lies in its ability to generate an optimal number of tweets that encapsulate the key points from your blog post. Regardless of the length or complexity of your blog, BlogTweet ensures your content is Twitter-friendly and easy to digest. It's compatible with numerous blogging platforms, making it a versatile tool for any blogger.
In summary, BlogTweet provides a unique solution for blog-to-Twitter content transformation. By optimizing your blog posts for Twitter, this tool helps enhance your social media presence, increase your content's visibility, and engage a broader audience. Whether you're a seasoned blogger or just starting, BlogTweet can elevate your Twitter game.
Tell the world Blogtweet has been featured on NaNAI.tools:
Blogtweet Reviews
What's your experience with Blogtweet?
There are no reviews yet.
Related AI tools to Blogtweet