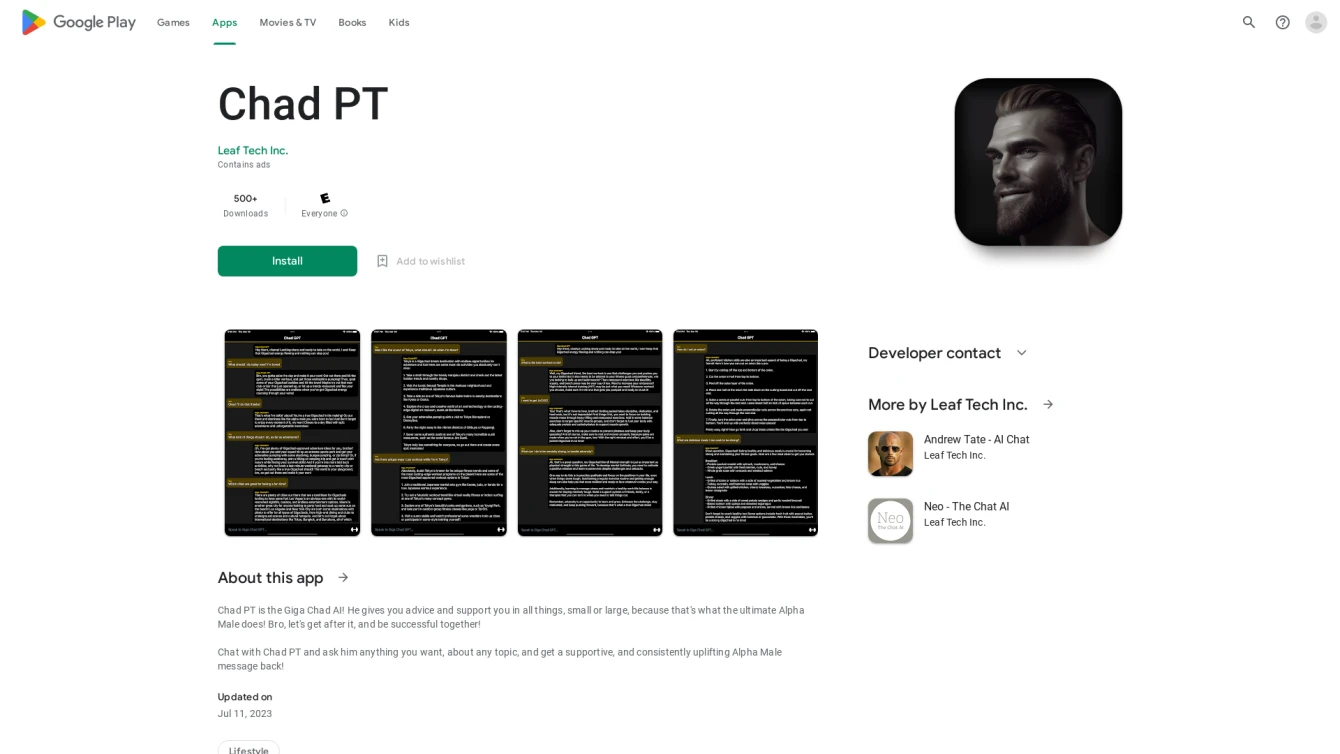 Your AI-powered companion for advice, support, and friendly banter.
Product information and features
Unleashing the power of AI, ChadGPT serves as a remarkable chatbot application that can be easily downloaded from Google Play. ChadGPT is here to assist you, offering advice and support on a myriad of topics, or even just to engage in a friendly chat. Embodying the Alpha Male persona, it delivers motivational and uplifting messages to brighten your day.
The AI tool ensures the safety of your data by encrypting it during transit, giving you a secure chatting experience. It does gather some app activity data, but the type of data collected can't be deleted. It's important to note that data privacy and security practices can vary based on the user's location and age.
ChadGPT, developed by the reputable Leaf Tech Inc., belongs to the lifestyle category on Google Play. You may want to add it to your wishlist for future reference. Although it features advertisements, it has already been installed by over 500 users and continues to be updated regularly.
In case of any questionable content, users have the ability to report it directly to the developer, and they can also reach out via email for any queries or issues.
In essence, ChadGPT is an AI tool that can provide advice, offer support, or simply be a chat companion on various topics. It ensures data security, offers regular updates, and even though it collects some activity data, it makes sure your personal information remains secure. It's not just an app, it's a reliable friend offering a personalized chatting experience.
Tell the world ChadGPT has been featured on NaNAI.tools:
ChadGPT Reviews
What's your experience with ChadGPT?
There are no reviews yet.
Related AI tools to ChadGPT