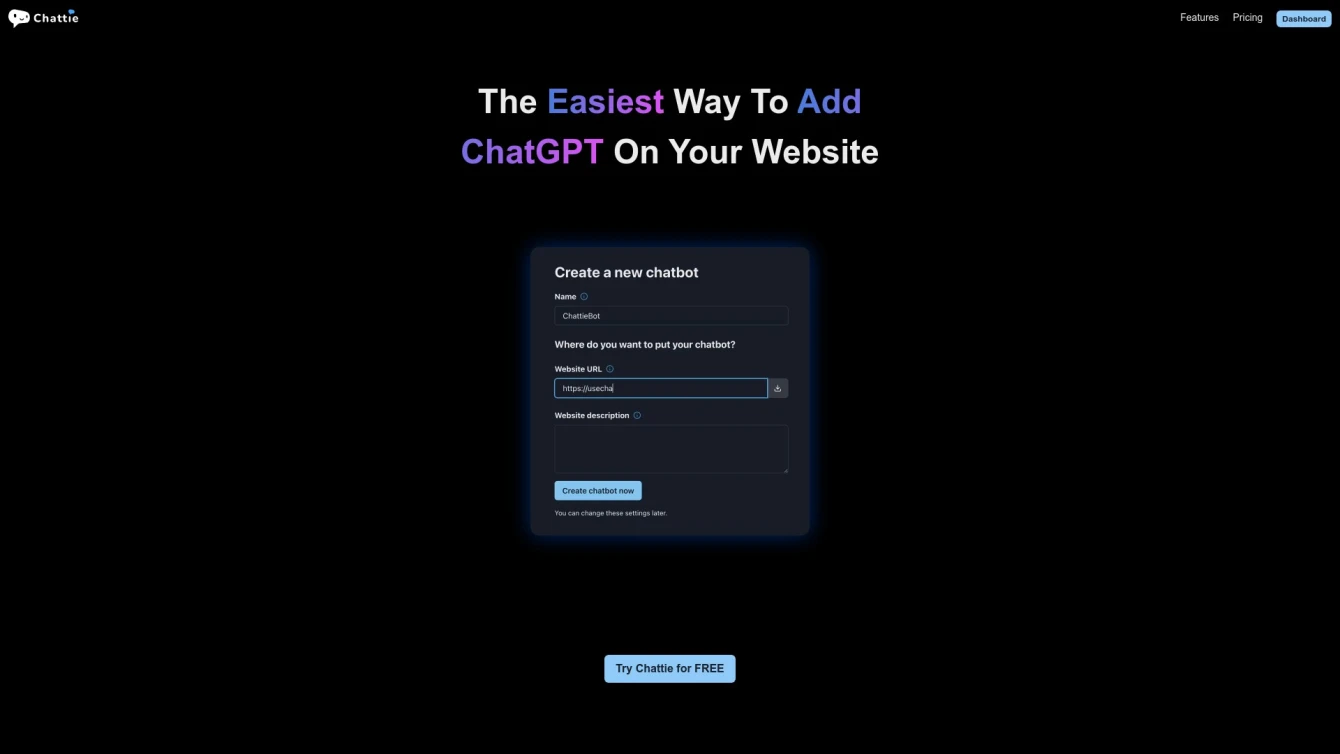 Empowering your website with AI-driven conversations, no coding needed.
Product information and features
Unleash the power of AI-driven conversation on your website with Chattie from usechattie.com. This AI tool provides a no-code solution, enabling you to seamlessly integrate ChatGPT, a sophisticated chatbot powered by OpenAI's language model, onto your website. Without requiring any coding expertise, Chattie allows you to add customized chatbots to your site in mere seconds.
One of the unique features of Chattie is its training capability. This feature allows you to train your chatbot with data that's specific to your website. The data can come from various sources, including web pages, uploaded files (like PDF, DOCX, EPUB, CSV, and MD), or simply pasted text. To make the process even more streamlined, Chattie generates prompts and prompt snippets automatically, eliminating the need for extensive manual input.
Chattie also comes with a theme editor complete with full CSS support. This feature lets you preview different themes, customize icons, and edit CSS to ensure the chatbot matches the design and branding of your website. The tool includes a comprehensive dashboard that provides insights into user interactions and generates topics based on chat history, enabling you to understand your users better.
Chattie offers varied pricing plans, each with different features and capacity limits. These plans include options to train your bot with user-specific data, use auto-generated prompts, customize CSS, access chat history and analytics, and even opt for white-labeling for branding purposes.
In summary, Chattie is an AI tool that simplifies the process of integrating ChatGPT-powered chatbots onto websites. With its user-friendly interface and customizable features, it caters to the specific needs of website owners and their audiences. Whether it's for customer support, sales, or just engaging visitors, Chattie offers a flexible and convenient way to enhance user interaction on your website.
Tell the world Chattie has been featured on NaNAI.tools:
Chattie Reviews
What's your experience with Chattie?
There are no reviews yet.
Related AI tools to Chattie